African Mayors Take Active Role at UN World Urban Forum 3 in Vancouver, Canada. Great Cities of Africa Series Launched

by Jerry W. Bird, Editor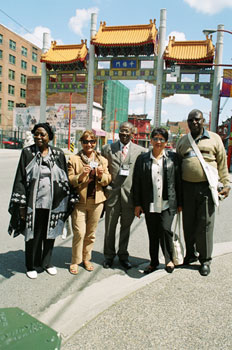 What a memorable week. After 30 years UN Habitat returns to its launching pad - the seaport city of Vancouver, British Columbia Canada. The crowd is estimated at 10,000 plus and it certainly seems so, judging by the heavy attendance at many sessions. At the time of writing, we have had the pleasure of taking two groups of mayors representing different African countries on tours of Vancouver and the University of British Columbia. It's one way for us to repay the wonderful hospitality we have enjoyed in eleven years with the Africa Travel Association as its media voice in North America and Worldwide.
The twin goals of Habitat are "Adequate shelter for all" and "sustainable human settlements development in an urbanizing world. "The "Global Village" is well represented, this week - with Africa making a particularly strong showing. As publishers of Africa Travel Magazine and related travel business media features, we were extremely pleased and honored to be able to to network with so many of our African colleagues. More->

Africans in Canada Study: Click for detailed information

Africans in Vancouver area: Africans, estimated at some 20,000 to 30,000 in the Lower Mainland, tend to organize themselves into social and cultural groups based on their national origin. However, efforts have been made to organize them under a broader, single association embracing Africans from all over the African continent without regard to their race, nationality or ethnic or cultural backgrounds. In 1983 the African-Canadian Association of British Columbia was formed. :Click for full story
African Canadian Associations. Google Search

African Canadian Heritage Association
The African Canadian Heritage Association is an African Heritage and language program operating out of a new location at Centennial College Progress Campus (at Markham Rd. and Hwy 401).The ACHA program features African history lessons, arts and crafts, special events for students, who range in age from 5 to 16 years of age.Classes run from September to June. Most notable ACHA special events include : the Youth Retreat (for children 11 Years and older ). Entrepeneur's Day and the Black History Challenge. Website
MORE ABOUT AFRICANS IN CANADA AND THE HISTORIC TIES BETWEEN OUR GOVERNMENTS - TO APPEAR ON THIS PAGE AND SECTION.