Venues World Edition . All Editions
QUEBEC EVENT WAS AN OUTSTANDING SUCCESS AS USUAL! PLEASE RETURN TO THIS PAGE FOR NEWS OF THE NEXT ATTA VENUE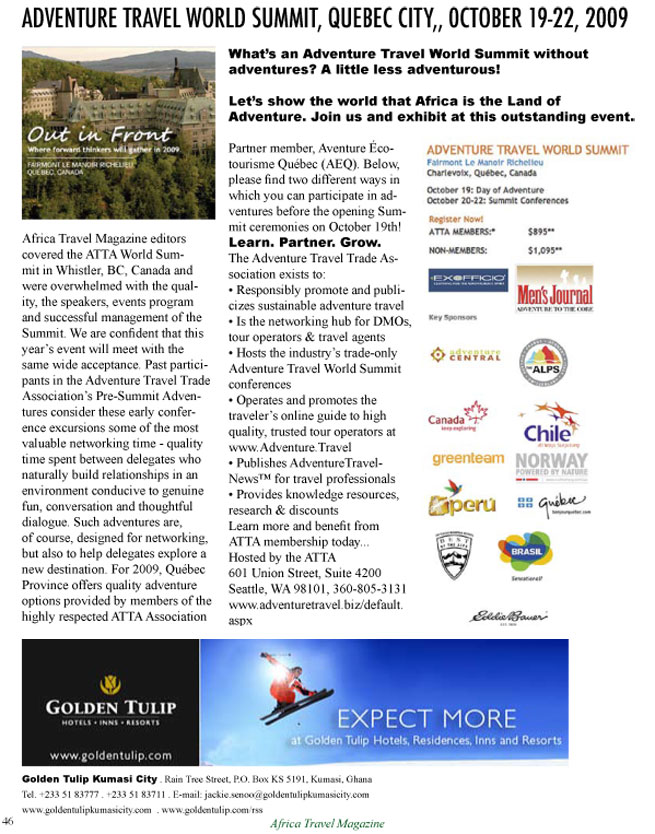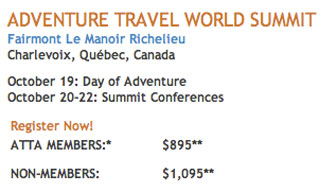 /www.adventuretravel.biz/default.aspx
What's an Adventure Travel World Summit without adventures? A little less adventurous! Africa is the Land of Adventure. Join us at this outstanding event in the heart of French Canada
Africa Travel Magazine editors covered the ATTA Summit in Whistler, BC, Canada and were overwhelkmed with the quality, the rogram and success of the Summit and others to followl. Read our Flashback to 2007.
Past participants in the Adventure Travel Trade Association's Pre-Summit Adventures consider these early conference excursions some of the most valuable networking time - quality time spent between delegates who naturally build relationships in an environment conducive to genuine fun, conversation and thoughtful dialogue. Such adventures are,
of course, designed for networking, but also to help delegates explore a new destination. For 2009, Québec Province offers quality adventure options provided by members of the highly respected ATTA Association Partner member, Aventure Écotourisme Québec (AEQ). Below, please find two different ways in which you can participate in adventures before the opening Summit ceremonies on October 19th!
Hosted by the ATTA | 601 Union Street, Suite 4200 | Seattle, WA 98101 | 360-805-3131
To unsubscribe from ATTA email communications, click here.