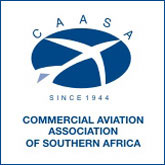 CAASA is a professional Association, whose membership is directed to persons engaged in commercial aviation OR persons who have a commercial interest in aviation OR an enterprise allied to the commercial aviation.
We, the members of the Commercial Aviation Association of Southern Africa and affiliate associations, through unity, are committed to delivering a professional service, whilst displaying a spirit of integrity, quality and co-operation.
Within the framework of the constitution of the Republic of South Africa, we shall promote, manage and enhance the efficiency of our business, coupled with a safety commitment to our client, the general public and our employees.
We shall hold in sacred trust the rights and privileges conferred upon us and pledge unyielding adherence to these precepts for the commercial aviation industry.
See Website