Cape Verde has less fauna than just about anywhere in Africa. Birdlife is a little richer (around 75 species), and includes a good number of endemics (38 species). The frigate bird and the extremely rare razo lark are much sought after by twitchers. The grey-headed kingfisher is more common though with its strident call.
Divers can see a good range of fish, including tropical species such as parrot fish and angelfish, groupers, barracudas, moray eels and, with luck, manta rays, sharks (including the nurse, tiger and lemon) and marine turtles. Five species of turtles visit the islands on their way across the Atlantic. Nesting takes place throughout the year, but in particular from May to October.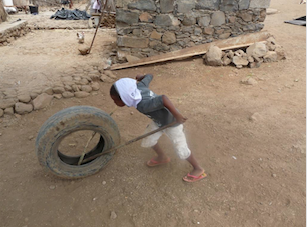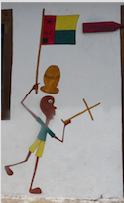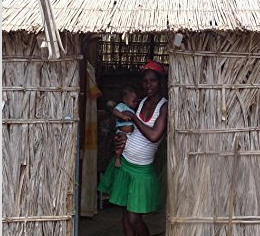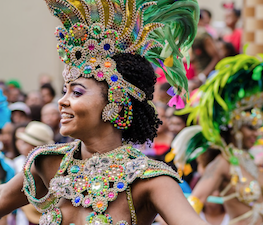 Remote Life: The Rabalodos of Cape Verde
© 2017 Pete Martin
Cape Verde has ten islands in all, nine of which are populated, and each with very different characteristics. I could easily island hop; Fogo with its volcano and wine is next door, but regrettably I have arrived too late for major plans but at least I have a guide for Santiago Island.
After the wonderful market of Assamada, we continue to the east coast of the island. On a hillside above the ocean lives a small isolated community called the Rabalados. The tribe do not invite visitors but if any arrive they are welcomed. A young, thin woman holds her baby
on her hip (not on her back as is usual across Africa) and directs me into a bland concrete building. Inside is a display of their arts and crafts. One wall has numerous pictures drawn by the woman. Most contain simple sketches of stick people with fish tails for legs. I give her an
encouraging acknowledgment of her artistic skills and in return she makes it clear to my guide, in Creole, that that we are free to wander around the small village.
It's not much of a welcome and I have no information about these people. It seems the tribe is isolated by choice, deciding to live away from the nearby town in neat rows of straw huts. The two huts at each end are for communal cooking and behind the huts are the sties for their pigs.
Dogs and goats wander aimlessly as we do. There are no men here, all either fishing or working the nearby fields. The young women (and one old one) and a few boys sit holding babies on the floor with their backs against a wall remaining in the shade. None look happy.
I have so many questions. Such as where do they have their children, here or in a local hospital? How do they meet their partners when it's such a small community? Where do they buy their livestock from if they don't interact? But there are no answers today.
My guide feels fine strolling around but I feel intrusive. When I say that we should go he suggests that I should leave some money. As the young woman who welcomed us in is now breast feeding, I offer it to the old women. She swats the money away and insists I give it to the young
one. It's a bewildering tribe.
On the way out, a young boy is playing joyfully with two sticks and an old tire. A man with a long wooden fishing rod and a bag full of fish is returning to camp too. He looks proud and joyful. Both are in total contrast to the miserable, bored females.