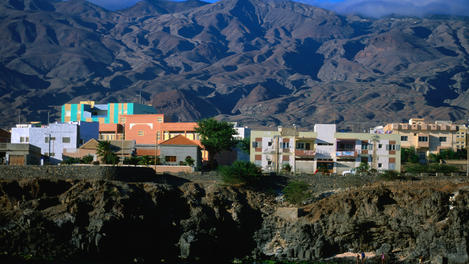 Introducing Cape Verde
Most people only know Cape Verde through the haunting mornos (mournful songs) of Cesária Évora. To visit her homeland – a series of unlikely volcanic islands some 500km off the coast of Senegal – is to understand the strange, bittersweet amalgam of West African rhythms and mournful Portuguese melodies that shape her music.
It's not just open ocean that separates Cape Verde from the rest of West Africa. Cool currents, for example, keep temperatures moderate, and a stable political and economic system help support West Africa's highest standard of living. The population, who represent varying degrees of African and Portuguese heritage, will seem exuberantly warm if you fly in straight from, say, Britain, but refreshingly low-key if you arrive from Lagos or Dakar.
Yet life has never been easy here. For centuries, isolation and cyclical drought have resulted in famine. Generations of Cape Verdeans have been forced to emigrate, leaving those at home wracked by sodade – the deep longing that fills Cesária Évora's music. While hunger is no longer a threat, you need only glance at the terraced hillsides baking in the sun to understand that every bean, every grain of corn, is precious.
Though tiny in area, the islands contain a remarkable profusion of landscapes, from Maio's barren flats to the verdant valleys of Santo Antăo. And Fogo, a single volcanic peak whose slopes are streaked with rivers of frozen lava. The beaches of Sal and Boa Vista increasingly attract package-tour crowds, but Cape Verde remains a destination for the connoisseur – the intrepid hiker, the die-hard windsurfer, the deep-sea angler, the morno devotee
Cape Verde has less fauna than just about anywhere in Africa. Birdlife is a little richer (around 75 species), and includes a good number of endemics (38 species). The frigate bird and the extremely rare razo lark are much sought after by twitchers. The grey-headed kingfisher is more common though with its strident call.
Divers can see a good range of fish, including tropical species such as parrot fish and angelfish, groupers, barracudas, moray eels and, with luck, manta rays, sharks (including the nurse, tiger and lemon) and marine turtles. Five species of turtles visit the islands on their way across the Atlantic. Nesting takes place throughout the year, but in particular from May to October.