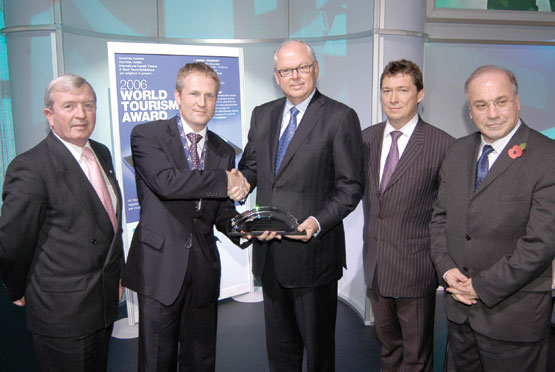 2006 WORLD TOURISM AWARD HONORS JOHN NOEL, PRESIDENT AND CEO, AIG TRAVEL GUARD FOR "MAKE A MARK FOUNDATION"
Annual Award Presented at World Travel Market in London by American Express Company, Corinthia Hotels, International Herald Tribune and Reed Travel Exhibitions
LONDON: The Ninth Annual World Tourism Award, co-sponsored by American Express Company (AMEX), Corinthia Hotels, International Herald Tribune (IHT) and Reed Travel Exhibitions (RTE), was presented at a special ceremony on Opening Day of World Travel Market. The presentation was made at the World Stage, ExCel Centre, London. The 2006 Award Honoree was John Noel, President and CEO, AIG Travel Gu
The Award was presented in recognition of "AIG Travel Guard's values based approach to business to business and its philanthropic mission to give back to both the global and local communities it serves, and to encourage its employees to both raise/donate money for these global projects through its Make a Mark Foundation".
Accepting the Award at World Travel Market John Noel expressed his thanks to the award sponsors. "It is an honor to be recognized for this prestigious award. It is my hope that it will draw attention to the devastating orphan crisis in Sub Sahara Africa that is the focus of our Make A Mark efforts," Noel said. "By 2010, it's estimated that the AIDS pandemic in Africa will be responsible for 20 million orphans. We need public and private sector initiatives of historic proportions to alter the course of this crisis."
AIG Travel Guard, a member company of American International Group (AIG), is a leading provider of travel insurance and assistance, based in Stevens Point, Wisconsin. Its founders, John and Patty Noel, have always been guided by a values-based approach to business, and feel that it's important for their company to give back to both the global and local communities it serves. In 1993, the Noels established a non-profit humanitarian foundation called "Make a Mark Foundation" that funds sustainable building projects in developing countries. Make A Mark provides opportunities for AIG Travel Guard employees and its travel partners to raise and donate money for its global projects.
The Award itself, a specially designed Steuben Crystal bridge entitled, PARTNERSHIP, which "celebrates the bond of a supportive partnership which, like a bridge, spans both time and distance," seems especially appropriate for the 2006 Honoree.
Presenting the Award on behalf of the sponsors were: Mr. Max Grosse, Director, Travel Service Network Franchise &endash; Europe, Middle East & Africa, American Express ; Mr. Geoff Andrew, Group Director Sales & Marketing, Corinthia Hotels; Patrick Falconer, Managing Director United Kingdom, Middle East & Africa, The Netherlands and the Nordic Region, International Herald Tribune; and Mr. Tom Nutley, Chairman, Reed Travel Exhibitions.
ABOUT THE WORLD TOURISM AWARD
The annual World Tourism Award, established in 1997 by American Express, International Herald Tribune and Reed Travel Exhibitions, and joined in 2005 by Corinthia Hotels, recognizes the extraordinary initiatives by individuals, companies, organizations, destinations and attractions, for outstanding accomplishment in the travel industry.
Past World Tourism Award Recipients
1997 Award: "World Peace Through Tourism"
Honorees: Member countries of MEMTTA (Middle East Mediterranean Travel & Tourism Association): Cyprus, Egypt, Israel, Jordan, Malta, Morocco, the Palestinian Authority, Tunisia and Turkey.
1998 Award: "Outstanding Economic Development Through Tourism"
Honorees: "The new emerging Europe - Croatia, the Czech Republic, Hungary and Poland"
1999 Award: "Outstanding Impact of Travel And Tourism on Generating Employment Growth"
Honorees: China National Tourism Administration and the Hong Kong Tourist Association
2001 Award: "The newly forged public / private sector partnership and the dramatic increase in tourism."
Honorees: the Mexico Ministry of Tourism and the Mexico Tourism Board
2002 Award: "Training the Next Generation in Travel & Tourism"
Honorees: The New York Academy of Travel & Tourism, Virtual Enterprises, International™ (career programs within the New York City Department of Education) and the Institute for Virtual Enterprise at Kingsborough Community College of the City University of New York.
2003 Award: " In recognition of its leadership role in the rescue and preservation of imperiled works of art and architecture, and its devotion to onsite conservation of monuments and sites worldwide, crossing geographic, cultural, and national boundaries to preserve the world's diverse and rich heritage for generations to come."
Honoree: World Monuments Fund
2004 Award: "Its extraordinary vision and pioneering work in opening the door to 'the world" for travelers with disabilities, the mature and elderly, through educational programs for all sectors of the travel industry on how to cater to the special needs of this lucrative and rapidly expanding niche market."
Honoree: Society for Accessible Travel & Hospitality (SATH)
2005 Award: "Their extraordinary vision in forging a historic Asia-Africa Bridge of Tourism, Friendship and Collaboration", announced at the 3rd IIPT Global Summit on Peace Through Tourism in Pattaya, Thailand, Oct. 2005.
Honorees: Africa Travel Association (ATA) and Pacific Asia Travel Association (PATA)
Photo Caption: JOHN NOEL, PRESIDENT & CEO, AIG TRAVEL GUARD PRESENTED WORLD TOURISM AWARD FOR "MAKE A MARK" FOUNDATION AT WORLD TRAVEL MARKET IN LONDON BY AWARD COSPONSORS AMERICAN EXPRESS, CORINTHIA HOTELS, INTERNATIONAL HERALD TRIBUNE AND REED TRAVEL EXHIBITIONS. FROM LEFT: TOM NUTLEY, CHAIRMAN, REED TRAVEL EXHIBITIONS;GEOFF ANDREW, GROUP DIRECTOR SALES & MARKETING, CORINTHIA HOTELS; JOHN NOEL, PRESIDENT & CEO, AIG TRAVEL GUARD; PATRICK FALCONER, MANAGING DIRECTOR UNITED KINGDOM, MIDDLE EAST & AFRICA, THE NETHERLANDS AND THE NORDIC REGION , INTERNATIONAL HEARLD TRIBUNE, UK; AND MAX GROSSE, TRAVEL SERVICE NETWORK FRANCHISE, EUROPE, MIDDLE EAST & AFRICA, AMERICAN EXPRESS.
Editorial Contact:
Karen Hoffman, The Bradford Group
Tel (212) 447-0027; bradfordmktg@aol.com
# # 30 # #