News Release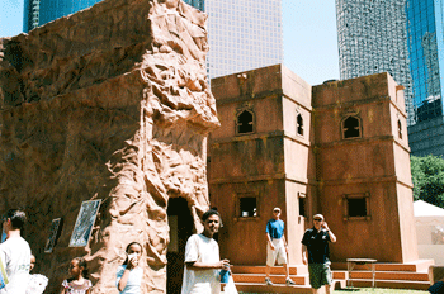 Replica of Lalibela stone church at Houston's I-Fest Celebration. Phtos by Muguette Goufrani
OUT OF AFRICA is OUT-STANDING!

HOUSTON'S INTERNATIONAL FESTIVAL CELEBRATES AMERICA'S ETHNIC DIVERSITY WITH AN OUT OF AFRICA EXTRAVAGANZA
Houston, Texas, May 2008: ETHIOPIA, the cradle of mankind and the birthplace of coffee, was in the spotlight for two fun-filled weeks in Houston, Texas, America's 4th largest city. Thanks to civic pride, high spirits, hard work and initiative, its annual I-Fest attracts up to 450,000 visitors and is considered the largest event of its kind in North America. This year's "Out of Africa" theme featured exhibits from many African countries, led by Ethiopia whose high-level delegation included the State Minister for the Ministry of Culture and Tourism, Minister of Information, Ethiopian Tour Operators Association, Ethiopian Airlines, City Commissioner, Addis Ababa and the Ethiopian Exporters Association, it was a successful combined performance. Many of these participants provided copies of Africa Travel Magazine's new Ethiopia Millennium edition from their exhibits. Keynote speaker for the opening luncheon was Andrew Young, former U.S. congressman, mayor of Atlanta, Georgia, and the United States' first African-American Ambassador to the United Nations. The mayor's gala dinner was an opportunity for the Ethiopian delegation to meet and greet Houston's leaders in the business community.
A solid foundation for the program was established by the Honorary Consul General of Ethiopia, in Houston, Texas the Honorable Gezahgen Kebede and President and founder of EATIC, The Ethio-American Trade and Investment Council, based in Houston. The Honorary Consul General of Ethiopia was instrumental bringing the event to Houston and had a major role during the two week long celebration in mid April. He also enlisted the support of the Ethiopian Minister of Culture and Tourism, of the Federal Democratic Republic of Ethiopia, Ethiopian Ministry of Information, and the Embassy of Ethiopia in Washington and Ethiopian Airlines
The show was a real eye opener for Texans and thousands from neighboring states, who enjoyed an authentic "Taste of Ethiopia" in the heart of America. Attractions included a lifelike replica of a rock church from Lalibela in Northern Ethopia and a landmark from Harrar in the Ethiopia's Eastern zone. Performances by the Ethiopian National Dance Group were staged during the show and at venues throughout the city. Ethiopian fashion shows, arts and crafts displays, traditional textile and garments, Ethiopian coffee and Ethiopian fresh cut flowers were available from the many exhibits. The result was an opportunity for Ethiopians to introduce their products and learn that they must be competitive to succeed in the US market.
About I-Fest
I-Fest is a massive outdoor events celebration, stretching across 16 acres of Houston downtown parks and streets. Projected attendance has been estimated at 425,000 visits annually with over $ 7.9 million USD generated in trade advertising and publicity. The Festival's demographics include high-ranking government dignitaries, business leaders and general public from Texas and surrounding States.
Ethiopia's Lucy Legacy Wins Raves
Houston's African involvement has a solid base. "Lucy's Legacy: The Hidden Treasures of Ethiopia" is drawing raves from across the USA. This international exhibition was organized by The Houston Museum of Natural Science in collaboration with the Ministry of Culture and Tourism of the Federal Democratic Republic of Ethiopia and the Ethiopian Exhibition Coordinating Committee. Her exhibit has been a big hit in the USA, judging by these comments: "Lucy's worth more than diamonds."
"We have come from Santiago, Chile to see the exhibit."
"An inspiration to go to Ethiopia."
"All the way from Argentina to meet Lucy.
"Please thank the government of Ethiopia for this once-in-a-lifetime experience!"
"Hey Lucy! What a joy it was to get to see you in person!"
"A tremendous teaching opportunity for the youth of Houston."
"Absolutely phenomenal! What a pleasure! What an education!"
"I had no idea how much Ethiopia added to our civilization!"
"I have been truly blessed to have stood and looked at Lucy."
"Lucy speaks after 3.2 million years. Our story must be heard."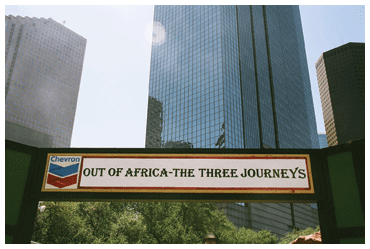 About EATIC
The Ethio-American Trade and Investment Council is a nonprofit, nonpartisan, tax-exempt membership organization dedicated to strengthening and facilitating trade and investment between Ethiopia and USA. For the past fifteen years, EATIC has played an active role in getting the word out to many American business communities to view the Ethiopian investment and tourism opportunity first hand.
Ethiopian Delegation Members in Houston, Texas
H.E. Tadelech Dalacho, State Minister, Ministry of Culture and Tourism, Democratic Republic of Ethiopia, Head of delegation
H.E. Berhnu Hailu, Minister, Ministry of Information, Federal Democratic Republic of Ethiopia
Dr. Ayalew Sisay Woldegebriel, Tourism Commissioner, City of Addis Ababa
Mr. Yitbarek Befirud Belihu, Head, Addis Ababa Trade & Industry
Mr. Tsegaye Abebe, Chairman, Ethiopian Horticulture Producer Exporters Association
Mrs. Kidan Ghiorghis Mellessa, Board Chairperson, Ethiopian Tour Operator Association
Dr. Solomon Ali Mohammed, Head, Public Relations Department, Ministry of Culture and Tourism
Mr. Sisay Getachew Azage, Ministry of Culture and Tourism
Mr. Belay Getachew Esuendale, General Manager, ETOA
For more information:
Ethio -American Trade and Investment Council,
9301 Southwest, Freeway, 250, Houston, Texas, 77071
713-271-7567, Web Site: www.eatic.org
Houston International Festival
4203 Montrose Blvd., Suite 200, Houston, Texas 77006,
713.654.8808 E-mail: contactus@ifest.org

Africa Travel Magazine
M ember of the Africa Travel Association
E-Mail: africa@dowco.com
Website: http://www.africa-ata.org/bulletins.htm
Tel. 604 681 0718, Fax 604 681 6595