ECTP STRONG SUPPORT FOR NEW EGYPTIAN TOURISM INITIATIVES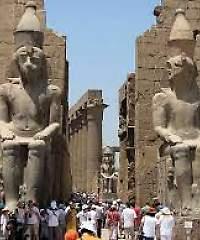 (
Forimmediaterelease.net
) Luxor, Hawaii, Brussels, Seychelles - ICTP (International Coalition of Tourism Partners) today pledged its full support for a wide range of initiatives launched by Tourism Minister Hisham Zaazou during a meeting to review the future of Egyptian tourism, held under the auspices of the Minister and the Secretary General of UNWTO (UN World Tourism Organization).
The event brought together Egyptian ministers, governors, tourism industry leaders and international experts from the sector. There was a wide consensus on a framework – outlined by the Minister - to expand flights, simplify visas, and strengthen green growth programs. There was also a strong expression of solidarity with the people of Egypt during their socio-political evolution, as well as great confidence in the sector as a fundamental deliverer of jobs, exports, and investment for the country.
ICTP President Professor Geoffrey Lipman said the Egyptian tourism product and experience is one of the finest in the world, and he pledged the full support of the Coalition for the new initiatives. "No country has a richer heritage or variety of tourism experience, and we plan to strengthen ICTP`s engagement in the coming months. Egypt has long committed to green destination and corporate management schemes."
He added: "We are delighted that the Governor of Luxor, Tarek Saad El din, had agreed that Luxor would join the Council of ICTP and actively work together to advance its green growth and quality tourism programs. Luxor is especially important as one of the great global centers of humanity and civilization, with an incredible tourism patrimony."
ABOUT ICTP
The International Coalition of Tourism Partners (ICTP) is a grassroots travel and tourism coalition of global destinations committed to quality service and green growth. ICTP engages communities and their stakeholders to share quality and green opportunities including tools and resources, access to funding, education, and marketing support.
ICTP advocates sustainable aviation growth, streamlined travel formalities, fair coherent taxation, and investments for jobs. ICTP supports the UN Millennium Development Goals, the UN World Tourism Organization`s Global Code of Ethics for Tourism, and a range of programs that underpin them. For more information on ICTP go to
www.ictp.travel
MEDIA CONTACTS: International Coalition of Tourism Partners, Juergen Thomas Steinmetz, Chairman, Phone: +1-808-566-9900, jts@ictp.travel ; Geoffrey Lipman, President, gl@ictp.travel ; Marie-Julie Chaput, Membership Liaison, mjc@ictp.travel
Egypt Contacts: How to Get There
The best way to see Egypt is to take an organized tour from North America or Europe. There a good number of companies offering these excursions. No matter what one pays to take these tours, it will be much less troublesome and cheaper to join a group before travelling to that country.
If one does not join a tour group, Misr Travel in Egypt, 1 Talaat Harb St., P.O. Box 1000, Cairo, Tel: 20-2-392-3177, Fax: 20-2-392-4440, e-mail Misrtrav@link.com.eg will make arrangements for tours to any part of the country. Also, there are excellent river, air, bus and rail connections between Cairo and Luxor.
Facts to Know About Egypt:
1) Visas are needed to enter Egypt. Tour companies can easily obtain them, but they are available at the airports in Egypt - cost $15.
2) The best place to exchange foreign currency is in banks. Branches are found in all major hotels. The U.S. dollar hovers around 3.80 LE (Egyptian pounds).
3) Despite reports of Islamic fundamentalist terrorism, Egyptians are very friendly and hospitable to tourists. The country is very safe - safer than most countries in the West. Also, in spite of poverty, crime is rare.
4) To get around the cities, taxis are the best bet, but you must bargain - make sure of the price before you enter the cab. Small autos rent for around $40. per day, but renting a car is not recommended. Traffic does not seem to have any rules.
A Good Places to Stay in Aswan:
Hotel Sofitel Old Cataract, an excellent luxury hotel which is reasonably priced. Abtal El Tahrir St., Aswan, Egypt. Tel:(+20)97/3l6000. Fax:(+20)97/316011. Daily cost for a room from a $130. to $160., depending on location. Also, hotels in Egypt charge an extra 26% for taxes and services charges.
Note: All prices quoted are in U.S. dollars
For Further Information Contact:
Egyptian Tourist Authority, 1253 McGill College Ave., Suite 250, Montreal, Quebec, Canada H3B 2Y5. Tel: (514)861-4606. Fax: (514)861-8071.
or
Egyptian Tourist Authority, 630 Fifth Ave., Suite 1706, New York, NY 10111, U.S.A.
Tel: (212)332-2570. Fax: (212)956-6439.
Web site: http://www.egypttourism.org

Muguette Goufrani, Africa Travel Magazine's Francophone Editor covers West African destinations and events in detail. Her native language is French and she has lived in five West African countries, working for Air Afrique, Royal Air Maroc and Citroen. As a Travel Agent, she worked in North Africa, where her family operates an inbound tour company, and later in Tahiti and Cambodia. Muguette has been a partner in the magazine since it was founded in 1995. E-mail Muguette with your travel experiences in Cote d'Ivoire and other West African destinations. We welcome your input.