From Canada
While the news was not unexpected, it saddens us greatly. Elyse White was such an inspiration to us from the time we first met her during our first ATA Congress experience in Benin. She continued to be in our hearts throughout the years. when we looked forward to the many welcome letters received from "Mama Safari" and the opportunity to visit her at her home in Harlem, whenever we were in the New York area. We were her house guests on several occasions. A beacon of light and a shining example for many in ATA, Elyse is with the angels, joining other stalwarts of the Africa Travel Association we have had the pleasure of knowing and loving.
With deepest regrets, Jerry and Muguette,
Africa Travel Magazine, ATA Canada Chapter
mailto:africa@dowco.com

From Cote d'Ivoire
My Elyse, yes she is with the angels she was always pretty and charming always some words with all the populations in the world my Elyse I love you witl my friendships and many kisses.
Therese Haury, Abijan

Answer me if it was realy From Uganda
Dear Carol,. Esther and I were privileged to have met your mother during the ATA's cultural and ecotourism symposium in Kampala. She was a true inspiration and a wonderful source of information, almost an encyclopedia if you allow me to put it this way, having travelled to literally every ATA event. We are very sad to hear that she has now passed on.Please accept our sincere condolences and deepest sympathy, to you, your entire family and all the friends of Elyse.
Wolfgang and Esther

From Kenya
We are sad about Elyse and I have sent our condolences to Carol and have also invited her to the Fam tour.
Peter K Muiruri, Executive Director, Hotel Adventure Travel Ltd
P.O. Box 543-00502, Tel/Fax 882774, Nairobi Kenya
---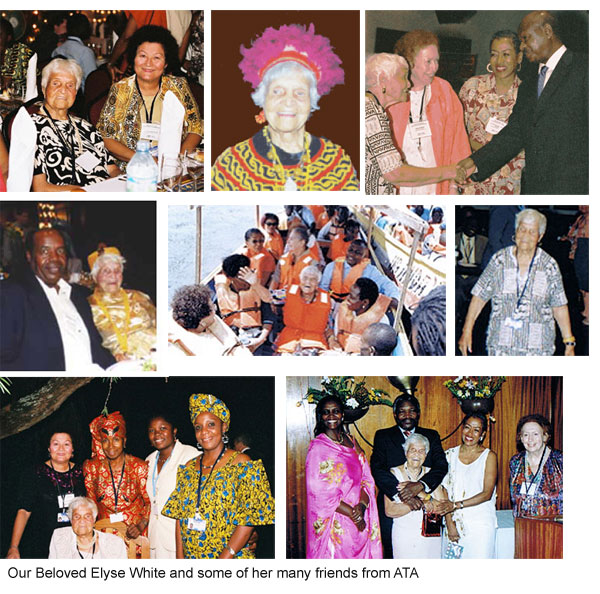 From New York
Dear Eddie, Nathalie, Jerry, Muguette, I wanted to let you know that our beloved Elyse White passed away last night at 6:00 PM after a brief illness. She was 99 years old and would have been 100 in October of this year. As you know, Elyse White was one of the founding members of ATA and a long-time member. The last ATA event she attended was the ATA Ecotourism Symposium held in Uganda. Up until that time, she had attended every ATA Congress and Ecotourism Symposium in the organization's history. Her daughter, Carol, will be planning a memorial service at a later date. In the meantime, I thought that the team at ATA would want to know. Condolences can be sent to Elyse's daughter as follows: Carol White, 80 LaSalle, New York, NY 10027
Marlene Melton, African Ventures Inc, 50 West 97th Street, Suite 10V
New York, New York 10025, Tel/Fax: 212 222 0618 or Tel: 212 280 4374
E-mail: africavent@aol.com
From Atlanta, GA
This is a very Sad month for ATA Family, We lose two great Ladies. I met Elyse White for the first time in Addis in 2000 and since then she's always on my mind. Sometimes I asked myself how this great and old Lady can travel from America to East Africa almost 24hours and she never complains...again i said to myself this a blesss humainbeing after 80years old she never stop to travel to Africa the Birthplace of humanity to promote tourism development...May God Bless her Daugther and give her very long and healthy life to continues her Mommy Legacy amen! Again my condolences to Carol and all ATA Family Members in Africa and around the planet !!!
Mr Africa Ogo Sow..

From Uganda
Dear Carol. I leant with sadness the death of your mother and an ATA Pillar Elyse White.
As The President of ATA-Uganda Chapter, I met Elyse on the last ATA evenT she attended in Uganda.
It was amazing to see her strong and participating in the Eco-Tourism symposium. She indeed was a beacon of light and a wonderfull example to all ATA members. We will truly miss her . I have passed on the message to both The President of our country and The First Lady who is the Patron of ATA-Uganda Chapter. You are in our prayers.


From Nigeria
We from ATA Nigeria Chapter, send our condolence to you and the entire White family and also to ATA for the lose of a Caring, loving Mother whom we wish 'Happy Mother's Day' today. God will be with everybody left behind. Amen. May her soul rest in perfect peace. Mama has been blessed with good memories. Let Jerry kindly send us her picture for memory in our achieves. Thanks. Chief Margaret Bola Fabiyi (Rev. Mrs,), Chairperson ATA Nigeria Chapter., Member of International Board of Trustee of ATA.
From Mali
oh what a bad news , my sincere condolences to her family and the whole ATA's family
Mariama Ludovic de Lys
From California
Ogo, Please pass on to Carol White regarding her magnificent mother who was an inspiration to us all. She has always been my heroine. She has inspired me and gave me hope that I too can travel into my 90's as she did. She was youthful to the very end. May she rest in peace.
Sylvia Frommer-Mracky & Ronald Mrack