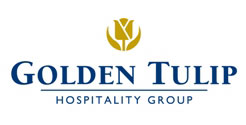 GOLDEN TULIP ADDS NEW HOTEL IN GHANA AND PARTNERS WITH VIRGIN NIGERIA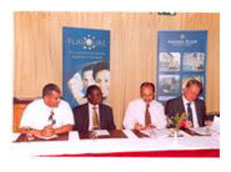 Amersfoort (NL) / Lausanne (CH), 29 August 2007: Golden Tulip Hospitality welcomes second hotel in Ghana and adds a new airline partner to its Connection's programme.
Golden Tulip Welcomes Second Hotel in Ghana

Golden Tulip Hospitality Group has been awarded the management contract for a new Golden Tulip Hotel in the Ghanaian city Kumasi - the property will feature 160 rooms and is scheduled to open December 2007.
Click here to read full press release
Golden Tulip Welcomes New Frequent Flyer Partner:

Virgin Nigeria's Loyalty Programme: Eagleflier. Virgin Nigeria, Nigeria's national flag carrier, is a world class Airline from the heart of Africa dedicated to a speedy development of an efficient global network of domestic, regional and international routes from her hub at theMurtala Mohammed International Airport in Lagos, Nigeria.
Click here to read full press release
About Golden Tulip Hospitality Group
Golden Tulip Hospitality Group (www.goldentuliptop.com) with its head offices in Amersfoort, The Netherlands and Lausanne, Switzerland, is a worldwide hospitality company with more than 908 hotels, 81,000 rooms in more than 50 countries. The Golden Tulip Hospitality Group franchises and manages hotels in Europe, the Middle East & Africa, the Asian Pacific Region and the Americas. In 2006, Hotels Magazine has ranked this company the 18th largest hotel chain. As a multi-brand hospitality firm, the Golden Tulip Hospitality Group offers services in the two, three, four and five star categories. On the two-star side Golden Tulip has an alliance with the French B&B hotel chain. The three-star concept is the Tulip Inn for the limited-service first-class category, the four-star category falls under the Golden Tulip brand for the Superior First-Class business and Resort hotels and the recently introduced five-star concept Royal Tulip. In addition Golden Tulip offers its services through its commercial alliance with TOP International, a German based hotel consortium.
In the fall of 2006, Golden Tulip introduced BRANCHE, Restaurant, Bar and Lounge. This is a free standing restaurant chain, which will have establishments in most Golden Tulip Hotels and Tulip Inns operated by Golden Tulip. For more information please visit www.brancherestaurants.com
For more information on the 45 years of existence of Golden Tulip please visit http://www.goldentulip.com/45years
For more information about Golden Tulip Hospitality, please contact:
Golden Tulip Hospitality Group
Mw. Rocio Manzanares-
Corporate Communication Manager
Tel: +31 33 2544 828
Fax: + 31 33 2544 816