About GLOBE
GLOBE 2010 is produced by the GLOBE Foundation, an international consultancy organization in the business of the environment. GLOBE's expertise lies in project management, event development, and management and consulting in the fields of environment and energy, urban development, and corporate responsibility. The GLOBE Foundation is North America's longest operating producer of environmental events.
The Future of Energy
Photo of panel (above right)
Fossil fuels will continue to play an important role in our energy future. But opportunities are rising from the development of new technologies dedicated to producing more renewable sources of energy. During these sessions focused on the future of energy, some of the world's leading experts will discuss alternatives to fossil fuels and explore the challenges as well as the opportunities available in these new renewable sectors.

The Urban Infrastructure Revolution
Over half the world's population now live in cities. This puts extra strain on natural resources and results in major challenges surrounding the provision of adequate shelter, clean water, and waste management services. Thankfully, worldwide initiatives to create eco-cities are underway.
TOWN HALL: MOVING THE GREEN ECONOMY FORWARD
The worldwide transition to a green economy is underway &endash; not only due to the need to manage greenhouse gas emissions, but also to maximize efficient use of key resources. This Town Hall will explore the biggest opportunities and challenges that lie ahead, and the implementation of the necessary changes to achieve success.
• Christopher Henderson, President, Lumos Energy, Ottawa, ON (Moderator)

• Dianne Dillon-Ridgley, Director, Interface Inc., Atlanta, GA
• Tony Manwaring, Chief Executive, Tomorrow's Company, London, UK
• Nicholas Parker, Executive Chairman, Cleantech Group LLC, San Francisco, CA
• David Runnalls, President & CEO, International Institute for Sustainable Development, Ottawa, ON
• Hon. John Yap, Minister of State for Climate Action, Government of British Columbia, Victoria, BC
HOW GREEN ARE PLUG-IN CARS? MOVING EMISSIONS UPSTREAM?
Plug-in cars are lauded as a boon to the environment, but critics argue that the industry is playing a shell game &endash; merely moving emissions from the tailpipe to the smoke stack. Evaluating the true net improvement is tricky business. This session will discuss the latest research from universities, NGOs, and utility companies to determine if plug-in cars are only the latest passing "silver bullet" or a real long-term solution.
• Bradley Berman, Founder, BermanWorks, Berkeley, CA (Moderator)
• Sevag Pogharian, Architect, Sevag Pogharian Designs, Montreal, QC
• Constantine Samaras, Associate Engineer, RAND Corporation, Pittsburgh, PA
• Luke Tonachel, Vehicles Analyst, Natural Resources Defense Council, San Francisco, CA
• David Trueman, Technical Consultant, Thor Lake, Avalon Rare Metals, Richmond, BC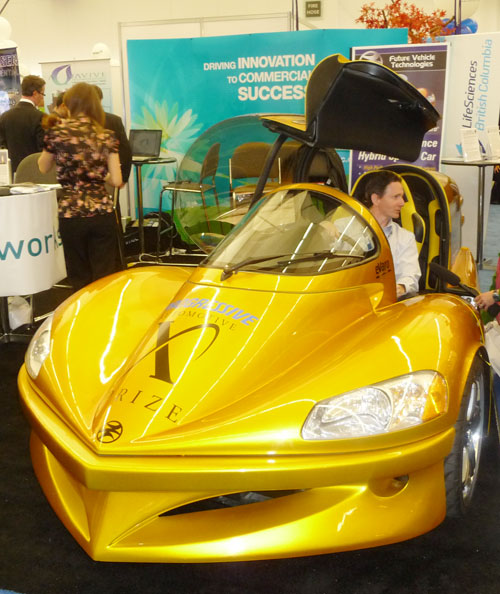 CONVERTING GAS GUZZLERS TO FUEL SIPPERS: PLUG-IN AFTERMARKET CONVERSIONS
Even the rosiest forecasts have plug-in hybrids and electric cars entering the market very slowly. By 2020, plug-in cars are predicted to only make up five to 10 per cent of the new car market and only one percent of the global car park &endash; which is not fast enough to meet the current global carbon reduction targets for the transportation sector. This session will explore the technology and market challenges of converting gas-powered cars to run on electricity.
• Stuart Evans, Director, Business Development, Delta-Q Technologies Corporation, Burnaby, BC (Moderator)
• Ambarish Chandra, Assistant Professor, University of British Columbia, Vancouver, BC
• Jay Giraud, CEO, Rapid Electric Vehicles, Vancouver, BC,
• Christina Ianniciello, Manager, Communities and Transportation, Ministry of Energy, Mines, and Petroleum Resources, Government of British Columbia, Victoria, BC
PRESTIGIOUS GLOBE AWARDS
VANCOUVER, B.C The GLOBE 2010 Welcome Reception had an air of celebration as the GLOBE Foundation announced the winners of the 2010 GLOBE Awards for Environmental Excellence. The awards, now in their 8th edition, are presented to Canadian companies that excel in sustainable business practices, develop progressive technologies and offer outstanding services.
This year saw winners in seven award categories: Corporate Environmental Excellence - Business Strategy, Corporate Environmental Excellence - Facilities and Events, ecoFREIGHT Sustainable Transportation, Technology Innovation and Application, Excellence in Emerging Technology, Excellence in Urban Sustainability and Finance.
The Corporate Award for Environmental Excellence - Business Strategy was presented to RBC Royal Bank of Canada, a company that has been practicing environmental stewardship and sustainability since 1990 when RBC introduced its first formal environmental policy. In 2007, RBC became one of the first Canadian banks to articulate its entire environmental platform in a formal commitment document dubbed the RBC Environmental Blueprint. This five-year plan addresses its three priority environmental issues: climate change, biodiversity and water, and outlines how it will approach new and emerging environmental issues in its operations, business activities and products and services going forward. Finalists in this category included Vancity and Walmart Canada Corp.
Hot off the heels of an extremely successful display of sports and culture, the Vancouver Organizing Committee for the Olympic and Paralympic Winter Games accepted the Corporate Award for Environmental Excellence - Facilities and Events. In order to "manage the environmental, social and economic impacts and opportunities of the Games and produce lasting benefits, locally and globally," VANOC recognized local and global sustainability challenges and opportunities, it learned from past Games and best practices, and it embraced the unique opportunities to make a positive difference. It implemented a corporate governance process to ensure aligned decision-making for its sustainability commitments and conducted GRI (Global Reporting Initiative) compliant annual performance reporting with stakeholder engagement and third-party assurance. Fairmont Hotels & Resorts and The Minto Group were finalists for this award.

Port Metro Vancouvertook home the ecoFREIGHT Award for Sustainable Transportation, praised for its work in reducing emissions of criteria air contaminants and air toxics. This work is also yielding benefits in terms of reducing greenhouse gases. Wherever possible the Port has looked for opportunities to address the issues of air quality and climate change together. They are collaborating with other ports, the marine industry and with government agencies to develop a data baseline, promote efficiency, implement technologies and support regulatory changes to reduce air emissions. The ecoFREIGHT award finalists included Bison Transport Inc. and Frito Lay Canada.
The winner of this year's Award for Technology Innovation and Application was Tantalus Systems Corp., a company that developed Smart Grid software which is helping to revolutionize the way electricity is consumed and delivered. The software helps to optimize the use of energy and water resources by automated metering practices, reducing operational costs, eliminating revenue/energy and giving utilities and customers access to the information needed to manage these resources intelligently. Other finalists were: Altech Technology Systems Inc., Pulse Energy, and RETScreen International.
Securing top honorsin The Award for Excellence in Emerging Technology was Dow Chemical Canada ULC, for introducing its PowerHouse Solar Shingle into the market. This technology is a revolutionary flexible photovoltaic solar cell packaged in the form of a roofing shingle that can be easily integrated with standard asphalt shingle materials - at an affordable cost. This game-changing product is expected to be available in limited quantities in mid-2010 with shingle systems more widely available in 2011, putting the power of solar energy directly in the hands of homeowners. It was ranked number 13 on TIME magazine's list of "The 50 Best Inventions of 2009." Finalists in this category included Climate Smart Businesses Inc. and Saltworks Technologies Inc.
After being a finalist at the 2008 GLOBE Awards, Millennium Southeast False Creek Properties Ltd. was honoured with the Award for Excellence in Urban Sustainability. Millennium Water incorporated numerous innovations in its planning, design and community building and makes use of passive design as a key component in the reduction of energy and resource use. The project includes creative approaches to site infrastructure, the control and management of storm water as well as innovative approaches to energy conservation and generation. Environmental sustainability by decreased resource consumption was achieved by implementing a number of site-wide strategies. The City of Edmonton and Toronto Hydro Corporation were the other finalists for this award.
In addition, Sustainable Development Technology Canada (SDTC) was presented with the Finance Award for Sustainability in recognition of its excellent contribution to sustainability and its outstanding role as the single largest source of Cleantech financing in Canada over the last five years.
The GLOBE Awards are judged by a panel of experts well known in the Canadian business and environment community: Toby A.A. Heaps, President and Editor, Corporate Knights; Françoise Faverjon-Fortin, Vice-President, Infrastructure and Environment, Export Development Canada; Robert J. D. Page, TransAlta Professor of Environmental Management & Sustainability, University of Calgary; Nicholas Sonntag, Executive Vice President, Corporate Development, Westport Innovations Inc. and President, Westport Asia; and P. Wayne Soper, President, Smart Living Media.
The 2010 GLOBE Awards, presented by the GLOBE Foundation, were sponsored this year by BNN, the Business News Network, Export Development Canada and Transport Canada's ecoFREIGHT Program. For more information on finalists, winners and future applications visit www.theglobeawards.ca. To learn more about GLOBE 2010, visit www.GLOBE2010.com.
Green Infrastructure: Sustainability at Work
Time: March 24, Wednesday 10:30 - 12:00
In cooperation with ReNew Canada
The economic downturn has stimulated new "green" economic activity and job growth through the revitalization of old infrastructure and the building of new projects. How are municipal infrastructure renewal efforts being used to accelerate sustainability? What types of projects are most effective for long-term asset management and community success?
Mira Shenker, Editor, ReNew Canada, Toronto, ON, Canada (Moderator)
John Coburn, Managing Director, XPV Capital Corporation, Toronto, ON, Canada
Sam Sidawi, Practice Lead, Community Infrastructure, AECOM, Toronto, ON, Canada
Marty Janowitz, Vice President, Sustainable Development, Stantec, Edmonton, AB, Canada
Ric Robertshaw, Co-Chair, National Roundtable for Sustainable Infrastructure (NRTSI), Brampton, ON, Canada
Richard White, Director, Community Development, City of North Vancouver, BC, Canada
Eco Communities: Designing a Sustainable Future
Time: March 24, Wednesday 13:30 - 15:00
Green building principles, design practices, and policies are transforming every aspect of the planning and construction of buildings and communities. Buildings are significant consumers of energy and major contributors to global greenhouse gas emissions. Find out how cities and entire communities are becoming more sustainable through better planning, integrated developments, and the design of resource-efficient, high-performance buildings.
Gwendolyn Hallsmith, Founder, Global Community Initiatives & Director, Department of Planning and Community Development, City of Montpelier, VT, USA (Moderator)
Mike Kontranowski, Strategic Market Director, Architectural Markets, Dow Building Solutions, The Dow Chemical Company, Miland, MI, USA
Liesbeth van der Pol, Chief Government Architect, Government of The Netherlands, The Hague, Netherlands
Dane Taival, Vice President, Contracting Solutions, Trane, St. Paul, MN, USA
John Robinson, Professor, Centre for Interactive Research on Sustainability, University of British Columbia, Vancouver, BC, Canada
Christopher Glaisek, Vice President, Planning and Design, Waterfront Toronto, Toronto, ON, Canada
Future of Cities Dialogue
Time: March 25, Thursday 10:30 - 12:00
With the support of the Vancouver Economic Development Commission
We know that great cities don't just happen by accident. They develop over time based on decisions made at critical points in their evolution, often guided by an overarching vision or plan. What are the process tools and technologies that can help cities function better, improve the quality of life for their citizens and reduce their environmental impact? What will the city of the future look like?
Mike Harcourt, Chairman, QUEST, Vancouver, BC, Canada (Moderator)
Gregor Robertson, Mayor, City of Vancouver, BC, Canada
Roland Aurich, President & CEO, Siemens Canada Limited, Burlington, ON, Canada
Peter Busby, Managing Director, Busby Perkins+Will, Vancouver, BC, Canada
Smart Cities: Connections for the Future
Time: March 25, Thursday 13:30 - 15:00
Cities are becoming "smarter" as new data and energy management systems are designed and implemented. How will new software, the Internet, and cutting-edge technologies installed in urban centres pave the way for the coming smart grid "revolution"?
Michael Geller, President, The Geller Group, Vancouver, BC, Canada (Moderator)
Eamonn Percy, President & Chief Operating Officer, Powertech Labs Inc., Surrey, BC, Canada
David Helliwell, Co-Founder & CEO, Pulse Energy, Vancouver, BC, Canada
Hellmuth Frey, Project Manager, EnBW Energie Baden-Württemberg AG, Karlsruhe, Germany
Anthony Haines, President & CEO, Toronto Hydro Corporation, Toronto, ON, Canada
Energizing Our Cities
Time: March 25, Thursday 15:30 - 17:00
Municipal leaders today have many more opportunities to utilize and manage alternative and renewable energy options for cities and towns. Find out how new energy technologies and applications for industrial, commercial, and residential development are delivering clean power to energize our cities.
Nicola Ross, Executive Editor, Alternatives Journal, Waterloo, ON, Canada (Moderator)
Mike Harcourt, Chairman, QUEST, Vancouver, BC, Canada
Sadhu Johnston, Deputy City Manager, City of Vancouver, BC, Canada
Janine Reaburn, Associate Director, Facilities, LoyaltyOne, Toronto, ON, Canada
Karen Farbridge, Mayor, City of Guelph, ON, Canada