Jubilee editions at top Africa Events plus Africa Exhibits at major market Travel Shows & Expos in USA and Canada.
About Selous Impala
A truly beautiful camp located on the banks of the Rufiji River, in Selous Game Reserve. There are just 6 beautifully furnished en-suite tents at Selous Impala built on platforms, giving superb views of the Rufiji River and its wildlife. Set amidst Borassa Palms and Tamarind Trees. The camp provides superb comfort and wonderful wildlife. Hosted by the widely experienced Sean and Fiona Torrie they will ensure warmÊ hospitality and good food; dining under the stars. Selous Impala has skilled and knowledgeable guides who will lead the game drives, boat trips, walking excursions and fly camping, and ensure the best possible game viewing experience. Coastal Aviation's flight plans feature some first-time scheduled combinations including: Arusha in the Northern Circuit with Ruaha and the Selous in the South; Ruaha, Katavi and Mahale; Rubondo Island and the Serengeti; the Selous and Mafia Island. At the World Travel Market in London this November, Coastal Aviation launched an "Agent Friendly" online booking system. Coastal Account Holding Travel Agents will be able to plan and book the entire safari itinerary, as well as confirm and issue travel documents. Other agents and clients will have access to the information but will not be able to book online. Flying Safari Specialist
Coastal Travels Ltd
Tel: +255-22-2117 959
or 2117 960
Fax: +255-22-2118 647 Email: mailto:safari@coastal.cc

Great Flying Safaris in Tanzania with Coastal Aviation
Our Air Safari, which took place during the 10 days of Christmas 2003, began with a seafood dinner on the patio at one of my favorite places, "The Slipway" on Dar es Salaam's rapidly-changing waterfront. At this unique shopping mall, now in its third or fourth stage of development, we were introduced to the owner Nicola Colangelo, an exceptional person and gracious host. Having just completed two weeks of dawn to dusk sessions at conferences in Zanzibar and at Dar es Salaam's Golden Tulip Hotel, the idea of flying on the Coastal Air Safari circuit had a special appeal. Another good omen that same day was our reunion, after five years, with popular entertainer King Kiki, the Swahili Coast's Louis Armstrong - his musical beat goes on forever. The Slipway is a magnet for creative people of all types, as some of the top local artists create and display their works on the broad square facing the harbor.Photo-above: Muguette Goufrani (left) with Mangers Sean and Fiona Torrie, and Mr. and Mrs. Zannuchi (right), owners of Adventure Camps at Selous. We enjoyed Christmas dinner with this wonderful group.Slipway is one of several thriving enterprises developed by Mr. Colangelo of Coastal Aviation , which among other activities, provides tours and air safaris to the Swahili Coast, National Parks and Game Reserves. By the time a week had passed, Africa Travel
Magazine's Editor Jerry Bird and myself were familiar faces around the Dar es Salaam Regional Airport and the Coastal Air office in particular. Before describing our back to back adventures, that involved flights on Coastal Airlines' Cessnas to Mafia Island, and later to two tented camps - - the new Impala Camp at Selous and Old River Camp at Ruaha, here is some basic information provided by our hosts.
Photo Sequence (top): Christmas Dinner with Mr. and Mrs.Zanacchi, owners of Imapa Camp, Selous, their management teram and holiday visitors. Above: On the deck of our attractive tented unit at Impala Camp. . More->
Guinea, West Africa's land of contrasts
The story of my journey from the Gulf of Guinea on Africa's Atlantic Coast to historic Mali Ville in the northern highlands appears in our bilingual Africa Travel Magazine. With that in mind, please consider this online version as an hors d'oeuvre - the full course banquet will come when you visit Guinea. I guarantee that your travel experience will be a feast - and like one of Nat King Cole' s most famous songs ... Unforgettable! Or as the immortal Maurice Chevalier would say ... C'est Magnifique! Some call Guinea the "Switzerland of Africa" and one of your first pleasant surprises when visiting the Republic of Guinea is that it is uncrowded. Big in size, yet small in population. A nation of 7.5 million, Guinea is also described as the land of contrasts. Those apt comparisons became evident to me a few days into our journey. The route selected by our gracious hosts Hon. Sylla H. K. Diakite, Guinea's Minister of Tourism and General Manager Ibrahima Diallo, began close to Conakry. More->T
Cape Town to Pretoria by Rail
A once in a lifetime opportunity came our way during New Years Week, 2004, when we journeyed on Rovos Rail , the Pride of Africa, from Cape Town to the company's outstanding Capital Station complex at Pretoria. It was such a superb experience that we are providing our descriptive travelog of the two-day rail tour to the world's print and broadcast media on request. Travel World News of New York has already run the story nationwide in the USA and an expanded feature will appear in Africa Magazine's Grand Tour of South Africa issue. Here are some opening comments from the Rovos Rail article: "What a way to celebrate the New Year! As we joined the other passengers assembled on the red-carpeted platform, a traditional toast of South African champagne and orange juice set the mood, while a trio of violinists provided soft, soothing classical music -- a fitting background for such a memorable send off. At the microphone Mr. Vos gave a hearty and humorous "bon voyage," announcing each guest's name in turn as they boarded the train. More->
Kenya Turns on the Magic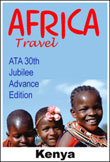 Minutes after our Kenya Airways jet touched down at Nairobi Airport, following a cross continent flight from Cameroon , we were Amboseli bound. Spectacular sights on the route south included a panoramic 'passing parade,' with a backdrop of grassy fields and rolling hills covered with a blanket of lily white blossoms as far as the eye could see. In the foreground, every few miles stood Maasai herdsmen, alone or in pairs. From nine year olds to great grandfathers, they were guarding their mixed herds of cattle, sheep and goats. Clusters of wildlife mingled with the herd as we drew nearer to the park gates. One of the most enduring, endearing and colorfully garbed of African tribes, the Maasai culture has flourished since earliest times. Directly south of Naibori in the shadow of the legendary, snowcapped Mount Kilimanjaro, Amboseli National Park was first on our list of Kenya's must-see attractions. The most compelling reason is its large concentrations and wide variety of wildlife. Little time was wasted in getting us out 'on Safari, " as no sooner than we checked in at the Amboseli Serena Safari Lodge, like Dr. Doolittle, we were off to see the animals. More->
Touring Cameroon, Africa in One Country
"If you dance, you vibrate - and he who vibrates lives."
Popular quotation.
Mount Cameroon, West Africa's highest peak, stands like a giant sentinel, gazing out over the Gulf of Guinea on Africa's Atlantic Coast. Among it's legendary names is "Throne of Thunder," a fitting tribute to the powerful gods that are said to inhabit the mountain's inner core. Our group of travel agents and journalists approached the 'throne' shortly after one of its frequent volcanic eruptions, and the ribbons of cooled lava resembled grey frosting oozing from an enormous layer cake. The lava beds are evident from the main highway to Kribi and a hiking trail winds up and over them. The warning signs advised us to pay respect and to tread gently in this eco- sensitive area. Mount Cameroon's rugged peak is the crown jewel of a chain of volcanic mountains that are strung like a giant pearl necklace along the Cameroon Nigeria border. The range stretches from here all the way to the northern plains of Maroua, gateway to Waza National Park - and that's just part of the "Grand Tour of Cameroon, Africa in One Country" a prestige edition of Africa Travel Magazine making its debut in fall 2004. More->
In The Queen of Sheba's Footsteps
Lalibela's Bet Giyorgis, most famous of the eleven rock-hewn churches in this mountainous area, is believed to have been built in the late 12th or early 13th century by King Lalibela. These incredible edifices, which were carved inside and outside from solid rock, are ranked among the wonders of the world. Our team of North American journalists came to Ethiopia with few preconceived notions, yet each had some special areas of concern. For every member of the group, it was a first time journey to this ancient, mysterious, storybook land. What a spiritual awakening it proved to be. The tour of Ethiopia's Historic Route began in Addis Ababa, the capital and geographical center. For starters, Ethiopian Airlines, flew us north to Lalibela, the holy city; to Gondar- Africa's Camelot, and to Bahir Dar on Lake Tana, source of the Blue Nile. Dire Dawa and the walled city of Harar in the eastern sector completed the agenda. Nothing I had read about the Holy City of Lalibela, its mysteries, legends, saints and monarchs, could have prepared me for what we were about to encounter on this trip. The brief morning flight from Addis Ababa's Airport north was a delight, winging through the cloudless skies, as an ever-changing panorama of awesome gorges, deep canyons and broad plateaus unfolded below. More->