Willing to value and protect the know-how related to hat making, and to promote the current development and design of hats as privileged fashion accessories.
THE HAT WORKSHOP-MUSEUM in Chazelles-sur-Lyon, Monts du Lyonnais, (FRANCE)
IS ORGANIZING AN INTERNATIONAL CONTEST 2009
OPEN TO FRENCH, EUROPEAN AND FOREIGN DESIGNERS.
The theme of the contest is "Variable geometry".
Understood in its widest sense, it refers to any creation flexible in its shape or its function.
According to Chazelles-sur-Lyon hat making tradition, FELT will have to be part of the design.
Each designer will make sure that his/her creation is easy to wear (size, proportion, balance, comfort,
etc...) in the spirit of an "everyday" or "event" product rather than an artistic creation.
Hats shall be sent or delivered between February 1st and March 6th , 2009 to the following address:
International Hat'sArt Competition 2009
Atelier-Musée du Chapeau - 16 route de St-Galmier - 42140 Chazelles-sur-Lyon - France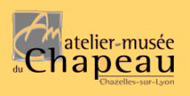 For more informations : www.museeduchapeau.com
Best regards
Yvan PERRETON
Atelier Musée du Chapeau
16 route de Saint Galmier
42140 Chazelles sur Lyon
04 77 94 23 29
www.museeduchapeau.com