AFRICA TRAVEL'S 'GOOD NEWS' MESSAGE REACHES KEY CONTACTS IN USA & CANADA PLUS AN ONLINE BONUS OF 91,000 PAGE VIEWS WEEKLY WORLDWIDE AND EXHIBITS AT MAJOR TRAVEL SHOWS YEAR ROUND Click to Advertise->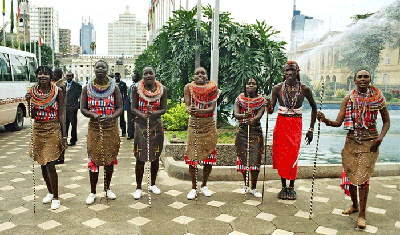 NEW FEATURES IN SEPT. 30 ISSUE
Africa's Great Cities - Gateways to Sustainable Tourism & Business Travel
Africa Travel Magazine interviewed leaders from all over the African Continent and Diaspora, who played key roles at the UN World Urban Forum. That week-long encounter in Vancouver, Canada added fuel to a well stoked fire, sparking the energy and initiative to launch this exciting series. We expect a worldwide demand for issues. More->
ONE OF 3 BIG EVENTS FEATURED!
Nigeria Hosts Africa Travel Association 10th Ecotourism Symposium, Nov. 15-20


TATA's 10th Ecotourism Symposium will be held in Nigeria's Atlantic Coast resort town of historic Calabar, Nov. 15 - 20, 2006 A joint announcement was made by Dr. O.J. Eboreime, Director General of the Nigerian Tourism Development Corporation and Mr. Edward Bergman, Executive Director of the Africa Travel Association. Continued > About Calabar >

REACH AND INFLUENCE- travel agents, group tour organizers and serious buyers via Tourist Boards, Embassies, Airlines, Airports, 26 ATA Chapters and Travel Show Exhibits in Africa, New York, Chicago, Washington, Boston, Atlanta. Miami, Dallas, Los Angeles, San Francisco & Canada. An Africa Search Leader on Google, Yahoo and MSN, we generate 20 million hits annually, averaging 8.30 minutes per visitor session. More-..

A HUGE,READY MADE MARKET
African Diaspora Homecoming Tours
Africa's greatest cultural tourism and spiritual awakening opportunity and outreach. Features include the African Diaspora Heritage Trail, The Joseph Project, and more. More->

OUR FIRST TRANSPORTATION SPECIAL
Air Highways to Africa
Our editors pioneered Air Highways and free airport distribution. Profiles, New Routes and Airline Reports, plus interviews with African Airline Association. More->

Worldwide Distribution Year Round
Via Partnerships with Tourism Ministries, Tourist Bureaus and Embassies, ATA Chapter Members, agencies and companies in Africa, USA and Canada. International Association Partners: UNWTO, PATA, ASTA, ARTA, CCA, USTOA, IIPT. Geographic reach: 1. North America 2. Europe 3. Africa 4. Asia.
Nigeria - ATA's Next Host Country


"My colleagues and I really looked forward with wide-eyed anticipation to discovering Nigeria, 'Africa's Giant in the Sun,' because of what we had heard regarding its great natural beauty and the friendliness of its people. I was very interested in learning more about Nigeria, which has over 2,000 years of tradition and culture, with a unique combination of ancient and modern lifestyles." Helen Broadus. More->