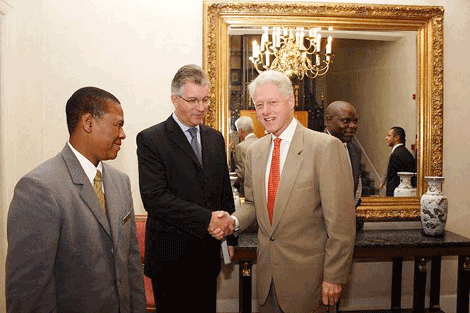 Mr. Clinton being welcomed at Polana Serena Hotel by the General Manager Mr. Lander
"HELLO AGAIN, MR CLINTON"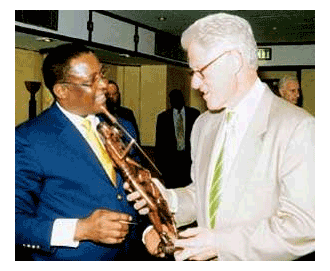 Serena Hotels, East Africa's leading hotel group, had the ultimate Repeat-business guest , former US President Bill Clinton. During his recent extensive visit to Africa, Mr. Clinton stayed at no fewer than three Serena properties: The Polana Serena Hotel, in Maputo, Mozambique; the Zanzibar Serena Inn and the Nairobi Serena Hotel, in Kenya.
Serena Group marketing director, Peter Mbogua, commented: "We are naturally delighted that such a distinguished guest chose to make his visit to our continent a Serena Experience."
During his tour, Mr. Clinton met with several African leaders, including Nelson Mandela and Kenyan President, Mr. Mwai Kibaki , and visited local schools in order to "reinvigorate political will" towards AIDS treatment programmes. The Clinton Foundation has committed over $10 million to the initiative.
Serena operates high quality Hotels, Resorts and Safari Lodges in Kenya, Tanzania (including Zanzibar) and Mozambique. The group is a leader in conservation of the environment with buildings of unique designs that borrows from indigenous culture.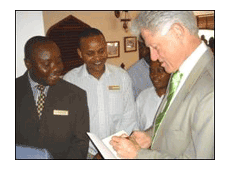 Photo (above right): Mr. Clinton receiving a gift from the General Manager Nairobi Serena Hotel, Mr. Gathuri\
Photo (left) : Mr. Clinton being welcomed at Zanzibar Serena Inn by the General Manager, Mr. Muia

KENYA'S TOURISM LEADERS STAR IN AFRICA YEARBOOK
"This congress has achieved its main objective, which is to enhance cooperation in the promotion and marketing of our African destinations in the United States of America. I believe it would be a great idea to have an umbrella tourism organization such as the Africa Travel Association that can supplement our promotion and marketing efforts in other tourist-generating markets such as Europe and Asia."
Hon. Morris Dzoro, MP, Minister of Tourism and Wildlife, Kenya,
Photos from ATA 30th World Congress and
our current magazine edition.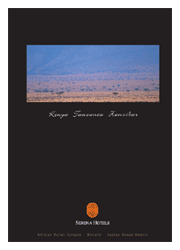 Ready for Action!
Our 40-day stay in Kenya was part of a 2-year effort that will result in several new editions designed to shatter the media myths and set the record straight on Kenya's return to world prominence as a tourism superstar. More
Download Brochure
Mombasa Sedrena Beach Hotels and other Sedena Properties on the Indian Ocean Coast of Kenya and Tanzania. Download
Photo Gallery of Mombasa Serena Beach Hotel on this web site.
view page