AFRICA'S ONLY TWO FEMALE HEADS OF STATE HONORED AT THE AFRICA-AMERICA INSTITUTE'S 28th ANNUAL AWARDS GALA
New York, October 1, 2012
At a historic U.S. gathering honouring Africa's only two female heads of state, the Africa-America Institute (AAI) paid tribute
on september 26, at its 28th Annual Gala to Her Excellency President Ellen Johnson Sirleaf of the Republic of Liberia and Her
Excellency President Joyce Banda of the Republic of Malawi for championing the rights of women and their full inclusion in
economic development to boost economic growth. ATTI is dedicated to advancing education and professional training for Africans,
and promoting engagement between Africa and America through education, training and dialogue.
More than 350 distinguished U.S. and African business, philanthropic, academic, political and diplomatic leaders gathered to
recognize African achievement under ATTI's them of "jobs for Africa". Held annually during the U.N. General Assembly, the AAT
Awards Gala is the most high profile Africa-focused event in New York City. This year's major corporate sponsors are Chevron and
Fulbright & Jaworski L.L.P.
President Sirleaf accepted the AATI African National Achievement Award for Literacy to Supoort Life Skills in recognition of her
leadership to rebuild Liberia's national education system following years of a brutal civil war by emphasizing literacy as a
catalyst for expanding opportunity for all Liberians. Sirleaf thanked AAI for recognizing her country's efforts to strengthen
its educational system with a special emphasis on girls' education.
Her Excellency President Joyce Banda of the Republic of Malawi received the AAI Award for Championing Women's Rights and Business
Leadership for her life mission to assist women - and youth - gain social and political empowerment through business and education.
"Africa needs political will from the president way down to all other decision makers - political will for governance would ensure micro-economic stability," said Banda, who is an AAI alumni.
Maurice Tempelsman, former member and chair of the AAI Board of Trustees and chairman of the Board of Directors of Lazare Kaplan International, received a special recognition and was honoured with the AAI Distinguished Trustee Award for his five decades-long supports to AAI and service as a member of the AAI Board of Trustees. Tempelsman has been designated Trustee Emeritus of the Africa-America Institute.
On the day after the gala, AAI hosted the 2012 Africa Business Investors Conference in collaboration with UN Women, the African Women's Development Fund and the African Business Roundtable to further delve deeper into the gala theme "Jobs for Africa's Future". African heads of state and U.S. and African leaders attended this high-powered networking and dialogue to draw attention to Africa's emerging market potential, innovative solutions for private sector development, and the pivotal role of African women as powerful drivers of African economic development.
About the Africa-America Institute (AAI): Founded in 1953, the Africa-America Institute, a leading New York-based international education and policy organization, is dedicated to advancing education and professional training for Africans, and promoting engagement between Africa and America through education, training and dialogue.
Ellen Johnson Sirleaf- Biography in Brief
I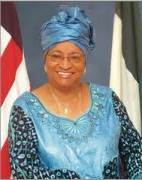 nternationally known as Africa's "Iron Lady," President Ellen Johnson Sirleaf is a leading promoter of peace, justice and democratic rule. She grew up in the Liberian capital of Monrovia where she married and had four sons.
President Johnson Sirleaf later moved to the United States where she earned an accounting degree from the Madison College of Business and a Masters Degree in Public Administration from Harvard University's Kennedy School of Government.
In her efforts to bring justice to her people in Liberia, she has spent more than a year in jail at the hands of the military dictatorship of General Samuel Doe and had her life threatened by former President Charles Taylor. She campaigned relentlessly for Taylor's removal from office and played an active and supportive role in the Transitional Government of Liberia as the country prepared for elections in October of 2005.
President Johnson Sirleaf was a presidential candidate in the 1997 Liberia general election where she finished second in the field of 13. Before that, she served for five years as Assistant Administrator and Director of the Regional Bureau for Africa of the United Nations Development Program as Assistant Secretary General of the United Nations and was the first woman to lead the United Nations Development Project for Africa.
She served as the Chairperson of the Governance Reform Commission of the National Transitional Government of Liberia until she resigned in March 2004 to accept the nomination of the Unity Party of Liberia as its Standard Bearer.
In November 2005, President Ellen Johnson Sirleaf was elected President of Liberia and became the first woman to lead an African nation. The Harvard educated and former World Bank economist defeated popular World Class soccer star George Weah with an impressive 59.4 percent of the vote.
Professional career at a glance (35 years):
• Minister of Finance for Liberia-First Woman
• President of the Liberia Bank for Development and Investment
• Vice President of Citicorp
• Vice President of the HSBC Equator Bank
• Senior Loan Officer of the World Bank
• Board Member and Regional Representative for West Africa for the Modern Africa Growth and Investment Co. (MAGIC)
• Founder and CEO of Kormah Development Corp. (KODIC)
• Founder of Measuagoon, a nonprofit that supports community development and girls education
President Johnson Sirleaf has served as Governor representing her Liberia for several financial institutions, including the International Monetary Fund, the African Development Bank and the World Bank. In the later capacity, she was chair and spokeswoman of the African Caucus for the 1979 Annual Meeting.
Notable advisory boards and committees:
• The International Crisis Group (USA)
• Songhai Financial Holdings Ltd (Ghana)
• Center for Africa's International Relations, University of Witwatersrand (South Africa) and Women Waging Peace (USA)
Special honors:
• Commander de l'Ordre du Mono of Togo (1996)
• Ralph Bunche International Leadership Award of United States (1995 and 1996)
• The Franklin D. Roosevelt Freedom Of Speech Award of the United States (1988)
• Grand Commander of the Star of African Redemption of Liberia (1980)
Activities:
• One of seven international eminent persons designated by the Organization of African Unity (OAU) in 1999 to investigate the Rwanda genocide
• One of the five Commission Chairs for the Inter-Congolese Dialogue (2002)
• One of the two international experts selected by UNIFEM to investigate and report (2002) on the effect of conflict of women and women's roles in peace building
• Served as the initial chairperson (2000&endash;2003) of the Open Society Initiative for West Africa (OSIWA)
• Member of the Soros Foundation Network
• Visiting professor of Governance at the Ghana Institute of Management and Public Administration (GIMPA)
• Selected as an independent board member of the Humanitarian Accountability Partnership International (HAP)
President Ellen Johnson Sirleaf has four sons and nine grandchildren.