Extended range and special rates at the Mövenpick Resort and Spa Mauritius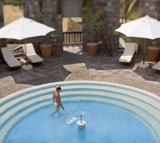 The Mövenpick Resort & Spa Mauritius is well-prepared for the approaching high season: a number of additions have just been completed according customers' wishes. Moreover, until the end of October this exclusive holiday retreat offers attractive special arrangements.
Substantial investments were made in the conference and banquet area: "Sharazad" is the name of the largest function room for up to 250 guests, which owing to its state-of-the-art equipment is ideally suited for any type of event and can also serve as a discotheque. The room's architecture is another highlight, as the structure was built with stones from the region's former sugar mills. Two conference rooms for up to 60 persons amidst an exotic garden setting and private atmosphere have also been added to the premises. Finally, the comprehensive offering includes two meeting rooms for a maximum of twelve participants.
150 covered outdoor seats have been added to the main restaurant "Le Moulin", enabling French chef Sébastien Vincent and his crew to offer various buffet options for a total of 400 guests. The beach restaurant named "Le Camaron" and the "Grand'Kaze" gourmet restaurant complement the versatile culinary offering.

With a view of the turquoise lagoon a straw cabin was build by the beach, which can be used for open-air massages and other treatments during the day and romantic dinners for two at night. For the ultimate chill-out experience five Indian beds and 20 hammocks have recently been added to the lavish tropical garden. To enjoy these new amenities, guests may take advantage of a special offer in all categories until 21 October 2007: seven nights for the price of five (two free nights on half board basis), ten nights for the price of seven and twelve nights for the price of eight. Reservations can be made through travel agents or directly at the hotel, either by e-mail under resort.mauritius.reservation@moevenpick.com or by telephone at +230 623 5550.
The Mövenpick Resort & Spa Mauritius, which was added to the Swiss hotel group's portfolio in November 2005, has 181 generous rooms and suites. It offers the perfect ingredients for a relaxing and nurturing holiday in pristine surroundings: a marvellous location on the ocean, first-class service, excellent cuisine, a unique 1,800 sqm spa area and a wide range of leisure activities. Further information on the Mövenpick Resort & Spa Mauritius is available at www.moevenpick-mauritius.com.
Mauritius plans to become business hub
Port Louis
Mauritius, with its palm fringed white beaches and clear blue lagoons, is famous as a gateway resort for those wanting to escape the stresses of work,
But this Indian Ocean island has big plans to become a regional centre of business process outsourcing (BPO) - the emerging practice where companies farm out tasks such as call centre operations accounting and administration Globalisation has prompted an increasing number of businesses to outsource their non-essential activities to an outside low cost provider, often located in a remote destination. The global BPO market is estimated to grow from $127 billion in 2OO1 to $w310 billion in 2OO8. Not surprisingly, Mauritius wants a slice of this lucrative market. However, it does not aim to compete with majofr outsourcing centres like India, Australia, Singapore , or Philippines. Instead it plans to use its existing attributes to secure a modest portion of the BPO pie.
The island wants to exploit its complex colonial linguistic legacy - the population speaks both English and French - and market its workforce as an attractive one for companies seeking to serve European clients., There are currently over 2O BPO companies in Mauritius, employing about 1,3OO people, most of whom serve British and French markets as well as the local market. These include IT services and consulting firm Accenture, British-based human resources services firm Ceridian Centrefile, and Cendris, a Dutch company that offers services like information management and marketing advice.
Our agents are bilingual so they converse with French callers one day and British callers the next day. says Peter Hansen, operations manager for local company Rogers Call Centre, which started operations in 2OO1 and employs 160 agents. Situated 4,OOO km (2,5OO miles) east of South Africa, Mauritius is also connected to the South Africa Far East (SAFE) submaring fibre-optic cable, linking it to Malaysia, South Africa, and then onwards to West Africa and Europe, A major advantage of SAFE is that it provides competitive rates, and uninterrupted, and secure connection betwen Mauritius and the rest of the world, says Dev Chamroo of the Mauritius Board of Investment, The Island also offers a stable democraty with sound infrastructure and touts itself as a safe haven destination where companies can set up operations without fear of terror attacks and natural disasters. The Nasdaq-listed, Indian IT giant Infosys plans to invest about $25 million over the next three years to set up a disaster recovery centre in Mauritius.
Aware that global trade liberalisation threatns Mauritius's special trade preferences on essential sugar and textiles exports to European and U.S, markets, the Government is moving towards a knowledge economy based on services such as informatioln technology. A high-tech "cyber city" is now bending over backwards to lure technology-related businesses such as BPO companies by offering cheap power and tax relief. Mauritius hopes to rake in $1 million of BPO revenue and create about 25,OOO jobs in the sector by 2OO8. There are concerns that Mauritius will only be able to offer lower value services such as call centre operations, rather than data processing personnel management and accountancy.,The government has adopted a flexible labour policy allowing firms to bring in the skilled workers that the economy needs.