Governor Donald Duke
Cross River State, Nigeria


H.E. Donald Duke (45) Governor of Cross River State, was born in Calabar, the latest of 33 African cities to host Africa Travel Association events. Thanks to his efforts, Calabar is considered Nigeria's "cleanest city." While an important part of his higher education was in the United States of America at the University of Pennsylvania, Donald Duke received LLB degrees from Ahmadu Bello University, largest university in Nigeria and second largest in Africa. Two key areas Governor Duke has targeted are tourism and environment, which are the essentials of "Ecotourism," focus of the ATA 10th Annual Symposium in Calabar, November, 2006. The Governor has also excelled are in agriculture, environment, information and communication, investment, urban development and government.
He has been a firm advocate of democracy. In this regard, he said, "What got the military out of power was not democracy but the dreadful state of the economy. If we, the democratic government, cannot deliver food for the mass of people we can forget about democracy."
Here are some comments from the internet: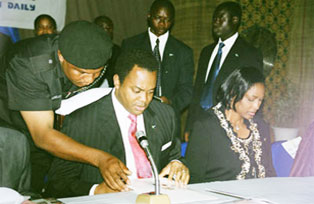 "With so many Nigerian cities overflowing with refuge and generally lacking in cleanliness and hygiene one of the things Duke did when he became Governor was clean up the major cities in the state, implemented a maintenance strategy to ensure they remained clean, including a zero tolerance policy for people who choose to throw waste around. Waste management in Calabar is very efficient. The city is organised into 45 cells and given to private contractors to manage. The contractors are responsible for street-sweeping and waste management and contractors are immediately replaced if they fail to perform.
The cleanliness of Calabar's is amazing to Nigerian visitors to the city and even those who haven't been there have heard of how clean it is. So much so that the Federal Capital Territory (FCT) Minister, Mallam Nasir Ahmad el-Rufai who wants to make Abuja the Singapore of Africa in terms of beauty, had to pay a pilgrimage to Calabar to see things for himself and find out from Duke and his team how they did it."
"If Nigeria were a country looking for people with competence and ability to get things moving, Duke (Donald) should be head hunted." Vanguard Newspaper
"Before Duke became governor of Cross River few Nigerian holiday makers would have ever contemplated visiting the state but today it is the number one holiday destination of choice in Nigeria. The Tinapa Business Resort is not only ambitious, it is novel idea in the economic history of Nigeria and indeed Africa. The original idea, according to Duke, is to have an integrated business and tourism set up where visitors from both within and outside the country would have the opportunity to shop for goods of international standard in a friendly environment which offers full leisure, thus achieving a perfect integration of serious business and leisure.
Tinapa would have among other facilities four emporiums of 80,000m (the size of two football fields) in the main bowl. These emporiums would have goods of various types which Nigerians travel to Dubai, Europe and other internationally recognized free trade zones to purchase. The resort will include two hotels, an artificial lake 2km long would be created to provide for boating by tourists. Other facilities to be put on in the complex include water park, golf park, restaurants, cultural village which will have crafts, traditional dresses and other cultural items on offer. In subsequent phases, the resort will have a conference complex, two luxury lodges, expanded leisure and entertainment facilities including water sports, quad biking, archery and expanded cultural and educational components including an aviary, aquarium, crocodile farm and primate rehabilitation centre among others."
"There is also the Obudu resort. Six hours by road from Calabar, the capital of Cross Rivers State, it has become known by Nigerians and foreigners for its sheer beauty and the allure of nature. The place takes your breath away. A place where the natural beauty remains completely intact; a designated tourist destination, that has become world famous. A young secondary student from Lagos who visited the ranch recently said "I felt I was no longer in Nigeria".
The Ranch has been transformed from a small tourist scene to a world class holiday resort with accommodation rooms increased from 80 to over 200. An airstrip has been constructed to allow large aircraft land. The facilities are being managed by the reputable Protea Hotels Group. The cable car is the first of its kind in West Africa and one of the longest in the world and conveys visitors from the bottom of the hill to the top of the mountain where they are welcomed by staff and taken to their accommodation. There are tennis courts, squash courts, a 9 hole golf course where you can play golf in the clouds, and a large gymnasium, and a natural swimming pool."