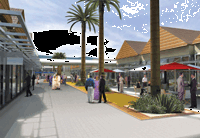 in the fall of 2006, our magazine's editorial team was part of an ATA group that was priviledged to visit and inspect Calabar's exciting Tinapa project that was in its final stages at the time. Our current mandate is to make sure Africa Travel Magazine's readers and internet viewers in North America and around the world know the true facts about Nigeria's newest treasure of cooperative enterprise. Tinapa is a resort that means business - the business of combing business, pleasure and leisure! Tinapa is the resort that means business - the business of combing business, pleasure and leisure! This will be the first time that anything like this has been experienced in West Africa. No longer will you need to go to Europe, the Far East or America to enjoy the best entertainment, shopping and leisure facilities the world has to offer!
Tinapa will Regenerate Lost Trading History of Old Calabar . President Olusegun Obasanjo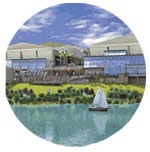 Tinapa, Africa's Premier Business Resort, has been described as a project with the potential of regenerating the lost trading history of Old Calabar.
During the Commissioning of the Multibillion Naira project at Adiabo, Odukpani Local Government Area, President Olusegun Obasanjo stated that the commercial history of Old Calabar, which made the town prominent before the advent of the colonial masters, will be brought back, adding that it is one thing to have a dream and another to follow it tenaciously to realization.
Describing Tinapa as an economic issue, President Obasanjo said it would impact positively on the economy of Cross River State as well as the whole of the West African Sub Zone, saying that the commissioning was a celebration of an actualized dream by Governor Donald Duke of Cross River State.
President Obasanjo noted that the project will change the face of Cross River and appreciated the can do spirit of Governor Duke, which he said was borne out of his ability to pursue his dreams to achievement, stressing that the project will not only create employment, as well as generate income, but will also impact positively on the image of Nigeria.
The President described Tinapa as a bold link to the sub-region that will propel Nigeria, Ghana and Togo to bring about prosperity and that it is an initiative fundamentally set to integrate and generate economic growth and development in the zone, adding that Tinapa is a catalyst for many activities which will stimulate job creation in the sub region.
He stated that to accommodate the heavy traffic which is expected when all the facilities at the resort are fully operational, the Federal Government intends to build a new airport in Calabar, which will be cheaper to build than to expand the existing one, in order to accommodate jumbo aircrafts.
President Obasanjo stated that the cost of constructing the new airport will be shared on a 50 - 50 ratio basis between the Federal Government and the State Government and that the ground breaking will be undertaken before the expiration of the present government on May 29, 2007, stressing that government has enthroned democratic ideas which will contribute to the success of the forthcoming electoral process, whilst congratulating the Cross River State Government and all those involved in the project.
President Obasanjo also challenged entrepreneurs to make the project realizable by seeking funds from banks to invest in it as he would like all products stocked in the resort to be " Made in Nigeria", if the funds are available.
Governor Donald Duke of Cross River State in his welcome address described Tinapa as a mission in which many people had played remarkable roles in seeing it to fruition, while commending Obasanjo for affording the state the opportunity to realize its dream, "because when a work as this is conceived, incubated and delivered, there is need to celebrate."
Governor Duke acknowledged the contributions of various financial institutions including ECOWAS Bank for Reconstruction and Development. General Jakubu Gowon described the occasion as "the Lord's doing as we rejoice in his mercy".
The Chief Executive Officer (CEO) of Tinapa, Mr. Sam Anani, in his presentation, commended Obasanjo for the support and approval given to the project which was conceptualized three years ago, saying that Tinapa is one of the most successful Public-Private Sector, Partnership projects in Nigeria financed locally by various financial institutions, which will offer employment to 5,000 youths as well as 500 foreigners.
Anani said as a marketing out-let for goods and services, the project will open its doors for entrepreneurs to thrive as well as attracting traffic from various parts of West Africa.
The Minister of Commerce and Industry, Alhaji Alieu Modibo in his remarks said Tinapa marks the beginning story of the country's desire to better its economy by 2020, and that, as a private sector driven economy, it must succeed, adding that the Federal Government had initiated polices to stimulate the private sector which Tinapa falls into.
Modibo averred that Tinapa should not be seen as a place only for the selling of foreign goods but also as a place for selling "Made in Nigeria" products, pledging that the Federal Government will continue to give the project its support.
The Minister of Tourism, Prof Babalola Borishade said the occasion was another land mark in the history of tourism in Nigeria, adding that Tinapa is an aggressive attempt to give tourism its rightful place through Public-Private Sector Partnership, which will open a major gateway to tourism in Nigeria.
Borishade said with the commissioning of Tinapa the State has added another feather to its cap because it will act as a catalyst to enhance rapid development of tourism, adding that a lot of effort will need to be put into the project to ensure its success.
The Minister congratulated Duke for dreaming dreams and called on other governors to initiate their own original projects to move Nigeria forward while congratulating Obasanjo and others for being part of the great success story.
The Managing Director of UBA, Mr. Tony Elumelu, on behalf of the private sector, listed the many things which ensured the birth of good ideas, the power of vision, support of the Public, Private Sector Partnership and power of leader support. He explained that Duke dreamt a dream, sought the support of the Private Sector. He said that if Obansanjo had not supported Tinapa, it would not have been a success story.
Elumelu said Tinapa will not be the last of a success story in Nigeria as it will spur others to move, whilst challenging others to dream dreams and seek financial support from the banking industry because "Today it is Tinapa, Tomorrow whose project will it be?"
TINAPA - BIRTH OF A SUPER OASIS!
The total Tinapa complex is massive - 80 000 m2 of retail and wholesale emporiums alone. The emporiums feature a borderless, seamless shopping environment - a unique concept that unfolds a new dimension in retailing for the first time in Africa's history! These massive 21st century shopping emporiums will be supported by a vast array of retailers offering everything from exclusive bookshops, specialty CD and DVD outlets, pharmacies to beauty salons, banks and jewellery stores! Plus an incredible entertainment centre including cinemas, food court, internet cafe and games arcade! There will be a dazzling range of six hotels to choose from - accommodation to suit a variety of lifestyles and budgets. The magnificent waterfront development incorporating a Fisherman's Wharf, will showcase even more restaurants, bars and tourist kiosks. Imagine, after an endless night of fun, enjoying a champagne breakfast whilst watching a beautiful sunrise over the azure waters of the Calabar River!
And as if that's not enough entertainment there'll be added attractions to indulge in, including a golfer's paradise with driving range and putting green, a jungle carting track, quad biking route, plus a clay pigeon and archery course! Water activities, including water-skiing, parasailing, rowing and canoeing will take place in a luxurious oasis environment! Agri and eco tourism attractions will include a sizeable exotic bird sanctuary, a crocodile farm, a tropical fish farm, a primate rehabilitation centre and much, much more in the sun-drenched waterways of Tinapa! Tinapa is the ultimate shop and party till-you-drop leisure centre &endash; a world that is alive twenty-fours a day with a never-ending choice of activities to choose from. Tinapa will provide visitors with a unique tourism experience and the development will fast track growth of the tourism sector in Calabar, Cross River State and Nigeria.
T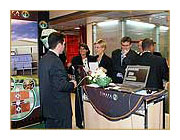 he architectural design of Tinapa exploits the natural richness of Africa through explorations into worlds of water and succulent vegetation, which seamlessly coalesce with the architecture to create what can only be described as a super oasis! The combination of textures, patterns and materials creates a unique signature for Tinapa enhancing its inimitable stature as one of the world's greatest business and leisure zones. The total development is massive &endash; 80 000 m2 of retail and wholesale emporiums. These massive 21st century emporiums will be supported by a vast array of retailers! Adjoining the shopping area will be a formidable entertainment complex embracing six hotels and a magnificent waterfront development &endash; the Fisherman's Wharf. There'll be added leisure environments including a golfer's paradise, a jungle carting track, quad biking route, plus a clay pigeon and archery course. Water activities will take place in a luxurious oasis atmosphere! Agri and eco tourism attractions will include an exotic bird sanctuary, a crocodile farm, a tropical fish farm anda ground breaking primate rehabilitation centre.
This architectural design for Tinapa was created by GAPP, Architects & Urban Designers, one of the greatest architectural firms in Africa. GAPP's track record defines the future success of Tinapa. GAPP maintains a consistently high standard of service and commitment through a rigorous process of critical evaluation and exploration on every project. This approach is evident in the work produced by GAPP and the numerous accolades they've received. Most of all their achievements can be measured by the success of their completed projects &endash; the V & A Waterfront in Cape Town, South Africa being one of the finest examples &endash; a multimillion dollar money spinner that's an international attraction! From the grand vision defined by Cross River State Governor, Donald Duke, GAPP evolved the final design - the creation of a Free Trade Zone to rival, if not exceed, what the best in the world can offer. The bold new landscape of the Tinapa business and leisure empire. The place where Africa shops!