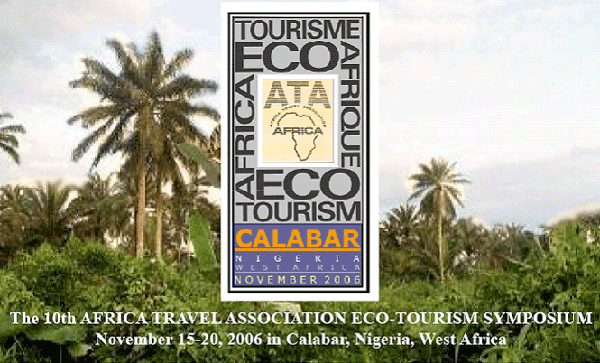 Nigeria Announces Hosting of Africa Travel Association 10th Ecotourism Symposium.
The 10th Africa Travel Association Eco-Tourism Symposium will be held in Nigeria's Atlantic Coast resort town of historic Calabar, November 15 through 20, 2006 A joint announcement was made by Dr. O.J. Eboreime, Director General of the Nigerian Tourism Development Corporation and Mr. Edward Bergman, Executive Director of the Africa Travel Association (ATA). The Symposium is being presented under the auspices of President Olusegun Obasanjo, who is expected to open the conclave; and Minister of Culture & Tourism, Chief Olufemi Fani-Kayode.
"With the advent of direct and scheduled flights from the U.S. to Nigeria, select number of Nigerian leisure destinations are being opened for the international tourist market" stated Dr. Eboreime and added, "Calabar on the Atlantic Coast is a major one, its advanced tourist infrastructure and diversity of leisure options, including the major resort Tinapa being completed for a March 2007 opening, will serve as an ideal entry by Nigeria to the international travel market. Governor Donald Duke, of Cross River State, where Calabar is the capital, will be the official host of the five day, engrossing dialog of Africa's and Nigeria's tourism."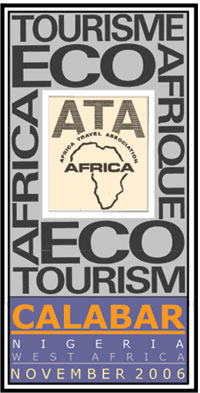 Mr. Bergman, added "Nigeria will serve as an important addition to Africa's trademark-safari offerings on Africa's East Coast and the Southern areas. This Symposium is designed to introduce Africa's culturally rich West Coast - the Atlantic Coast- to the American travel industry and traveling public," and stated "President Obasanjo directive to bring Nigerian tourism industry on par with the other world class leisure destinations gives this Symposium a very special market component."
The Symposium will address issues of the environment and ecological consequences for tourism. Especially notable will be the segment dealing with Niger Delta and the interaction with the petroleum industry.
The Symposium's segment on investment and financing are drawing major banking resources to join the event including government and private banks, as well as institutional and individual investors.
An additional aspect will be the involvement of the African Diaspora with it's over three million Nigeria-Émigré in the United States and their potential influence on Africa's tourism business and industry.
For further information contact the Africa Travel Association International Secretariat in New York City (212) 447-1357 e-mail: EcoTourism@AfricaTravelAssociation.Org

About Calabar
Did you Know ....
Calabar, capital of Cross River State, Nigeria, was selected as official site for the Africa Travel Association's 10th Ecotourism Symposium, an annual event that attracts travel agents, tour operators, tourism industry executives and government officials, including Ministers of Tourism.
Calabar is a strategically located seaport on the Atlantic Coast, a short distance from the Cameroon border in the south eastern corner of Nigeria.
The Calabar and Great Qua rivers plus several creeks of the Cross River serve the city, which for several centuries was an important slave trade port.