"A Globetrotter with Roots in Africa."

Muguette Goufrani
Muguette's background as an airline agent, tour guide and travel agency professional has been the key to her media success, resulting in an ATA Travel Industry Founders Award in Cape Town, South Africa two years ago. As a "career globetrotter," Muguette's articles for Air Highways and Africa Travel Magazine have an authentic, multicultural flavor, thanks to painstaking research and the confidence of having lived the experience (walked the walk).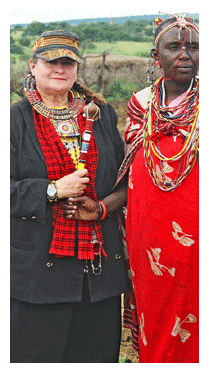 Her career positions have included Royal Air Maroc, AOL Airlines, Air Afrique, Matson Lines, Palm Springs Resorts, Club Med, Tahiti Tours and Noumea Tours. Upon graduating from College du Paris, she launched her career in Casablanca, Morocco, where the Goufrani family has operated a tour company for generations.
Award in Africa
A dual citizen (France - Canada) and member of Vancouver, BC, Canada's Francophone Community, Muguette prompted the decision to make our travel magazines bilingual, extending their worldwide reach and influence Aside from our own publications and web sites, Muguette has been featured extensively on African television, radio and print media, both English and French. Her first assignment was the 1996 ATA Ecotourism Symposium in Marrakech, Morocco. This was followed by a National Geographic - American Airlines sponsored project in Haiti, plus ATA Congresses in Benin, Tanzania, Ghana, Ethiopia and South Africa. Her most recent extended trips to Africa, were Congresses and overland land tours of Cameroon (December 2001) and Guinea (May 2002). Muguette returns to Africa in December 2002, for an ATA event in Fez, Morocco, following a Cross Canada Road Show Tour and a Conference in Atlantic City, New Jersey. Next year's African agenda includes events in Zambia and Tanzania. Travel Agents wishing to join her are invited to e-mail Africa@dowco.com
The World Scene:
Muguette's travels have included Europe, the Americas, Vietnam, Laos, Cambodia, China, Japan, Russia, Australia the Caribbean, and most of Europe. Active with the Africa Travel Association and PATA, she focuses her efforts on tourism to and from the world's Francophone community. Muguette has lived and worked in seven African countries - Morocco, Algeria, Gabon, Cote d'Ivoire, Senegal, Madagascar and Seychelles. She has also worked in Guadeloupe, Tahiti, New Caledonia, Cambodia, India, France, Canada, Alaska, California, New York and Nevada. Other travels have included Western Europe, South America, Vietnam, Laos, Cambodia, Japan, Russia, Greece and Australia
Association Involvement

Active with (ATA) Africa Travel Association and (PATA) Pacific Asia Tourist Association, Muguette provides translations for all media. A keen observer of current affairs, she is anxious to receive and pass on news of trade and tourism developments and events in any part of the world. E-mail airhwy@dowco.com