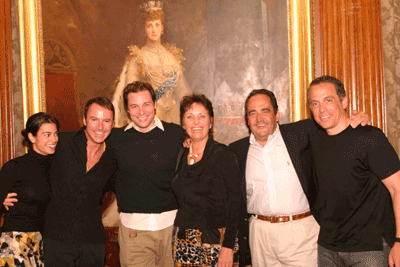 LIFESTYLE GURU COLIN COWIE AND SOUTH AFRICAN TOURISM HOST CULINARY DREAM TEAM TO SOUTH AFRICA

Pat Furno, Managing Director, Ker & Downey (center) joined the Culinary Dream Team for dinner at the Mount Nelson Hotel. Ker & Downey provided all ground transfers throughout their culinary journey.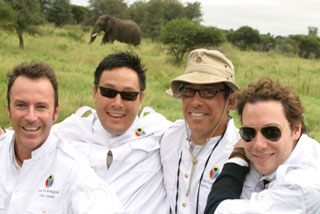 Rocco DiSpirito, Geoffrey Zakarian and Ming Tsai Cook and Taste Their Way Across The "Rainbow Nation
" World-renowned lifestyle expert and fellow South African Colin Cowie joined with South African Tourism for a delectable celebration of the 10th Anniversary of South African freedom.
Cowie put together a star-studded culinary "Dream Team" including Rocco DiSpirito, Geoffrey Zakarian and Ming Tsai to join him in his native land to mark a great anniversary and trade their inspiration with so many gifted South Africans. The group's unforgettable journey spanned the entire South African experience, from the bustling international metropolis of Johannesburg to the seaside majesty of Cape Town to the spicy and flavorful melting pot of Durban, and culminated in the quintessential South African safari experience.
During each of their stops, they shared their culinary gifts, cooking alongside South African chefs in a variety of settings, from fine restaurants to the middle of the African bush, and created their own "signature" South African dishes
This epicurean adventure was hosted by South African Tourism, in collaboration with South African Airways; the Westcliff Hotel in Johannesburg and the Mount Nelson in Cape Town, both Orient-Express Hotels; the Zimbali Lodge in Durban, a Sun International Resort; Singita Lebombo, and Ker & Downey, a leading ground operator.
Photo: Left to right - Colin Cowie, Ming Tsai, Geoffrey Zakarian and Rocco DiSpirito enjoy a game drive at Singita.