There will be ten venues in South Africa to be used for the World Cup include: Bloemfontein, Cape Town, Durban, Johannesburg (two), Nelspruit, Polokwane, Port Elizabeth, Pretoria, and Rustenburg.
THE TRAVEL AND TOURISM INDUSTRY ON THE AFRICAN CONTINENT WILL BENEFIT TREMENDOUSLY FROM WORLD 2010 CUP IN SOUTH AFRICA
by Helen C. Broadus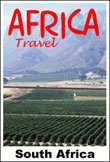 The FIFA World Cup is the football (soccer) world championship, contested by men's national football teams, and organized by FIFA, the international governing body for football. The championship cycle culminates every four years in a finals tournament to decide which country's men's football team will be awarded the FIFA World Cup title. The 2010 FIFA World Cup will take place in South Africa. FIFA decided to award an African nation the opportunity to host the World Cup as a recognition of the development of football on this continent. South Africa will become the sixteenth country, and the first-ever African country, to host World Cup matches. Only the host nation is given an automatic berth and all other teams, including the defending champion, have to qualify. There will be ten venues in South Africa to be used for the World Cup include: Bloemfontein, Cape Town, Durban, Johannesburg (two), Nelspruit, Polokwane, Port Elizabeth, Pretoria, and Rustenburg.
The first World Cup to be hosted in Africa will provide tremendous business opportunities for the travel and tourism industry of South Africa in particular and the African Continent in general. Up to five million tourists (with many from the African Continent) are expected to visit South Africa during the month-long sporting event and the Government of South Africa has committed fifty billion dollars (375 billion rand) in development projects for this effort. South Africans firmly believe that the World Cup will not only put their country on the global eye but can point a spotlight on issues such as poverty alleviation and economic diversification by involving all groups in society. South Africans also realize that it will face major logistical challenges in hosting the world's biggest sporting event &endash; for instance &endash; airports will have to be upgraded and the capacity for additional hotel rooms met.
The travel and tourism industry of South Africa realizes these challenges but also knows that the World Cup brings with it a long-term opportunity for regional growth and development as well as further expansion of the travel and tourism industry market. In fact, current South African president Thabo Mbeki and former president Nelson Mandela have insisted that South Africa's opportunity to host the World Cup is designed to benefit the whole of Africa. As quoted by President Mbeki, "Africa is ready, Africa's time has come, and Africa is calling". Come to Africa in 2010 as he called for Africans to "celebrate Africa in all of its magnificent splendor". Undoubtedly, the World Cup will have a huge economic impact in terms of jobs creation through tourism and it will form a true unifying force.
South Africa's tourist industry is already showing that it is truly capable of undertaking the World Cup in 2010. In 2005, there were a record number of visitors and the future trends look quite promising. South Africa offers a breathtaking mixture of unique cultures and traditions, beautifully stunning scenery, exotic wildlife, diversity of climate and well-defined hospitality which all add up to a truly remarkable holiday experience. Consequently, South Africa is still a relatively great bargain for the American visitor.
In 1994, the year that South Africa held its first democratic election, there were three million foreign visitors. Last year there were about seven and one-half million tourists arrivals and it is expected to reach ten million visitors by the year 2010. Without a doubt tourism numbers will explode with the hosting of the World Cup soccer finals in 2010 and the travel and tourism industry has outperformed all other sectors of the economy and is overtaking gold mining as the top revenue generator.
Many visitors to South Africa are lured by wildlife in the many game parks of which Kruger National Park is the most famous for the viewing of the "Big Five" (lion, leopard, elephant, rhino and buffalo) but there are also many other species of wildlife to include giraffes, zebras, antelopes, gazelles, hyenas, hippopotamus, monkeys and birds. Johannesburg, the busy commercial hub, is full of restaurants, major shopping malls, cinemas and sporting venues in the suburbs. Johannesburg also offers Soweto, the sprawling township that is synonymous with the anti-Apartheid movement and the Apartheid Museum and Gold Reef Center.
In Durban, which is located in the KwaZulu-Natal area, you can experience the cultural diversity of the Zulu traditions and enjoy the wonderful beaches and Indian Ocean as well as visit the famous battlefield sites where the British, Boers and Zulus fought each other. Cape Town, affectionately known as the "Mother City" is a combination of European and African cultures. Here one can enjoy the Victoria and Alfred Waterfront which has superb restaurants, shopping malls, and boat trips. Not to be missed in Cape Town are Table Mountain overlooking Table Bay, Kirstenbosch National Botanical Gardens and Nelson Mandela's former prison on Robben Island. Just outside of Cape Town is the Garden Route, named because of its lush vegetation.
In addition, there is the Wine Route which is full of beautiful homesteads, vineyards, wineries, spas and golf estates combining to lend a unique character to an area that is known to produce some of the country's very best wines. There is also Cape Point Peninsula where you can witness the convergence of the Atlantic and Indian Oceans. All in all, South Africa continues to live up to its reputation as "A World in One Country" and you should definitely consider visiting South Africa sooner if not later!
For more information about travel and tourism opportunities in South Africa please contact Helen C. Broadus, President of Venue International Professionals, Inc. She may be contacted at Telephone: (301) 856-9188; Facsimile (301) 868-2218; E-Mail: vipinc@erols.com.