Home Africa Map Search . Cities
1. Services A-M . 2. Services N - Z , 3. African Countries . 4. African Embassies .
5. Africa Topics .6. Hotels,Resorts . 7. Photography

Links . Display Ads . Web Ads . Banners 1 . Banners 2 . Logo Ads . Radio TV

NEW ITEMS - OR THOSE STILL TO BE CLASSIFIED IN ALPHABETICAL ORDER - CLICK HERE


The following items are provided courtesy of ATA for the information of our readers. Being temporary these listings may be replaced. For paid listings e-mail africa@dowco.com
The African Diaspora Heritage trail
Launched as a self-guided tour in Bermuda in Spring 2001. The Trail embraces heritage sites and activities linking 500 years of history of people of African descent. The project was endorsed as a cross border tourism initiative by the African Travel Association at its World Travel Congress in Cape Town in May 2001. The Bermuda Government has offered the country as the meeting place to foster the facilitation of the concept in other African Diaspora countries. The theme of this conference, "Tourism unites nations through Peace, Culture and Heritage,' will explore the historical significance of the African Diaspora Heritage Trail as is intended to educate and promote the rich heritage of people of African descent. MORE-> ->
Africa Maps and Unigue Items
www.africamap.biz
AMERICAN SIGHTSEEING GHANA
P.O. Box 2189
Accra, Ghana, West Africa
Operated by: Black Beauty Tours LTD.
Kwame Nkrumah Ave. Accra
Key Contact: Mr. Joseph K. Ankumah
Manager: Elizabeth Ankumah
Telephone: 227078; 220384
Toll Free: (ASI/SFO) 1-800-225-4432
FAX: 233 21 220062
USA Office: (415) 986-2082
Fax: (415) 986-2703
Web Site: http://www.americansightseeing.org/ghana.htm
E-Mail: bbtours@africaonline.com.gh

Ben's Ecological Safaris.
P.O. Box 5898-00100,, Nairobi-Kenya
Tel/Fax: +254-020-3755290/1
Cell Phone: +254-722-861072
+254-734-873923
www.bensecologicalsafaris.com
For Professional Bird Watching and Wildlife Holidays in East Africa
Blastours, Accra - Ghana
http://blast.loudafrica.com
Fax: 0023321773224
Mobile: 00233208232463
Mimi Abe Blay Asmah, Managing Director
Botswana's Dexeption Valley Lodge
Botswana, Tel : (012) 346-6864
Fax : (012) 460-2792
Int tel : +27 12 346-6864. int fax : +27 12 460-2792
Liesl Nel: Cell : 083 271 9590
Shawn Anderson : 083 447 9532
Email: mailto:res@deceptionvalley.co.za
Tel:+27 12 3466864
http://www.deceptionvalley.co.za

C
Corinthia Hotel Properties in Africa
Details - Includes tthe Corinthia Bab Africa Hotel in Tripoli and other African properties.
Cross-Cultural Solutions
Cross-Cultural Solutions runs 11 programs out of 12 countries,with more than 100 staff members in 13 offices worldwide.To date, the organization has brought more than 2,500 participants to countries around the world to work in sustainable community development initiatives. Our programs are year-round throughout Asia,Africa and Latin America,and range from 2-12 weeks.

G
Ghana's Royal Choice Info Tours
P. O. Box AH 8978, Ahinsan-Kumasi
Tel: 0277432674 or 0277416732
E-mail: royalinfotours@yahoo.com
The Jane Goodall Institute
8700 Georgia Ave Suite 500, Silver Spring, MD 20910
Phone: 240-645-4000 . http://www.janegoodall.org
See Page on this site.
Globeinter Safaris UK
11 Second Avenue,
Binley,
CV3 1HP, West Midland
Coventry, United Kingdom.
Tel/ Fax: Tel : + 44 2476452146
Cell: + 44 774 733 615 64
Email: info@globeintersafaris.com
GlobeinterSafaris Switzerland
Sammy Mwangama,
Bocksrietweg 2,
8200 Schaffhausen,
Tel\Fax + 41526435713
Cell +41797430472
Email market@globeintersafaris.com
Switzerland
H
Haury: Helping Hand for Cote d'Ivoire Villagers:
Therese Haury. ATA member in Abidjan, has been a stalwart in the Cote d'Ivoire, helping establish health clinics in local villages and obtaining medical equipment from sources in Europe and America. Here is her story, told in her own words (translated from French). "My dream was to be a surgeon in Africa, but my family never accepted it, so I kept that dream in mind while traveling around the world. I arrived in Cote d'Ivoire in 1976. I reached my goal to live in Africa, however, it was not as a surgeon but as an insurance Agent. To realize my dream, I created a Women's club in Memni village, helping the Bush Community clinic, the colonies of leprosy with material donated by sources in France. Five villages, Loundou, Yohou, Cousso, Gnielle, Tchechanga adopted me. Continued.
Holiday Inn Lusaka-Zambia
Candy M.Shinondo-Kasonkomona
Sales and Marketing Manager
Tel: +260 1 251666
Fax: +260 1 253529
Please note new email address :- candyk@holidayinn.co.zm
Horizon Tours Ethiopia
New e mail
horizon-tours@ethionet.et
yenealem Getachew
Kwa Madwala Private Game Reserve
South of the World Renown Kruger National Park with Swaziland and Mozambique in close proximity. When you are looking for real value for money, big game experience, and holiday in South Africa, then Kwa Madwala Private Game Reserve is the place. www.kwamadwala.co.za
From Kenya
I would like to introduce to your our tours and travel company based in Nairobi kenya at the Nairobi International youth hostel. We specialise in tours ,safaris,mountaineering,beach tours,car hire,luxury camping,shuttle services,airport pick up,conference planners,group travel .hotel boking,hostel booking,ticketing and many more exciting tours within kenya and east africa. In view of this ,i would like to request for a link exchange with your website. Our web site is http://www.africahomeadventure.com email info@africahomeadventure.com James M Gichohi, Marketing.
M

MAURITIUS - SKYSUNTOURS
Soogund Abdool Majeed
Royal Road Chemin Grenier
MAURITIUS
TEL/FAX:- 00230 6227530
MAJEED MOBILE:-002307847260 SABINA MOBILE :-00230 9110666
skysuntours@yahoo.com
Mighty Jambo Acrobats
Here's a letter we received by e-mail, which may be of interest to readers and members. We are a group of seven acrobats based in Kenya and perfoming at the Safari Park Hotel and Casino every Tuesday to Sunday. We are aged between 20 year to 26 years young and energetic. We the Mighty Jambo Acrobats have our humble beginnings from one of the most densely populated Ghettos (slums) in Nairobi- Kenya known as Mathare Valley. Our dream and ambition is to improve life in the ghetto through provision of the necessary skills and training to the street boys and girls who are talented thus helping them gain self confidence and realise their full potential. We hope to improve their attitude, reliability, industry and focus as well as reduce drug abuse and idleness. We are therefore requesting to team up with you as road show biz in the cause of tourism attraction. Web site at http://www.mightyjambo.com
Moevenpick Hotel Bur Dubai
P.O. Box 32733
Dubai - United Arab Emirates
Tel. No. +971 4 3104203
Fax No. +971 4 3366626
E-Mail: perihan.hellyer@moevenpick-burdubai.com
www.moevenpick-hotels.com
N

Project Namuwongo Zone B
Jeremy M. Goldberg, Co-Founder/Executive Director
PO Box11007, Washington, DC 20008, www.RelieveZoneB.org
E-mailL jgoldberg@relievezoneb.org . tel: 202-365-0556
mobile: (202) 365-0556
Nigeria's Total Travel and Tours Limited
49A, Apongbon Street, PentHouse
Lagos, Nigeria, West Africa
Telefax:234-01-264-3508 ,080-2369-3087,080-3568-2817
E-mail: totaltravela@yahoo.com , total_travel@yahoo.com
Airline and Hotel Reservations, Car Rentals, tourism,Airport Services, Love Boat Cruises.. All your travel needs.
The Portfolio Collection of hotels, bed and breakfasts, and country retreats all across South Africa can viewed at www.portfoliocollection.com


THE SEYCHELLES
Another Travel Website - www.seybay.com
South African National Department of Environmental Affairs and Tourism -
www.deat.gov.za
South African Tourism - www.southafrica.net
South African National Parks - www.sanparks.org
International Marketing Council - www.imc.org.za
Edwin Sipho Rihlamvu
Tourism International Liaison
DEPARTMENT OF ENVIRONMENTAL AFFAIRS AND TOURISM SOUTH AFRICA
Tel: 27 (12) 310 3940, Fax: 27 (12) 322 5754
Mobile: 073 902 4504
E-mail: erihlamvu@deat.gov.za
From South Africa:
It was a pleasure meeting you last week at the ATA Conference. Thank you for all that you did for me as a new member and a new chapter (KwaZulu Natal) &endash;you really made me feel welcome . Just a note to remind you that African Link has offices in Johannesburg, Durban, Pietermaritzburg and CapeTown. We offer a comprehensive range of products that include, transportation, ticketing and airline, leisure groups and individual FIT programs, conference & convention services, hotel reservations, business travel plans, social activities, pre- and post-meeting programs, corporate meetings & team building activities, inbound & outgoing incentive programs, special events, catering, dinners, entertainment, professional guides and customized sightseeing tours of any size. We guarantee the best competitive rates, the finest service, and real value for your clients money. Please don't hesitate to contact me for your South African enquiries. Bunny Bhoola. African Link Tours & Travel, Tel: +27 33 345 3175
Fax: +27 33 345 3172, E:mail: bunny@africanlink.co.za . www.africanlink.co.za
Tanzania's Kunduch Beach Hotel Resort Reopens
Now a luxury five star property in Dar es Salaam.
Visionaries
Many other great causes are profiled including: Christian Solidarity International, S.C.A., Yemin Order, Save the Tiger, M.S.H., TBIN, AFCM World Neighbors, Boys Hope Girls Hope, On Lok, Catholic Charities, WHOI, Foundation for a Civil Society, Water for People, American Friends Service Committee, S.E.A., Gould Farm, The Caring Institute, Nonprofits' Insurance Alliance of California, Connecticut Institute for the Blind/Oak Hill, Childreach, Freedom from Hunger, Accion, Christian Appalchian Project, Coral Reef Alliance, Volunteers of America, Hadassah, PACT, AmeriCares, American Liver Foundation, Refugees International, Human Service, Alliance, Salesian Fathers Christian Relief Services, AirServ, Alger Foundation, The PMC, Group B Strep Association, Maryknoll Sisters, Casas Por Cristo. (more to come) The Visionaries, Inc. (781) 356-6804
www.visionaries.org
Woni Safaris Ltd "A Safari Channel"
Member: ASTA, APTA, ATA, ESOK, KATS, KATO - Associate
The Mall 2nd Floor, P.O.Box 66649, 00800,
Westlands, NAIROBI, Kenya
Telephone 254 20 4451078
Facsimile: 254 20 4440563
Mobile Phone: 254 720 219316, 722 988261, 733 725483,
Email:info@wonisafaris.com,
wonisafaris@hotmail.com
Website http://www.wonisafaris.com
WTO AND "ROUTES" WORK FOR NEW AIR ROUTES
The World Tourism Organization (WTO) and "Routes", World Route Development Forum signed an agreement on cooperation on Monday, by which they will work together to explore new air routes for tourism generally and particularly consider ways and means to initiate an African Routes meeting in the coming twelve months. The Memorandum of Understanding highlighted the role of WTO in developing the initiative Liberalization with a Human Face to link fair trade,during the 10th World Route Development Forum in Madrid. comm@world-tourism.org . More

Z
contact: africa@dowco.com
Links to their directory listings, hosted pages and web sites to come when list is completed.
Download of first 32 pages from Africa's Ninth International Cultural and Ecotourism Symposium issue available.
The Jane Goodall Institute
8700 Georgia Ave Suite 500, Silver Spring, MD 20910
Phone: 240-645-4000 . http://www.janegoodall.org
See Page on this site.
Introducing Dereje Dibaba
ADONAY ETHIOPIA TRAVEL P.L.C.
African Avenue, (Bole Road), E-mail: adonaytour@ethionet.et
web site: www.adonaytour.com,
Telephone +251-11-6635980, Fax: +251-11-6180844,
Cell: +251-91-1613012(Mr. Dereje Dibaba) 24 Hours
+251-91-1688007(Mr. Samuel Tefera) 24 Hours
P.O.BOX 2812 or 3714, Addis Ababa , Ethiopia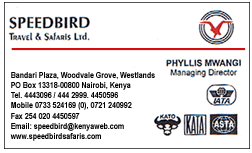 Please note my new e-mail address
zinha.carmo@hullblyth-angola.com
Zinha Carmo, Travel Manager
HBA - Viagens & Turismo, Lda
Direct phone 244-2-311421/310044
Mobile phone 244-2-9-1-504-424
NATURE LINK SAFARIS
P.O BOX 26330
Kampala,Uganda
Plot 3,Raja Chambers
Parliament Avenue
Tel: +256 312 278 860
Mob:+256 772 398 314
sales@naturelinksafaris.co.ug
www.naturelinksafaris.co.ug
Project Namuwongo Zone B
Jeremy M. Goldberg, Co-Founder/Executive Director
PO Box11007, Washington, DC 20008, www.RelieveZoneB.org
E-mailL jgoldberg@relievezoneb.org . tel: 202-365-0556
mobile: (202) 365-0556