Click above for Pemba Island and Zanzibar Archipelago from the Eastern Africa World Edition.
Facts About Tanzania
Tanzania Travel can be an incredibly interesting and rewarding experience. Some more interesting facts about the country include:
• At over four times the size of Great Britain, Tanzania is the largest country in Eastern Africa.
• The word Tanzania is derived from the two nations of Tanganyika and Zanzibar which before 1964 were seperate. Tanganyika in Kiswahili, the local dialect (Swahili) is translated to mean "sail in the wilderness" and Zanzibar is derived from the Arabic words "Zayn Z'al Barr" which mean "fair is this land".
• The remains of the earliest humans, including the legendary 2 million year old Homo habilis were found in the Olduvai Gorge in Tanzania.
• At 264 square kilometres, the extinct Ngogongoro Crater is the largest complete crater in the world.
• It was in the town of Ujiji near Lake Tanganyika that Stanley first spoke the words 'Dr. Livingstone I presume?' A plaque in the town indicates the exact place where Stanley first caught up with Livingstone all those many years ago.
• Tanzania is home to over 100 different tribal groups
• Lake Manyara National Park is home to the unique tree- climbing lions. These lions climb to the uppermost portions of the enormous Acacia trees in the area, and spend their days languishing on the branches which are some seven or eight meters above the ground.
• Serengeti translates from Masai as 'endless plains' or 'an extended area', quite an apt description when one considers the size of the world famous Serengeti National Park.
• Lake Tanganyika in western Tanzania is the world's second deepest lake.
• Kilimanjaro's last eruption was over 200 years ago.
• Tanzania is famous for its African blackwood or mbingo carvings which are sold at a number of craft and street stalls.
• The Amani Nature Reserve in eastern Tanzania is said to be the only location on earth where African Violets in fact grow wild.
• The Coconut Crab which inhabits the waters off Zanzibar's Chumbe Island is the largest crab in the world.
• The short Rainy Season in Tanzania is called Vuli, while the long rainy season is called Masika by the local population.
• Tanzania is approximately 3 hours ahead of GMT which means that the time in Dar es Salem is 7 hours ahead of New York and 2 hours ahead of London.. Source: Tanzania Tourist Board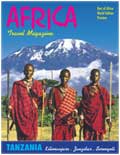 Tanzania National Parks featured in Africa Travel Magazine. More->
Best of Africa Edition also includes Air Highways Report: Amant Macha, Marketing Director, TTB said Tanzania's transatlantic access will receive a big boost this summer with Qatar Airways launching its new transatlantic service. Qatar will offer daily connections to Dar es Salaam via Doha from Washington DC Dulles International airport, and four flights a week from Newark International Airport. The existing new flights options are added to the International Airport via Addis Ababa, Ethiopia; KLM Northwest's daily service from all its US gateways into Dar es salaam and Kilimanjaro Airports ; Emirates flights from New York. via Dubai; and British Airways flights from US gateways via London to Dar es Salaam. Download Pages from this issue.
Tanzania tourist board awards honorees(2001-2010)

SERENGETI AND KILIMANJARO WINS NATURAL WONDERS AWARDS

Serengeti and Kilimanjaro National Parks has won the prestigious 2012 Natural Wonders Contest Awards by the Seven Natural Wonders, based in the United States.

TANAPA's entries in the competition namely the Serengeti National Parks famed for its annual wildebeests migration and the Top Roof of Africa, Mt. Kilimanjaro were announced as among the Seven Natural Wonders of Africa which has added to the portfolio of The Seven Natural Wonders, Other attraction from Tanzania named to be included in the list of Seven Natural Wonders of Africa is the Ngorongoro Crater while from outside Tanzania are Red sea reef of Egypt which is home to over 1,100 species of fish of which approximately 1 in 10 are exclusive in the area, Sahara Desert which is the largest hot desert and home to many natural features that could be deemed as Wonders themselves. Others were Nile River in Uganda and Okavango Delta in Botswana which is the longest delta in the world.
The declaration of the Seven Natural Wonders of Africa was made in Arusha by the President of The Seven Natural Wonders Dr. Philip Imler at a colorful ceremony held at Mt. Meru Hotel which was attended by Ministers, Members of the Diplomatic Corps, and other many dignitaries from various countries in Africa, as well as international and local Media, officiated by the Prime Minister of the United Republic of Tanzania Honorable Mizengo Pinda
"We are delighted to be named one of the winners of this prestigious natural wonder award," said Mr. Pinda, The Prime Minister of the United Republic of Tanzania. "With a strong background of the tradition of respect for nature makes Tanzania a home to unsurpassed natural resources, as Tanzania has set aside nearly 28% of its entire land as protected land comprised of forests, wetlands and wildlife areas. We are proud in playing a leading role in driving deliberate efforts at national level to ensure that tourism development is undertaken carefully and responsibly, without damaging the abundant natural resources, all in a well-designed package."
The voting for the Seven Natural Wonders of Africa which involved twelve (12) tourist attraction sites on the African continent ended on December 31, 2012 and Tanzania was the only blessed country with most entries in the list: these were Mount Kilimanjaro, the Ngorongoro Crater and the Serengeti National Park.
Seven Natural Wonders, based in the United States, has been conducting a campaign since 2008 to determine the 7 Natural Wonders of Africa and received millions of votes from all over the world. International Union for Conservation of Nature (IUCN) and other experts from around the world cast their votes based on statistical and traditional significance along with uniqueness and splendor. The final votes had been casted by the close of 2012.
EXCITING NEWS!
`VISITORS FLOCK TO WITNESS SERENGETI MIGRATION
By Geofrey Tengeneza
Visitors from all over the world are flocking into the Serengeti National Park, in Tanzania to witness the famous animal migration which is the "Greatest Show on Earth", A massive herd of wildebeests, zebras, and the Thomson Gazelles cross the Mara River in September on their last lap of about 1000 km of "greener pasture pilgrimage" back into the Serengeti National Park.
Tagged "The Seventh World Natural Wonder", the migration which is lead by 1.5 million wildebeests followed by the zebras and Thomson Gazelles starting in the Serengeti covers a round trip with a very short stay in the Kenya Maasai Mara Game Reserve. This park is the only site in the world where the migration of large inland mammals takes place.
In testimony of this great nature treat, visitor Mrs. Truby Wivbennga, from the Netherlands, in the company of her husband, Mr. Jan Wivbenga, said, "This event is unbelievable and we are extremely happy to witness it by ourselves".
The great migration starts in February every year, coming shortly before the long rainy season when the wildebeests spend their time grazing and giving birth to about 500,000 calves within a very short period before departure in eye catching long columns.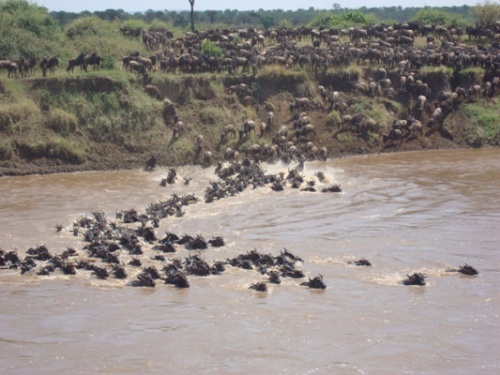 A herd of wildebeests crossing the Mara River on their way back to Serengeti National Park in Tanzania from a short rest in Maasai Mara game reserve in Kenya.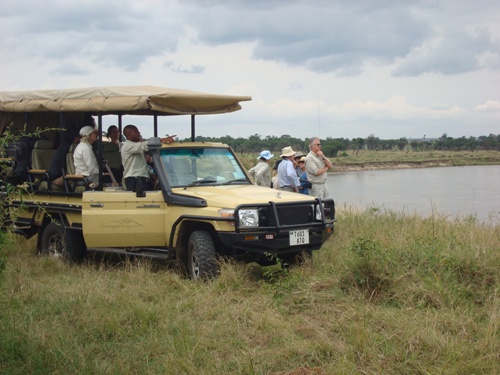 International visitors watching the animal migration crossing River Mara in Serengeti National Park.
PRESIDENT JAKAYA M. KIKWETE ENDORSES WINGS OF KILIMANJARO
Wings of Kilimanjaro, a once in a life time event that is scheduled for late January 2013 will see up to 200 adventurers, professional paragliders and philanthropists climb to the top of Mount Kilimanjaro for a world-first- flight from the Roof of Africa. In doing so, the group aim to raise a million dollars for three charities making a difference here in Tanzania, Plant With Purpose, One Foundation and World Serve International.
On the day of the summit launch, the professional paragliders (including many of the world's best) and their passengers will launch from the summit and make their way towards Moshi where they will land. The flight time is around 40 minutes.
Earlier last week, Wings of Kilimanjaro Project Manager Paula McRae had the pleasure of meeting with his Excellency President Jakaya Mrisho Kikwete during his trip to Arusha. When briefed about the upcoming Wings of Kilimanjaro event, the President expressed "his thanks to the Wings of Kilimanjaro team for supporting Tanzania through the fundraising efforts and also endorsing their promotion of Mt. Kilimanjaro across the world".
His Excellency went on to recognise recent media attention including their Mount Kilimanjaro Float in the Lord Mayors Parade in London (telecast on BBC to over 20 Million people), a recent feature in National Geographic as well
the public endorsement and support from Tanzania's Goodwill Ambassador, Doug Pitt.
The Wings of Kilimanjaro team are excited to introduce Tanzanians to a sport that is relatively new to the nation, this is 'paragliding'. The Wings of Kilimanjaro team will be running a competition in lead up to the event where they will be giving two Tanzanians the chance to WIN a flight with one of the team of professional paragliding pilots, following the event in February. Competition Details will be announced next week.


Contact details:

Paula McRae
Email:
paula@wingsofkilimanjaro.com
Youtube Reference for Editors:
Tanzania ranked highly as tourist destination
Monday, 09 January 2012 08:35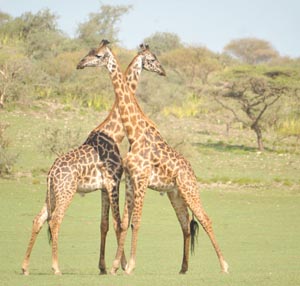 Dar es Salaam. A world renowned newspaper has selected Tanzania among 45 places for tourists to visit in 2012, saying: "Tanzania is coming into its own as an upscale safari destination".
The New York Times said in its January 6 edition that Tanzania emerged number seven out of the 45 selected places to go in 2012.
Reacting to the revelation, the Tanzania Tourist Board (TTB) managing director, Dr Aloyce Nzuki, said yesterday that the selection of Tanzania among the 45 favourable destinations was a positive thing.
"We have strategies in place aimed at making Tanzania among the most favourable places to visit," said Dr Nzuki, promising to give more details today. In its article, The New York Times quoted East African travel specialists, including Hippo Creek Safaris and Abercrombie & Kent, as saying that for the last several years, the number of tourists going to Tanzania has been edging up.
"But it wasn't until several violent attacks on visitors to neighbouring Kenya that the numbers really took off, as Tanzania started to absorb skittish Kenya-bound safari seekers," said the newspaper.
It said not that Tanzania is coasting along solely on Kenya's troubles; it always had Mount Kilimanjaro, after all.
"And now other attractions are being discovered, too — places like Gibb's Farm, a small lodge from which guests can hike to the Ngorongoro Crater area, a prime destination for big game viewing," said the paper.
In addition, said The New York Times, the opening of exclusive safari reserves like the Singita Grumeti along the Serengeti plains and the upscale camps managed by Nomad Tanzania and Chem Chem are evidence that the country's tourist infrastructure is becoming more sophisticated, perhaps even catching up to Kenya's.
ABOUT TANZANIA
Tanzania, the largest country in East Africa, is focused on wildlife conservation and sustainable tourism, with approximately 28 % of the land protected by the Government. It boasts 15 National Parks and 31 game reserves. It is the home of the tallest mountain in Africa, the legendary Mt. Kilimanjaro; The Serengeti, home to the "Great Animal Migration" that was named the New 7th Wonder of the World by USA Today and ABC TV's Good Morning America; the world acclaimed Ngorongoro Crater, often called the 8th Wonder of the World; Olduvai Gorge, the cradle of mankind: the Selous, the world's largest game reserve; Ruaha, now the second largest National Park in Africa; the spice islands of Zanzibar; and seven UNESCO World Heritage Sites. Most important for visitors, the Tanzanian people are warm and friendly, speak English, which together with Kiswahili, are the two official languages; and the country is an oasis of peace and stability with a democratically elected and stable government.

THE BIG SIX: TANZANIAN SAFARI LODGES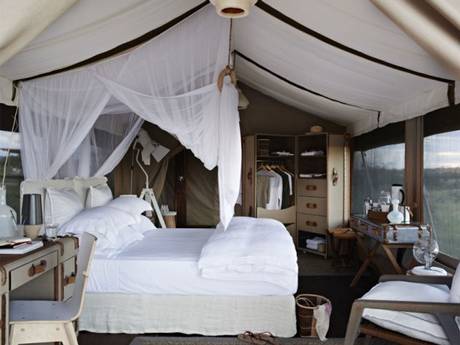 Singita Mara River, Serengeti

This new camp opened in the northernmost tip of the Serengeti in December. Situated in an area known as the Lamai Triangle, it offers just six luxury tents, a decked outdoor pool and unfettered views of the Mara River. The area is famed for its year-round wildlife viewing, but the period between August and October is best for close-up views of the Great Migration, when thousands of wildebeest, antelope and zebra make the perilous journey north to the plains of the Maasai Mara, dodging predators as they go.
Saadani Lodge, Saadani
Saadani National Park is the country's only wildlife sanctuary bordered by the sea, meaning you can spend mornings on a game drive then paddle in Indian Ocean waves come afternoon. Saadani Lodge offers the best of both, with an idyllic beachfront location and a long list of activities. Choose to explore the area on land (to spot buffalo, lions and leopards), by sea (for dolphins and green turtles), or along the Wami River (home to kingfishers, eagles, crocodiles and hippos).
Hatari Lodge, Arusha
This luxury bush hotel, made up of three buildings and nine bedrooms, is set within the confines of Arusha National Park, near Mount Kilimanjaro. A wooden walkway leads down from the camp to a fire pit and viewing platform, from where buffalos, warthogs and giraffes can be spotted by day, and sundowners can be sunk come nightfall. A short drive leads to the Momella lakes, which are a series of shallow mineral pools where flocks of flamingo and Egyptian geese fly in to feed.
Sand Rivers, Selous
Selous is one of the largest game reserves in Africa, harbouring endangered animals such as the black rhino within its far-reaching boundaries. Here, on a remote bend of the Rufiji River amid snaking waterways and oxbow lakes, stands Sand Rivers, with eight open-fronted cottages crafted from simple thatch and stone. They are distinctly upmarket and modern inside, with power showers, canopied beds, decks outside and plunge pools. Safari options include walking, boat and 4x4 excursions.
Crater Lodge, Ngorongoro
The world's largest caldera nudges the Serengeti in the north and whispers at the Great Rift Valley to the east. Crater Lodge stands on the southern rim of this Unesco-listed wonder, with 32 stilted suites styled to resemble traditional Maasai mud huts (albeit with butler service, glass fronts and broad balconies for surveying the scenery). Daily game drives take guests to the heart of the action, with expert guides and an al fresco "bush lunch" on the crater floor.
Jongomero Camp, Ruaha
In 2008, the Ruaha area was combined with the Usangu wetlands, creating Tanzania's biggest national park. It lies along the ancient arm of the Great Rift Valley, miles from the main cities and airports, making it a tricky spot to reach. But Jongomero Camp rewards those who go the extra distance, with eight luxury tents in an utterly isolated location. Each has draw-back canvas fronts for taking in the sights and sounds of the African bush, sturdy beds and tribal furnishings

TTB LAUNCHES NEW UPGRADED AND UPDATED TANZANIA SPECIALIST PROGRAM

Dr.Aloyce K. Nzuki

Managing Director TTB

(April 22, 2013—New York, New York) Tanzania Tourist Board launches a new updated and upgraded Tanzania Specialist Program through Travel Agent University with easier learning tools that are visually attractive, welcoming and user friendly.

TTB's Managing Director, Dr. Aloyce Nzuki, in announcing the launch said, "Following the success of the first specialist course, together with the increased demand for Tanzania in the US market, we have been getting more and more travel agents asking for the Tanzania specialist course. We therefore decided to relaunch the program to include information on the new, diverse, and improved tourism products; increased air access and new luxury accommodations."

Devota Mdachi, TTB Marketing Director, added, "The course gives a complete overview on the world's famous acclaimed natural wonders of the world, unsurpassed wildlife in 15 national parks and 31 game reserves, seven World Heritage Sites, cultural tourism circuits, friendliness of the Tanzanian people, miles of beautiful Indian Ocean coastline and the exotic spice Islands of Zanzibar."

The various advantages of becoming a Tanzania Specialist include not only a Tanzania Specialist diploma, but also two Continuing Education Units from The Travel Institute. Graduates also receive access to view Alumni Alerts and a bimonthly newsletter featuring fam trip offers, Tanzania tourism news, accommodation and air access updates as well as travel agent offers from tour operators along with full access to a database of tour operators who sell Tanzania.

Accredited travel agents can become Tanzania Specialists at no cost by visiting

TAUniv.com

.

About Tanzania

Tanzania, the largest country in East Africa, is focused on wildlife conservation and sustainable tourism, with approximately 28% of the land protected by the Government – the largest percentage of any country in the world. It boasts of its 15 National Parks and 31 game reserves, 50 Game Controlled Areas, one special Conservation Area (the Ngorongoro) and three Marine Parks. It is home to three of Africa's Natural Wonders :, the legendary Mt. Kilimanjaro, Africa's highest mountain; The Serengeti, home to the "Great Animal Migration" that was named the New 7th Wonder of the World by USA Today and ABC TV's Good Morning America and the world acclaimed Ngorongoro Crater, often referred to as the "Eden of Africa" and the "8th Wonder of the World". Tanzania is also home to Olduvai Gorge, the cradle of mankind: the Selous, the world's largest game reserve; Ruaha, the second largest National Park in Africa; the spice islands of Zanzibar; and seven UNESCO World Heritage Sites. The Tanzanian people, with a rich history and diverse blend of cultures, are one of Africa's most warm and friendly people.

Editorial contact:

Karen Hoffman/ Chanel LeMond

The Bradford Group

(212) 447-0027

Topics in Best of Africa World Edition featuring Tanzania and Zanzibar

Perfectly Pemba.Your Swahili Shangri-la
African Diaspora Heritage Trail, Tanzania, Oct. 25-30, 2009


Tourism Stars in Tanzania Economy . Go
Karibu Fair East Africa Leader . Go
Cradle of Mankind at Ngorongoro . Go
Adventures in Travel Expos Go
ATA 33rd Annual Congress, Arusha . Go
Women in Tourism in Tanzania Go
Travelers Philanthropy Conf. Go
ATA Congress Photos Go.
Tanzania's Travel Agent University Go
Kilimanjaro, Zanzibar and Serengeti. Go
Great Cities of Africa: Dar es Salaam . Go
I am Arusha: Africa's Safari Capital Go
Zanzibar's Chumbe Island Coral Park. Go
World's Safari Capital Art and Fashion. Go
Zanzibar's Busara Musical Festival . Go
Big Changes at Dar es Salaam . Go
Chumbe Island Marine Park: Hidden jewel of Tanzania's Swahili Coast . Go

Arusha, Tanzania Hosts 3 Big Tourism Events!

ATA 33rd Congress!.Online Previews of Next Printed Edition.

The ATA Congress in Arusha, Tanzania and ATA Eco Cultural Tourism Symposium in Djibouti are showcased in Africa Travel Magazine. Congress Photos . Advertising. Advertisers appear on our Award Winning Website for one year.

Leon H. Sullivan Summit of a Lifetime! The Eyes of Africa and the Diaspora were on Arusha and the Leon H. Sullivan Summit. Presidents and high officials from over 30 countries - and many Tourism Ministers participated. Superstar Panels include Ambassador Andrew Young, Jesse Jackson, Hope and Carlton Masters, Former President Obasanjo of Nigeria and other leaders. Outstanding Trade Show at AICC features huge selection of East African art, fashions, products and services. Comments by Delegates and Media. Download USA-Africa Relations. Order Professional DVD of entire ATA Congress and Park Tours.

Karibu Fair! Arusha- June 5-8. Karibu has emerged as the leading travel trade event in East Africa. Originally created to promote Tanzania, it's now a regional event that also features many products and delegates. More

Luxury Hotels and Lodges Expand
FAIRMONT KENYA EXPANDS TO ZANZIBAR

By Prof. Wolfgang Thome. The Kingdom Hotels owned brand, which some time ago acquired Lonrho Hotels in Kenya (Norfolk Hotel, Mt. Kenya Safari Club, Aberdare Country Club, Ark, Mara Safari Club) has now spread its wings to Zanzibar, where they reportedly acquired the former Zanzibar Beach Resort. The renovation of the formerly closed resort is said to cost in excess of US Dollars 10 Million before reopening as the Fairmont Zanzibar. It is the fi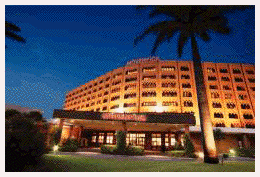 1st beach resort for the group but notably not in Kenya but Zanzibar, probably a pointer to further expansion plans for the region. In Uganda however the group has not commenced construction of their hotel project in Kampala, after being given a somewhat controversial land grant in the city, which forced a primary school and teachers college to relocate. After the school was demolished, the proposed construction area is now a sorry sight to behold. Government had hoped that Kingdom Hotels would have their promised 5 star hotel ready for the Commonwealth Summit later this year but may now have to wait much longer, as the hotel capacity in Kampala is considered rather on the excess side of supplies, once the one off summit is over.
Kempinski Hotels, the second serious global luxury hotel and resort group in the region after Fairmont, are also said to be monitoring the market carefully while exploring opportunities to further expand into the region beyond their present two properties in Dar es Salaam and Zanzibar. Watch this space for emerging news.
. The Ngoma Africa Band , a Tanzanian band based in Germany has released a new single CD
• Serengeti - Africa's Seventh Wonder of the World

• New luxury hotels changing the face of tourism in Dar es Salaam and Zanzibar.
Bill Clinton Visits Tanzania's World Famous Ngorongoro Crater

Distance and Flying Time to African Cities from World Gateways

• Minister of Natural Resources and Tourism Tanzania visits USA

THE EXPLORERS CLUB INAUGURATES TANZANIA CHAPTER FIRST EVER IN AFRICA

• Ruaha to be largest National Park in Africa

• Air Safaris from the Swahili Coast to the National Parks.

• Improved access via flights to Dar es Salaam from Newark and Washington, DC.

• Zanzibar awarded one of World's top exotic destinations by NY Times

• Qatar Airlines opens new doors via Dar es Salaam direct route

• Air Highways to East Africa - including Tanzania Airlines, Routes and Airports.

• Tanzania's growing connections with Middle and Far East.

• Cruise Industry potential for Swahili Coastal seaports.
• Major U.S. University Seton Hall holds extended law program in Zanzibar.
• Profile of Tanzania and Zanzibar Tourist Boards
• Canadian doctors and officials enjoy challenge of Kilimanjaro.
• Swahili Cultural, Fashions and Music Festivals.
• Tanzania to Host International Tourism Conference May, 2008
• Tanzania Gains Seventh World Heritage Site

Tanzanians in the Diaspora: Get listed in the Diaspora Database, use e mail address below.
Book advertising now - fax 604 681 6595, E-Mail airhwy@smartt.com