Candid Camera . Interview . Google #1 . Venues . Marketing . Morocco......
Special Tribute to Theo Wilfrid Abediaye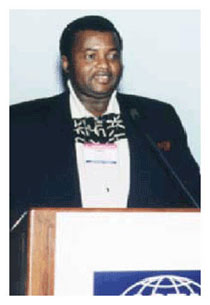 The very first tour operator I met in Africa was Theo Abediaye, and our friendship grew over many years, until his untimely death. During the ATA Congress, we had an enjoyable day with Theo, which included an enchanted forest, many historic sites and the unique Beninoise village of Ganvie, built completely on stilts in the middle of the delta. The only way to access it is by canoe. A few months before he passed away, Theo gave Muguette and I a treasured photo album of early scenes taken at ATA functions and during the many tours he led so professionally. ATA will be proud to feature this timeless material in coming editions of Africa Travel Magazine, starting with the 30th Jubilee Souvenir Yearbook. An active ATA member and former chapter president, Theo Abediaye is a shining example to all African tour operators, the rare type of individual one never forgets.
Jerry W. Bird, Editor
The Africa Travel Association and its members pay tribute to our dearly beloved friend and colleague, Theo Wilfrid Abediaye of Benin. Mr. Abediaye served as ATA's Chapter President for Benin and was an important part of our association's presence in West Africa. Please send your personal messages to africatravelasso@aol.com We deeply mourn the untimely passing of our dear friend, Theo, and wish to share with everyone our fondest memories of him. Theo was affectionately called the "Godfather" by Helen because of her respect for his wisdom, his commanding presence and his ability to always get things done for his clients despite the challenges! He was also very supportive of her efforts to start her own travel and tourism company and continued to check on her progress.
Helen first met Theo on her first trip to sub-Saharan Africa in Cote D'Ivoire and they have remained good friends ever since. Whenever he visited Washington, D.C., he always brought lovely gifts from Benin. During the First Annual Pilgrimage to Benin (1998) he arranged to have Helen made "Queen of Ouidah" and her Beninoise name became "Queen Adinasse".
David first met Theo during his first visit to the Motherland when he attended the Africa Travel Association's (ATA) 22nd Annual International Congress that was held in Cotonou, Benin. They both became very good friends,
Theo was the ATA Chapter President of Benin and was very supportive of helping David with linking the American and African ATA Chapter Presidents over the years. He always offered him sound advice about how to improve the relationships between the African Chapters and the ATA organization.
Theo was also instrumental in assisting Helen and David with their efforts to promote the First Annual Pilgrimage to Benin. He was well known in the travel and tourism industry of Africa and greatly admired by both his colleagues and clients alike.
Theo also taught David a great deal about how to organize Familiarization (FAM) Tours to several West African countries. Whenever Theo visited Washington, D.C., with a business delegation from Benin, he would be sure to introduce us to everyone in the group and take us all out to lunch or dinner. Theo was always interested in making new friends wherever he traveled and people always spoke fondly of him whenever you mentioned Benin.
We were both very fortunate to have spent time with Theo during the most recent ATA Congress in Lusaka, Zambia. He was very happy to meet David's mother (Mrs. Elaine S. Saunders) and expressed his pleasure that she was able to travel to Africa. He also invited her to come to Benin in 2004 and meet his family.
In closing, Theo was the consummate tourism professional, a wonderful friend to many and an exemplary "ambassador" for the unique culture of his beloved Benin. He will surely be missed but never forgotten. May GOD bless his soul.
A special tribute to Theo Adebiaye was held at the Benin Embassy in Washington, DC
Helen Broadus