Hair Salon in Timbuktu attracts top Canadian Tourism Expert
BY SANDY DHUYVETTER
TravelTalkRADIO September 13, 2009

Sandy Dhuyvetter: Welcome back - my name is Sandy Dhuyvetter and you're listening to TravelTalkRADIO. We are talking to Rick Antonson. Rick is actually the president and CEO of Tourism Vancouver in his day job, but he did something wonderful, I shouldn't say this is your night job, but did you do it at night? Was it labor of love? What was it this wonderful book that you wrote called To Timbuktu for a Haircut?
Rick Antonson: Well when I first went to West Africa I wasn't thinking about doing a book, and then sometimes you just find that something is emerging, and that's where it was with this. I had a remarkable trip particularly in Mali, but also in the country of Senegal on the way to the country of Mali where Timbuktu is. I found an absolute fascination with the old manuscripts from hundreds and hundreds of years ago that are still there and in many cases falling apart, and there are some strong actions trying to preserve those manuscripts, that intrigued me and the early explorers, but it was such a remarkable part of the world that I found I was writing, and eventually I realized there is a book in it, and that's where To Timbuktu for a Haircut came from, and it covers the journey through West Africa.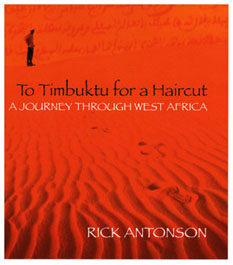 Sandy: It's awesome. Did you do it for therapeutic reasons too, by any chance? I mean you work really hard I know, was this kind of like a little bit of a diversion for you?
Antonson: I think one finds the time to do the things that are important to them in life, whether it's a sporting activity or it's an avocation, of some other sort. I do find a nice release in the telling of travel antidotes, but importantly here I have met such remarkable people, and it was their stories that I worked to try and tell, and as I did that I realized that it came together book-length and then publisher expressed interest in it, and there we were. The book was on its way to coming out, and thankfully it has been well-received by the public, and people like Africa Travel Magazine and just really fine supporters of it, and that gave out a validation that I couldn't bring on my own, and I just love that.
Sandy: Speaking of the Africa Travel Magazine, we put them in our newsletter every week and that of course is published by Jerry Bird and Muguette Goufrani, and they do such a fascinating job and a spectacular job. We've actually been able to travel all over Africa with them, and we were so excited when they told us about you and the book, and we are forever thankful for that, but, did you actually get a haircut in Timbuktu?
Antonson: I did, and the title comes from when I was a child, 5 years old, my brother and I would say every time dad left home we would say "where you going daddy where you going?" and he would say "I'm going to Timbuktu to get my haircut" and as a kid, that just brought whatever or any notions that I had of travel, and I presumed because he came back so quickly, whether he was going to church or the store, he always said "I'm going to Timbuktu to get my haircut," he returned and one day I thought, well, one day I better go there and get my haircut, so I did. Paid a dollar for it.
Sandy: Oh that is fascinating. It is so hilarious. My father always said to me "I'm going to see a man about a horse" and he said that no matter where he went, so that is hilarious that our dads just had that little line! And I love that you made a book out of this. When did it actually get published?
Antonson: It came out a year ago, published by Dundern Publishing of Toronto, and available all over the world because of the online ordering that people can do nowadays. So if it's not in bookstores, it's available online, as it is easy to Google and see the reviews. Part of what became important about it being a book was, as I mentioned the people the countries that I was traveling through, it was such a sense of being welcomed, of people without in any cases much, what we would call in the way of comforts, who had such genuine spirits, such a openness, such an eagerness to share and talk about where they live and how they live, that I found myself quite humbled by the entire experience. I had a fellow named Zack who was my guide, he was from the Dogon?, he was a young fellow and through him, I saw his country but I learned from him, the way he spoke, and funny, because I worked at trying to practice my French, and he one day looked at me and he said "Reek?" its what he called me, "Reek, I have broken English, you have unfixable French."
Sandy: All well what are friends for after all.
Antonson: And things like that are when you see the coming together of their society and our society and you shed all of your prejudgment and you just try to be open. What I found there is that they welcomed people who wanted to know about their lives and their countries, and that's what gave me this book.
Sandy: Well, I could see you doing maybe a book even on tourism in Vancouver; you have a lot of stories up there too.
Antonson: Well it's just an amazing destination, and with the Olympics coming, ones reminded of the admonition "one should be involved in the great events of their time" and this is our great event, and Vancouver and Whistler and British Columbia will just do a absolutely extraordinary job of hosting the world. The Vancouver Organizing Committee for the games is just stellar. This has been now a dozen years in the works, it's about to happen on February 12th of 2010.
Sandy: Rick, thank you so much for joining us, we've had a great job talking about Vancouver and of course your book, To Timbuktu for a Haircut, we will talk soon I hope!
Antonson: Thank you very much, would love to talk again.