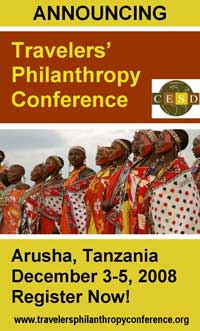 O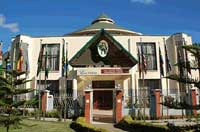 Editors recommend, East African All Suite Hotel, Arusha

Travelers' Philanthropy is a Project of the Center on Ecotourism and Sustainable Development

1333 H St NW, Suite 300 East Tower, Washington, DC 20005 Tel: 202-347-9203 Fax: 202-775-0819

450 Serra Mall, Building 50, Room 51D, Stanford, CA 94305 Tel: 650-723-0894 Fax: 650-725-0605

Website: www.ecotourismcesd.org Email: staff@ecotourismcesd.org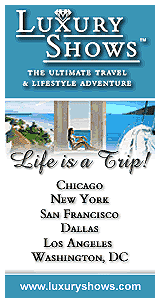 ...

---
Travelers' Philanthropy Conference:
Arusha, Tanzania, December 3-5, 2008
"Making Travelers' Philanthropy Work for Development, Business, and Conservation"
2008 Travelers' Philanthropy Conference Program Announced
Washington, DC:The 2008 Travelers' Philanthropy Conference, taking place in Arusha, Tanzania December 3-5, 2008 will feature an exclusive half-day Short Course on how to establish and manage a travelers' philanthropy program and the premier of a new documentary film. The newly released conference program includes 27 workshops on a wide range of current topics as well as plenary sessions. The workshops feature three main streams including: Travelers' Philanthropy: Contribution to Conservati on; Travelers' Philanthropy: Investing in Communities and Development; and Travelers' Philanthropy: Trends and Cross Cutting Issues. Eight optional, pre- and post- conference safaris that combine game viewing and other tourism act ivities with visits to community projects supported by tour operators will also be available at a discount for participants, friends, and family.
"This conference marks the most comprehensive examination to-date of travelers' philanthropy &endash; the growing global initiative by which tourism businesses and travelers are helping to support local schools, clinics, micro-enterprises, job training, conservation, and other types of projects in tourism destinations around the world," says Dr. Martha Honey, Co-Director of the Center on Ecotourism and Sustainable Development (CESD) which is organizing the conference. "We have chosen to hold the conference in East Africa both because there are many fine examples of responsible tourism businesses that are practicing travelers' philanthropy and because there are many pressing local and regional social and environmental needs which tourism, done well, can help to address."
The keynote address will be given by Nobel Laureate Professor Wangari Maathai, founder and leader of Kenya 's Green Belt Movement. Other plenary sessions include a panel discussion on "HIV/AIDS: Responses from the Travel Industry", "Creating a Strong Corporate Commitment & Model: Vision for the Future", and an address on "Benefiting Host Communities: Lessons from East Africa," by Dr. David Western, former head of Kenya Wildlife Service and founder of the African Conservation Centre.
The specially designed Short Course on the 'nuts and bolts' of travelers' philanthropy, will be held on Wednesday afternoon, December 3, just before the official opening of the conference. "We have created this course because many people are unfamiliar with the concept of travelers' philanthropy, its different models, and its growth as a new form of development assistance," explains Fred Nelson, CESD's conference coordinator in East Africa. In the course, we will give step-by-step instruction on how to create a travelers' philanthropy program," adds Nelson. The instructors include representatives from leading international and African tour companies and other experts in the field of travelers' philanthropy including the following (a few of which are still being confirmed): Les Carlisle (CC Afri ca), Dennis Pint o (Micato Safaris), Jane Crouch (Intrepid), Priscilla Macy (Global Sojourns), Len Cordiner (World Hotel Link), Lars Lindqvist (Basecamp Masai Mara), Judy Kepher-Gona (Ecotourism Kenya), Martha Honey (CESD), Bill Durham (CESD), and Laura Driscoll (CESD).
In addition, the conference will showcase a 25 minute documentary on travelers' philanthropy which has been specially commissioned for this event. Two talented young documentary makers from Stanford University , Peter Jordan and Charlene Music, are currently spending several months shooting footage in Costa Rica and East Africa and editing this educational video.
The three-day conference, the first since the 2004 Travelers' Philanthropy Conference held at Stanford University, is supported by a growing list of co-sponsors including tourism businesses, conservation NGOs, and UN and other development agencies. Details on registration, scholarships, and how to apply to be a workshop speaker are provided on the conference website: www.travelersphilanthropyconference.org. Those wishing to speak must submit short abstracts by July 31, 2008. Early Bird registration ($395) closes August 31, 2008.
About the 2008 Travelers' Philanthropy Conference
To be held December 3 &endash; 5, 2008 in Arusha , Tanzania , the Travelers' Philanthropy Conference is aptly themed "Making Travelers' Philanthropy Work for Development, Business and Conservation." The international conference with a focus on Africa will concentrate on the growing trend among responsible tourism businesses to support local community and conservation projects. For the latest information about the conference, visit www.travelersphilanthropyconference.org or contact conference organizers Whitney Cooper in Washington (wcooper@ecotourismcesd.org) or Fred Nelson in Arusha (fnelson@habari.co.tz).
About The Center on Ecotourism and Sustainable Development
The Center on Ecotourism and Sustainable Development (CESD) is a non-profit institute based in Washington , DC and at Stanford University whose mission is to design, monitor, evaluate, and improve responsible tourism practices and principles. Its policy-oriented research, field projects, and programs focus on promoting sustainable tourism as a tool for poverty alleviation and biodiversity conservation. For more information on CESD, visit www.ecotourismcesd.org. For more details about CESD's ongoing Travelers' Philanthropy program, see www.travelersphilanthropy.org or contact Laura Driscoll (laura@ecotourismcesd.org).
Travelers' Philanthropy is a Project of the Center on Ecotourism and Sustainable Development
1333 H St NW, Suite 300 East Tower, Washington, DC 20005 Tel: 202-347-9203 Fax: 202-775-0819
450 Serra Mall, Building 50, Room 51D, Stanford, CA 94305 Tel: 650-723-0894 Fax: 650-725-0605
Email: staff@ecotourismcesd.org Website: www.travelersphilanthropy.org
The Center on Ecotourism and Sustainable Development (CESD), a nonprofit research institution based in Washington D.C and at Stanford University, is organizing an international conference on Travelers' Philanthropy. By bringing participants together in Arusha, Tanzania, December 3-5, 2008, CESD aspires to promote and strengthen this emerging form of development assistance generated by travelers and the tourism industry.


What is Travelers' Philanthropy?
CESD's Travelers' Philanthropy program promotes Corporate Social Responsibility (CSR) within the travel industry, and encourages individual businesses and their travelers to give "time, talent, and treasure" to support social service and conservation projects in host communities. This is an increasingly important source of development assistance for communities located near tourism destinations.
Over the last decade, an increasing number of tourism businesses around the world have, as part of their core mission, begun supporting community and conservation projects in the destinations where they work. By providing staff time, funds and other resources, tourism businesses are assisting schools, health clinics, orphanages, libraries, conservation research centers, parks and protected areas, and a wide range of other worthy projects. Spearheaded originally by ecotourism businesses, today the number and types of businesses involved in community and conservation projects includes larger resorts, chain hotels, and airlines. And, increasingly, businesses are finding that travelers also want to learn about and provide assistance for projects that address critical social and environmental needs.
Indeed, tourists who visit the developing world frequently wish to help the communities they see. Yet, it is often difficult to know whether their financial contributions or their expertise have a positive impact. It is also often difficult for tourists to obtain tax benefits from their donations. The Travelers' Philanthropy project addresses these challenges through an international network of lodges, tourism operators, and other tourism businesses that connect potential donors to projects in the host countries. Travelers' Philanthropy offers a vehicle for tourists to help address local needs by channeling their expertise and providing security and tax-deductibility to their donations.
2008 Travelers' Philanthropy Global Conference
Tanzania, a world leader in ecotourism, and Arusha as the gateway to Mt. Kilimanjaro and the northern safari circuit including the Serengeti and Ngorongoro Crater, provide an ideal venue for this conference. The Tanzania conference builds upon the initial international Travelers' Philanthropy conference held at Stanford University in the USA in 2004.
The three-day conference in Arusha will bring together 200-300 practitioners from socially responsible tourism businesses, experts in the field of sustainable tourism and philanthropy, community based organizations and global and regional NGOs doing development work, the United Nations and other development agencies, philanthropic foundations, government, and the media. A growing number of leading tourism businesses, organizations, and international agencies are co-sponsoring this important conference.
The Travelers' Philanthropy Conference 2008 will provide a venue for collective learning and exchange among the group of global participants. It will facilitate discussion of the tools and capacity needed for effectively running and evaluating community projects. A goal is to move Travelers' Philanthropy from a mere set of ideals to applied best practices.
More generally, the conference will build media and public interest in socially responsible travel. The conference will include presentations on some of the leading Travelers' Philanthropy initiatives around the world. It will also offer a range of optional safaris before and after the event, hosted by leading East Africa tour operators that include visits to community and conservation projects.
2008 Conference Program
The theme of the conference will be "Making Travelers' Philanthropy Work for Development, Businesses, and Conservation". As such, the conference's program will emphasize key conceptual and strategic elements of Travelers' Philanthropy which enables these initiatives and the operators and clients who support them, to deepen their social and environmental impact in a sustainable way. A diverse line-up of plenary session speakers, presenters, and panel discussants will address key Travelers' Philanthropy issues which include:
• Making effective, lasting, and strategic investments in social initiatives such as public health, HIV-AIDS prevention and treatment, and education;
• Linking tourism businesses and Travelers' Philanthropy to the conservation of wildlife, biodiversity, and marine resources at the local level through financial support and economic incentives;
• Designing development projects that target the root social and institutional causes of poverty in Africa and other parts in the world, through social movements for justice, equity, and political voice;
• Addressing climate change and carbon footprint issues facing the travel industry through innovative off-setting and other Travelers' Philanthropy strategies;
• Using Travelers' Philanthropy to provide specific training and capacity building for communities, emphasizing local participation and empowerment;
• Developing and spreading tourism business models that fully incorporate ethical and sustainable tourism with Travelers' Philanthropy as a central element.
In addition to these issues, which will form the basis for the conference's sessions and panel presentations, CESD will also run a short technical seminar for businesses interested in developing Travelers' Philanthropy programs. At this "how to" seminar, CESD and representatives from several companies with well developed programs will cover questions such as how to identify which community project to assist, what sorts of corporate involvement and support are appropriate, how to develop a program to involve guests and travelers, and how to set up the legal structures and oversight mechanisms.
Wangari Maathai, Nobel Peace Prize Laureate and founder of the Greenbelt Movement in Kenya will give the keynote address at the conference. Other invited speakers include David Western, former director Kenya Wildlife Service; Judy Kepher-Gona of Ecotourism Kenya; Dennis Pinto of Micato Safaris (invited); Bruce Poon, founder and CEO of G.A.P Adventures (invited; Les Carlisle and Steve and Nicki Fitzgerald of CCAfrica; Lars Lindkvist, Basecamp Explorer, Masai Mara; Tony and Maureen Wheeler, founders of Lonely Planet (invited), and Toni Neubauer, CEO of Myths & Mountains (invited).