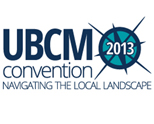 UBCM
2013 CONVENTION
September 16-20, 2013
Vancouver Convention Centre - Vancouver, BC

The 2013 Convention will be held in Vancouver, BC from September 16 - 20th at the Vancouver Convention Centre.

ACCOMMODATIONS
Room blocks have been established at the following hotels for the 2013 UBCM Convention for the dates of Sunday, September 15 - Friday, September 20, 2013.

Please note, pre-convention sessions will be held on Monday, September 16 and the Regional Districts, Small Talk, Mid-Size and Large Urban Communities Forums are scheduled for Tuesday, September 17.

Please indicate that you are with the 2013 Union of BC Municipalities Annual Convention to qualify for group rates.

An example of communities in action is the UBCM, which we have covered for several decades, interacting with their mayors, administrators and suppliers. It is included in the area of Canada-Africa cooperation as an example of an outstanding marketplace for cities and towns.
This page is under constructin. Liks will be connected soon- and more information added.
The Union of British Columbia Municipalities Conference & Municipal Marketplace
The seeds of BC Scene Magazine were planted at the UBCM 95th Annual Conference in 1998. At the time we were seeking a broader editorial base for our magazines, which then focused on travel and tourism. Having built solid contacts with dozens of BC communities through Air Highways Magazine and Supermaps, distributed by BC airports, we knew that our circle would be complete as soon as we added "Economic Development" to the editorial menu. That was our 'defining moment' - and since then we've conducted many interviews to provide future readers with a blend of topics that reflect a new, vibrant, enterprising spirit for British Columbia.
To set the stage, a new Editorial Board was created, with prominent BC Publisher Joseph C. Whitehead serving as Chairman. His background with the Journal of Commerce, BC Lumberman and Southex Trade Shows will be invaluable. His many contacts in BC, Western Canada, the USA, and the Asia Pacific region led to wide and will be paramount in the success of BC Scene. From the keen interest shown by those we interviewed at the UBCM 98th Annual Conference, launching BC Scene has proven to be a wise decision. There is not a community, government agency or supplier at the marketplace who will not benefit from exposure in BC Scene Magazine. Here are some of the stories in progress:
BC Manufactured Housing Association: Our editor has a solid background in this important area going back to the 1970s, when he was President of the industry's national Advertising and PR firm. A major feature will appear in one of BC Scene's coming editions.
Council of Forest Industries: COFI was well represented at the UBCM Conference with exhibits by many of its member associations and companies. For more on this province wide, internationally active organization see The BC Forest Scene.
Fisheries Renewal BC: This attractive exhibit presented a focus on four key programs that invest in fish stocks, habitat restoration, fisheries and seafood development and diversification. See Fishing Section.

Cordilleran Exploration Roundup 2002 which features the theme "Back to Canada" is being held from January 21-25, 2002 at the Four Seasons Hotel and the Fairmont Hotel Vancouver. Details from the British Columbia & Yukon Chamber of Mines (604) 681-5328. (See Mining Section)
Yellowhead Trans Canada Highway Association: See stories on the Yellowhead in our Adventure Roads section. The Association will be attending the Northwest Corridor Development Association Conference in Smithers, BC, Oct 24-26, 2001. (details)
Transport Canada's Railways Section:
We have been active on the Railway Scene in the media since 1989 - and there's much more to come. See our Rail Adventure Section.

BC Corps of commissionaires: With the concern about terrorists on the home front, the Commissionaires are poised to take on a wider role should it be required. This possibility will be part of our continuing story on Airport Security.

UBCM "Water, Storm Water, Waste Water Conference": One of our Editorial Board members will be exhibiting at this timely event being held at the newly expanded Sheraton Wall Centre Convention Complex, Vancouver, BC, Oct. 11, 12.
---
Some UBCM Achievements
ACTUAL VALUE ASSESSMENT
VARIABLE TAX RATE SYSTEM
SOCIAL ASSISTANCE COSTS DROPPED FROM THE PROPERTY TAX
MUNICIPAL INSURANCE ASSOCIATION OF B.C.
THREE YEAR ELECTIONS
MUNICIPAL HOUSE IN VICTORIA
LIABILITY AND REGIONAL DISTRICT LEGISLATION
MUNICIPLAL TICKETING AND BYLAW COURTS
RCMP CONTRACT RENEWAL
Many more UBCM introductions and links to come.
Live from different locations
Monthly Topics
Media Active on Radio, TV, Internet
METROPOLIS, May 20068th World Congress and Africa Travel Magazine supports the "Metropolis Project" where government decision- makers, researchers, and non-governmental agents discuss policies and programs for integrating immigrants and minorities. Thus they will effectively manage the impact of immigration and diversity on city life. Metropolis fosters exchanges that go beyond the stating of positions, beyond descriptions, and beyond advocacy. The Project provides unique opportunities for stakeholders who share a vision of improving society through collaboration and partnership to engage each other, to acknowledge problems openly, and to work, unfettered, to solve them. 2005 Motto: "Tradition and Transformation - The Future of the City," The World Congress is also the General Assembly of the world wide METROPOLIS network of capitals and large cities with over a million inhabitants. e-mail: cornelia.poczka@senstadt.verwalt-berlin.de
1-888-278-6186 ext 255 or ext 256

(613) 233-5179 ext 255 or ext 256
I