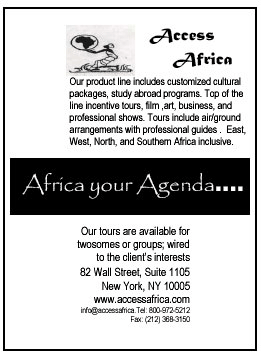 ACCESS AFRICA
WEST AFRICA is an exotic region with a sense of mystique and adventure. The most fascinating aspect is the sense of history and a quintessential African culture passed down through generations.
Come discover the great cities, intriguing history, pomp and pageantry, unique lifestyles, museums, art, music, cuisine, dance, miles and miles of endless beaches etc. West Africa has a number of game parks and many species of birds. Enjoy the thrill of the chase rather than view the animals from your hotel window. West African has a number of annual festivals, which add to the mix of this exciting destination.
You are in good hands with Access Africa, Inc. Our West African routes include highlights of Senegal, Cote D'Ivoire, Ghana, Mali, Burkini Faso, Mali, Benin, Nigeria and Cameroon.
Travelers will meet the people, the children, village elders, market mammies, craftsmen and the sophisticated city dwellers.
CUSTOMIZED GROUPS: For any group of 15 or more, we will work with you to suit your budget for a land only or air inclusive package. Group pricing based on volume and net basis, plus giving you control over final selling price and profit.
More information to come including sample tour itineraries