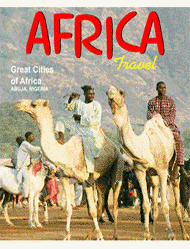 Further Updates to Africa Travel Magazine
Advertising and Marketing Schedule for 2007
Since 1995, we have been promoting travel and tourism to Africa in print media. The magazine's schedule has included two Yearbook editions - Spring ( World Congress Edition) and Fall (Ecotourism Edition), plus special issues for other events.
Starting in May 2007, thanks to recent partnerships with PATA and others, we are reaching out to new markets beyond Africa Travel Magazine's original circulation base in the USA and Canada.
In this regard, we plan to increase the magazine's frequency by introducing a series of Travel Trade Bulletins and new 'keeper' editions, such as "The Great Cities of Africa" and "Air Highways to Africa," which focus on specific areas of travel and tourism - and will be produced in partnership with local governments and private sector organizations.
Africa Travel Media will also introduce new media combinations beyond Print Advertising, such as Radio Spots, Travel Show Video, plus Website Advertising packages on this and allied sites.
For a PDF copy of our updated, combined Media Kit (available soon) or to submit articles for the Great Cities and Air Highways to Africa Editions, please fax 1-604-681-0718 or e-mail aftrav@dowco.com
The above program additions are from our Editorial Board meetings currently underway.