Tanzanian President H.E. Jakaya Mrisho Kikwete and Nigerian President H.E Olusegun Obasanjo Launch First Annual ATA African Presidential Forum on Tourism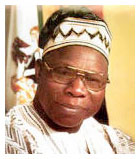 New York, N.Y., September 25, 2006: Tanzanian President Kikwete (below, right) and Nigerian President Obasanjo (left) announced their support of the Africa Travel Association's effort to spread positive news on Africa at ATA's first annual African Presidential Forum. The event, which was attended by more than 120 people, was held at New York University on Tuesday, September 19, 2006.
The forum, entitled "Promoting Positive News on Africa - Building Links between Africa, the U.S. and the Global Community," was attended by speakers President of the United Republic of Tanzania, His Excellency Jakaya Mrisho Kikwete, and Minister of Culture and Tourism of the Federal Republic of Nigeria, Chief Olufemi Fani-Kayode, who represented President Obasanjo at the forum. Yaw Nyarko, NYU's Vice Provost of Globalization and Multicultural Affairs, moderated the discussion.
President Kikwete highlighted the need of the western media to focus on success stories in Africa.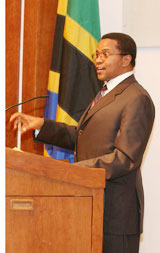 "We are doing so many good things out there, but unfortunately you always read, hear and view calamities, conflicts in Africa," said President Kikwete. "If you are living in peace with yourself or neighbors, then [there is] no story at all."
The President said Tanzania was relatively unknown to people around the world because of its political stability since independence in 1961. "We are politically stable… no conflicts, and that is why there is no news in the eyes of the western media," he said.
President Obasanjo's remarks were delivered by Chief Olufemi Fani-Kayode. The President highlighted his commitment to turning the travel sector into a leading revenue generator for his country and spoke about Nigeria as a travel destination, which offers diverse cultural travel experiences.
The President also announced that Nigeria will host ATA's 10th Annual Ecotourism Symposium in the city of Calabar from November 15-20, 2006.
Representing ATA at the forum was Executive Director Edward Bergman, who announced ATA's goals of the event.
"The forum aims to bring together African heads of state to share with the greater public the news on Africa that the press rarely portrays… news that emphasizes the best of the continent, and news that goes beyond the conventional images and stories we are so accustomed to seeing and hearing," he said. "It's also about raising the profile of Africa's travel industry and showcasing the vast opportunities that the industry presents to Africa's leaders and decision makers."
The forum was co-hosted by New York University's (NYU) Africa House and NYU's School of Continuing and Professional Studies.
About ATA
ATA is the premier international travel association, promoting tourism to the African continent and intra-Africa travel and partnership since 1975. ATA members include ministries of tourism, tourism boards, airlines, hoteliers, travel agents, tour operators, media representatives, public relations firms, NGOs, individuals, and small-and medium- businesses actively engaged in promoting travel opportunities to the African continent.
Contact Person: Edward J. Bergman
Company Name: Africa Travel Association
Telephone Number: 1-212-447-1357
Email Address: info@africatravelassociation.org
Web site address: www.africatravelassociation.org