Dear Viewers. Below is an outline of Africa Travel Magazine's November 15 issue, with reviews and previews by influential government and tourism professionals. Our editorial features continue to lead the pack on Google, MSN and Yahoo. Please view the information below and select an advertisement from our order form. Best Wishes, The Editor
.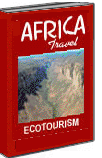 ..


AFRICA TRAVEL MAGAZINE'S GLOBAL CIRCULATION, TARGETED TO TRAVEL TOURISM CONTACTS VIA 26 ATA CHAPTERS AND MAJOR MARKET TRAVEL SHOWS - IS NOW GREATLY EXPANDED - AS HUNDREDS OF THOUSANDS MORE CAN ACCESS. FREE DOWNLOADS OF OUR NEW SECTIONS, SPREADS AND SUPPLEMENTS HERE AND ON ALLIED WEBSITES.
Topics Below!

AFRICA'S GREAT CITIES: CAPITALS OF CULTURE.: Gateways to Sustainable Tourism and Global Enterprise . Africa Travel Magazine Editor Jerry W. Bird interviews and tours African mayors at UN World Urban Forum. Our new series, "Tale of Two Cities," features a variety of communities including Yaounde - Douala; Accra - Kumasi; Jo'burg - Cape Town; Nairobi - Mombasa; Lusaka - Livingstone and other ATA host cities since 1975. [Details] [Projects] [Airports] [Google Score].
CALABA

R, CROSS RIVER STATE, NIGERIA HOSTS ATA 10TH ECOTOURISM SYMPOSIUM. . Join us from November 15-20, 2006. Announcement by H.E. Chief Femi Fani- Kayode, (left) Minister of Culture & Tourism. Events will be hosted by Cross River State Governor Donald Duke (right). Advance delegation visits USA. [Details] [About Calabar]. [Airfare] [Photos]..[Google Score]

ADDIS ABABA, ETHIOPIA HOSTS ATA 32ND WORLD CONGRESS. . May 2007. An encore to our outstanding Millennium experience. Announcement by H.E. Ambassador Mahmoud Dirir, Minister Culture & Tourism , Ethiopia. [More] [Biography] View the Ethiopia Gallery by photographer Robert Eilets of New York. [Google Score]


"FACE TO FACE MARKETING." Our magazine reaches key contacts at major shows across North America. "The success of our first exhibit in New York led to appearances at travel expos across the USA and Canada. Following our lead, the number of Africa Section exhibits in NYC quadrupled the second year. The rest is history," Muguette Goufrani. Africa Travel Magazine is now circulated from many top U.S. and Canadian shows. [More] [Google Score] [Author Bio]

GHANA GRAND TOUR: A Golden Experience. Impressions of Ghana: On landing at Accra's Kotoka International Airport my eyes were fixed like lasers on a banner newspaper headline that shouted its bold, positive message across the arrivals area - "Ghana is Safe." [More] [Grand Tour] [Ghana's New Money] [Ghana Edition]
FIRST AN

NUAL ATA AFRICAN PRESIDENTIAL FORUM ON

TOURISM. Launched by Tanzanian President Kikwete and Nigerian President Obasanjo. Tanzanian President Kikwete (left) and Nigerian President Obasanjo (right) announced their support of the Africa Travel Association's effort to spread positive news on Africa at ATA's first annual African Presidential Forum. The event, which was attended by more than 120 people, was held at New York University..[More]

NIGERIA'S SLAVE ROUTE. A topic of interest at the Ecotourism Symposium in Calabar. By Dr. Beryl Dorsett. The infamous slave trade in Nigeria is not known to many people like the slave trade in Ghana, Senegal, Togo and Benin. [Details]

AFRICAN DIASPORA HERITAGE TRAIL CONFERENCE IN BERMUDA. ATA plays a key role in this huge cultural market. [More] [Google Score]

RESULTS OF TOURISM AFRICA 2006, GENEVA. Forum Presentation by Edward Bergman, ATA Executive Director.An impressive number of African Tourism Ministers and dignitaries in attendance..[Details] .[Text of Interview] [ATA Business] [Google Score]

AIR HIGHWAYS TO AFRICA: Flight to the Land of Diamonds. "Angola is a success story in the making - a fascinating, uplifting saga of recovery, renewal, revival, restoration, and a massive face-lift for Luanda" [Full Text] Air Highways features airports, airlines and routes. Hear Hon. Eduardo Chingunji online. [More] [Google Score]
AFRICA TRAVEL MAGAZINE HOSTS FASHION ROADSHOW. . Travel Fashion Photo Gallery. [#1 on Google] [ #1 on Yahoo]

UGANDA HOSTS AFRICA'S PEACE THROUGH TOURISM CONFERENCE.. Presented by IIPT- ATA partnership, Kampala, March 2007. Founder is Louis d'Amore (left) of Stowe, Vermont. [More] [Uganda Hot News] [Google Score]
WEB ADVERTISING BONUS ONE YEAR ONLINE: EVERY ADVERTISER IN OUR NEXT PRINTED EDITION RECEIVES A CLASSIFIED DISPLAY AD IN OUR ONLINE DIRECTORY. THOSE WITH ONE SIXTH PAGE OR MORE ALSO RECEIVE A FULL BANNER (468 X 60) IN ROTATION ON A SELECTION OF OUR MOST REQUESTED PAGES .


AFRICA TRAVEL MAGAZINE
Official Voice of the Africa Travel Association
ISSUE CLOSES NOV.1, 2006
Display Ad and Website Combination
Client : __________________________________________

City ______________________________ Country ________________
Contact Person _________________________________________

E-MAIL __________________________


FAX __________________________ TEL. ____________________
Circle Your Choice: Display Ad and Website Combination

Full Page- $2190 BW
$2790 color

Sixth Page- $390 BW
$490 color

Half Page- $1190 BW
$1490 color

Ninth Page- $290 BW
$390 color

Third Page- $790 BW
$1090 color

Twelfth Page- $190 BW
$290 color

Quarter Page- $590 BW
$790 color
ADVERTISE NOW - FAX THIS CONTRACT 604 681 6595 .
E-MAIL:
africa@dowco.com
No cancellation of print advertising, unless written notice is received 30 days prior to deadline
Web Only Options.
Directory Advertising
3.
Web Ad Banners

To order e mail
africa@dowco.com