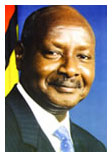 Uganda President Museveni Welcomes North American and World Travel Tourist Industry
Message From H.E. Yoweri Museveni, The President
Uganda, 'The Pearl of Africa', as aptly described by Winston Churchill, is a beauty to behold. With her warm climate, an altitude of 650 meters to 5,200 meters above sea level, we have permanent snow on the Equator.
President Museveni supports AGOA
President Museveni, Chairman of the Common Market for East and Southern African States (COMESA), has emerged as one of the most significant leaders in the developing world. Under his helm, Uganda has distinguished itself as a model post-conflict reformer - leading the world in tackling HIV/AIDS, poverty, and illiteracy. Uganda, the fastest growing economy in Africa, has maintained an average growth rate of 6.5 percent over the past ten years; reduced poverty from 56 percent to under 27 percent; decreased the rate of HIV/AIDS infection from 30 percent to six percent in 10 years; increased primary-level education from 40 percent to 99 percent in twelve years and leads the developing world in empowering women.
President Museveni, a visionary statesman, has demonstrated that the immense development challenges of this century are not insurmountable. Leaders throughout the developed and developing world call on his counsel and ideas.
President Museveni has also distinguished himself as Africa's greatest champion of trade. He was the first Head of State to endorse the African Growth and Opportunity Act (AGOA) and advocate for advocate for its extension in Congress.
President Museveni's address will be followed by an interactive discussion on trade, development and security issues.
About President Museveni
President Museveni was born in 1944 in a peasant pastoralist background to Amos Kaguta and Esteri Kokundeka.
His father was from the Basiita clan and mother from Beene Rukaari a branch of the aristocratic Bashambo clan Of Ankole south western Uganda.
He then attended his primary school in kyamate primary school and did his secondary at Mbarara high school and Ntare School respectively.
Attended University education at Dar Es Salaam University where he studied political science and B.A in Economics,graduating in 1970.
He later returned to Uganda and got a job as a research officer (intelligence work) in the then president's office.
In 1971 Museveni went into exile when Idi Amin over threw Obote.