................................


..

..



...
By Skysanner
Below is a list of countries and territories in Africa. Select a country or territory to see a list of all the airlines which fly there and then compare prices of flights for each airline.
Skyscanner allows you to find the cheapest flights to Africa without having to enter specific dates or even destinations, making it the best place to find cheap flights for your trip to Africa. Use the links at the side of the page to browse for flight information or use the flight search controls above to start a new search.
AIRLINES FLYING TO AFRICA
Airlines flying to Africa
OPENING PART OF WESTERN TANZANIA FOR TOURISTS
PRECISION AIR RESUMES KIGOMA FLIGHTS
BY DR. WOLFGANG H. THOME, ETN UGANDA | JAN 31, 2013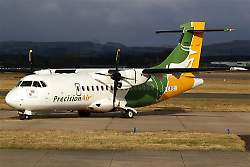 Precision Air has confirmed that the airline has on Wednesday this week resumed operations to Kigoma, a town located on the shores of Lake Tanganyika. The airline is using an ATR 42 for the service, which now operates 5 times a week, originating in Dar es Salaam and routing via Mwanza every Monday, Wednesday, Friday, Saturday, and Sunday.
Flying time from Mwanza, a city located on the shores of Lake Victoria, to Kigoma, the main municipality on Lake Tanganyika, is approximately 1 hour and 10 minutes.
The new scheduled service is considered to be of crucial importance to the business community in Kigoma but also expected to help in opening up Lake Tanganyika for tourists in a part of Western Tanzania which sees only a fraction of the overall tourists visiting the country's traditional heavy weight national parks and attractions.
Precision Air is Tanzania's premier airline, offering the widest domestic network and a growing number of destinations in the region and beyond on the African continent. The airline presently has 14 aircraft on their fleet and an additional order of ATR42 -600 and ATR72-600 state-of-the-art turboprop aircraft pending with the French aircraft manufacturer. Besides the ATR fleet, Precision Air operates 3 B737-300 jets for flights to Nairobi, Lubumbashi, Lusaka, Johannesburg, and the key domestic route between Dar es Salaam, Kilimanjaro, and Mwanza.