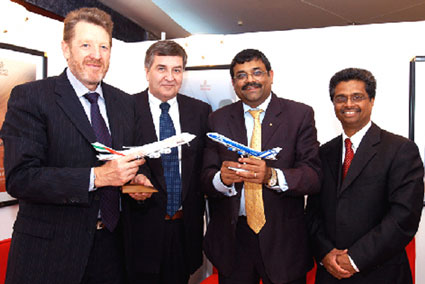 Photo Caption: seen from left are: Alexey I. Isaikin, President Volga-Dnepr Group; Stan Wraight, Managing Director, AirBridge Cargo; Ram Menen, Emirates' Divisional Senior Vice President and Pradeep Kumar, Emirates' Vice President Cargo Revenue Optimisation.
AIRBRIDGE CARGO AND EMIRATES SKYCARGO SIGN INTERLINE AGREEMENT
AirBridge Cargo (ABC), the scheduled cargo airline subsidiary of Volga-Dnepr Group, and Emirates SkyCargo have signed an interline agreement that opens up new markets for the two airline's customers.
The agreement, signed during the World Air Cargo Event 2006 in Dubai at the end of last month, will give ABC the ability to offer its Russian customers cargo capacity to destinations in the Middle East, India and Africa using the Emirates SkyCargo network.
In exchange, Emirates SkyCargo will have the opportunity to extend its network to Moscow's prime cargo hub at Sheremetyevo Airport by interlining through ABC's Frankfurt and Amsterdam hubs.
Stan Wraight, Vice President of Volga-Dnepr Group, said: "The agreement with Emirates SkyCargo will offer ABC's customers in Russia an opportunity to better serve their clients in all the countries served by Emirates. This will be of particular value to the aerospace and technology sectors of the Russian economy."
With its thriving Moscow hub and extensive network in Russia, ABC's services enable Emirates SkyCargo to effectively serve the huge demand for pharmaceutical products from the Indian subcontinent and carry large outsize shipments such as machinery and equipment to offline points in Russia using ABC's.
AirBridge Cargo, a division of Volga-Dnepr Group, is Russia's first international scheduled cargo airline and links Asia and Europe via cargo hubs in Russia. The airline commenced scheduled air cargo transportation services in May 2004.
The airline currently operates a fleet of three Boeing 747 freighters &endash; two -200F versions and one -300F. It has recently announced an order with Boeing for two new-build B747-400ER freighter aircraft with a list price of $450 million for delivery in October 2007 and February 2008. ABC is also the launch customer for the cargo version of the IL-96 aircraft. Two of these 92-tonnes capacity freighters will join the airline's fleet in 2006 and 2007 respectively and provide regional capacity to complement its growing long-haul network.
ABC operates scheduled flights from Shanghai and Beijing to Europe (Amsterdam and Frankfurt) via Russian hubs in Moscow (Sheremetyevo) and Krasnoyarsk. It will commence services ex Japan in 2006.
For more information please contact:
Volga-Dnepr Group PR department
tel.: + 7 095 755-91-32, 755-91-32
fax: +7 095 755-68-51
e-mail: dorofeeva@msk.vda.ru
JRPR
tel. +44 (0) 1753 621 666
fax +44 (0) 1753 621 888
e-mail: jamie@jamierochepr.co.uk
harriet@jamierochepr.co.uk
Canada Hosts 2006 Air Cargo Forum and Exposition
The International Air Cargo Association's vision of creating a neutral forum for stimulating discussions and solutions among all segments of the air cargo industry has created a biennial event recognized internationally as the world's premier air cargo event. The 2006 edition will be held in Calgary, Canada, September 12-14. Attendees at ACF events in Bilbao, Hong Kong, Paris, Washington and other crossroads of international commerce since 1962 have not come "simply to do business." They gather biennially to analyze the state of the industry; discuss its problems challenges; and network together to solve problems and maximize opportunities. Discussions and decisions made at biennial Air Cargo Forums are far reaching only into the commercial world but into governmental policy making as well as academia LIST OF EXHIBITORS

Web site:http://www.tiaca.org/content/acf2006/history.asp
Boeing Forecast Sees Air Cargo Strength Continuing
- Industry Will Rely Increasingly on Large Freighters
SEATTLE: The global air cargo market, currently showing significant strength through a flurry of new freighter orders, is poised for strong 20-year growth, during which The Boeing Company forecasts that the world freighter airplane fleet will double from 1,760 to 3,530 airplanes.