By Brent Munnik

THE FUTURE LOOKS BRIGHT FOR AVIATION IN AFRICA

Africa's Transport and Infrastructure Show 2014 saw a large gathering of transport industry professionals flock to the Sandton Convention Centre on 1 and 2 July 2014. The Trade Show was organised by Terrapin.

COVER attended the Aviation Outlook for Africa on the first day.

Blue skies for Africa's aviation

Sylvain Bosc, the newly appointed General Manager: Commercial of South Africa Airlines, said: "The future looks bright for aviation in Africa." He supported his statement with the following compelling arguments.

He said: "Emerging African countries will capture their largest share ever of the world's total economic growth.

"Intra-African trade will rise at double digit rate for the foreseeable future."

Bosc said that foreign direct investments are increasingly directed towards Africa, boosting business traffic. He said the increasing urbanisation and emerging of African middle class will help boost the aviation sector. He argued that tourism, a key aviation driver, is yet underdeveloped and leaves enormous opportunities for growth in Africa.

Challenges to overcome

Bosc said there are two factors holding African airlines back.

The first is that African countries today do not offer the environment needed to base an airline. Requirements for a favourable environment are, among others, GDP size, domestic market size, political stability, total middle class population, diaspora abroad able to travel, tourism infrastructure, quality of public infrastructure, and international trade connection.

In the end, said Bosc, it is very expensive to operate an airline.

The second factor affecting Africa's aviation industry is the ability of the Middle Eastern carriers to absorb much of the long haul growth

How can African aviation resist?

Bosc said it is imperative that governments and airlines work together to bring about change.

Airlines must avoid complacency by reducing the cost base to become or remain competitive. African airlines must build a stronghold that will become a desirable port of entry for long haul traffic. They must cooperate with other African airlines to build an interconnected continental network.

Governments can do their part by adopting an aviation policy. This whole of state policy can address issues like the coordination of state-controlled airports and airlines; visa requirements; asset financing facilitation; traffic rights; and promotion of tourism.

Governments can assist market forces in creating an open skies model; and creating an environment where privately-held airlines can feed long haul flights from foreign carriers.

For pictures of the opening event, visit our Facebook page and check out our Aviation Africa photo album.

South African Airways Service from New York to Johannesburg via Dakar
SAA service from JFK to Dakar to provide the only and much needed nonstop service between North America and Senegal, West Africa. These major schedule enhancements are complemented by a major service improvement &endash; one which I'm privileged to introduce to you tonight...the progress of air travel, South African Airways style. An environment where air travel feels more like a stay at a five-star hotel than a fifteen hour flight. An environment where people can experience the finest South African hospitality, comfortably and effortlessly. An environment where the most important investment is always in the comfort of our passengers.

Airline of the Year 2004 - Final Rankings

| | |
| --- | --- |
| 1st | Singapore Airlines |
| 2nd | Emirates |
| 3rd | Cathay Pacific |
| 4th | Qantas Airways |
| 5th | Thai Airways |

Airport of the Year 2004 - Final Rankings
| | |
| --- | --- |
| 1st | Hong Kong Int'l Airport |
| 2nd | Singapore Changi Airport |
| 3rd | Amsterdam Schiphol Airport |
| 4th | Seoul Incheon Airport |
| 5th | Kuala Lumpur KLIA Airport |

2004 Airline Excellence Awards
| | |
| --- | --- |
| Asia | Asian Airlines |
| South America | TAM Brazilian |
| Regional- Europe | PGA Portugalia |
| Regional- Europe | SN Brussels Airlines |
| Pacific | Air Tahiti Nui |
| Asia | Bangkok Airways |
| Mid East / Africa | Qatar Airways |
| North America | JetBlue Airways |
| Improvement | Gulf Air |
| | |
Source: http://www.skytraxsurveys.com/

Precision Air Expands: Following the return of its sole B 737 to Kenya Airways last year and the subsequent halt of flights to Johannesburg due to lack of suitable aircraft, Precision Air is now once again looking into the future with hope. A new ATR 72 aircraft has joined the fleet and apparently orders for additional new aircraft to be delivered over the next two years have also been placed.The Precision Air head office has also been moved from Arusha to Dar es Salaam, from where it operates 5 flights a week to Mombasa via Zanzibar as well as 5 flights a week from Mombasa to Kilimanjaro / Arusha. Nairobi is served daily from Dar and the Kilimanjaro Nairobi route has 3 flights a week. The present fleet now stands at 8 aircraft including one ATR 72, three ATR 42, three LET 410 and one Cessna Grand Caravan. Precision Air is 49 percent owned by Kenya Airways, which also provides management support. (Prof. Wolfgang Thome)

"Open Skies for Africa Aviation Conference"
We salute the Africa/USA Aviation Summit in Washington, DC which featured the regulatory and commercial implications and opportunities of Open Skies. We built a magazine and web site around Open Skies in the USA and Canada, and are devoting an entire edition of Africa Travel Magazine that will include:

• Open Skies implications for Africa
• Airline competition and Cooperation,|
• Aviation regulations and air safety.
• Airports and ATC development.
• Finance strategies and sourcing funds.
• Aviation training and education.
• Maximizing Business Opportunities.

Flying to Africa via Europe?
Hotel reservations service in Amsterdam, The Netherlands.
Check this comprehensive Web Site:
http://holland.amsterdam.sunscale.com/

Air Links USA
American Airlines http://www.aa.com

Delta Airlines http://www.delta.com

United Airlines http://www.united.com

Northwest Airlines http://www.nwa.com

US Airways http://www.usairways.com

JetBlue Airways http://www.jetblue.com

Air Tran Airways http://www.airtran.com

Continental Airlines http://www.continental.com

Southwest Airlines http://www.southwest.com

Independence Air http://www.flyi.com
Africa's Future is in the Air
By Mira Berman, Executive Director,
Africa Travel Association
ATA, which represents the hopes, desires, plans and potential of Africa's travel - tourism industry was born in 1975 and raised under the most trying political, social and financial conditions. Today's ATA continues to seek new markets, win new friends and open new doors. So much has happened in the past decades, it's hard to fathom - but in Africa, recent years have signaled remarkable changes. Ranking high are new direct routes and realistic fares from New York and other U.S. gateways. In evaluating Africa's transportation scene, ATA members can be considered among the most astute judges of all. Since our launch in 1976 at a Congress in Nairobi, Kenya, ATA members have flown on every airline serving the continent and its offshore islands, and have boarded regional carriers that crisscross, this vast expanse of geography, linking dozens of emerging cities and towns. Some have gone by train, or enjoyed waterborne adventures along the coastline of two oceans, the majestic Mediterranean, or on Africa's historic canals, lakes and rivers. More;>
How Important is Emirates Airlines to Tourism in Tanzania and East Africa?
BY HON. ZAKIA HAMDANI MEGHJI (MP) MINISTER FOR NATURAL RESOURCES AND TOURISM , REPUBLIC OF TANZANIA
"It is indeed a great honour and privilege for me to be here this evening to officiate the launching of Emirates Air daily flights to Dar es Salaam. May I take this opportunity on behalf of the Ministry of Natural resources and Tourism in particular, and on behalf of the tourism fraternity in general to express our appreciation to the Management of Emirates Air, for this noble initiative. Development of tourism depends on development of almost every other sector of the economy. Its development can therefore be easily hampered by the weakness of another sector. Tourism as an activity connotes movement of an individual from one place to the other. You will therefore, no doubt agree with me the airline industry is essential for development of tourism in any country." More->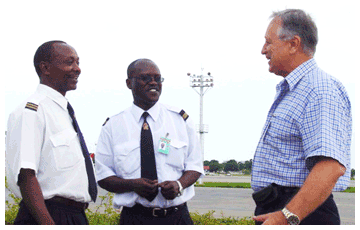 Visit MOMBASA AIR SAFARI Head Office at the General Aviation Terminal at Mombasa's Moi International Airport and you will step out of bright tropical heat into cool efficiency. With its separate terminal building with hard stand for aircraft parking just outside the window, you can be ticketed and through the passenger lounge for screening and then board your flight in minutes. Mombasa Air Safari has staff based at Diani Beach, Mombasa, Malindi and Lamu all along the Kenya Coast to provide friendly and efficient services on their daily flights to LAMU, AMBOSELI, TSAVO and the MASAI MARA. Owned and operated by two Kenyans, Christine Cronchey and John Cleave since 1974, they can claim to be the best known Kenya Coast airline More->
KENYA MAKING STRIDES TOWARDS FAA CERTIFICATION
A team from the American FAA and from Miami Civil Aviation are in Nairobi at present to assess the progress made by Jomo Kenyatta International Airport towards category one approval, which is mandatory to commence flights by KQ to the United States. Miami is in contention with other key airports in the US to become the first destination in America for Kenya Airways, once the certification process is completed. The US are a key market for tourists to East Africa and also capable of absorbing much of the exports from the region like fresh fish, fruits and vegetables, besides textile exports under the AGOA (African Growth and Opportunities Act) statute, which grants African countries preferential access to the US markets. Uganda's' main international airport Entebbe is expecting FAA Cat 1 status shortly, having completed all the necessary improvements and upgrading last year.
It's in an Airport code?
Here are several web sites that walk you through the whole history of how airports received their distinctive codes.
Airport ABCs: An Explanation of Airport Identifier Codes
http://www.skygod.com/asstd/abc.html
Mapping.com's List of Worldwide Airport Codes
http://www.mapping.com/airportcodes.html