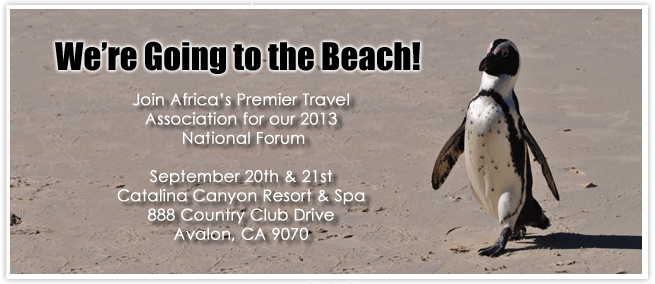 Join us on beautiful Catalina Island for our annual APTA National Forum, where we bring together the leaders, movers and
shakers of our niche market, with chapter officials and members from all 13 local chapters in attendance. This is a superb networking opportunity, and the ideal occasion for suppliers and buyers to meet and mingle. The Forum is open to all members,individuals and corporate.
This year's Forum will have a strong focus on conservation, sustainability and responsible tourism. With over 70 registrations already
Thank You… A special thanks to the our Los Angeles chapter for hosting our Forum and The Catalina Island Chamber of Commerce, Catalina Island Resorts and Services, Catalina Express, Catalina Canyon Resort & Spa and Supper Shuttle for their participation and sponsorship.
Please contact our events coordinator Valerie Sewell for information on how you can sponsor or contribute, we are currently looking for speakers, sponsors and of course you – attendees!
To contact Val please email her at: events@apta.biz
New Leadership at the Association for Promotion of Tourism to Africa
New York, NY, August 8, 2012 - After a truly transformational tenure at the helm, Kathryn Monaco, Primary Sales Consulting, Inc., has seen her term as president of APTA come to an end in accordance with the association's bylaws on term limits. She is succeeded by Yvette De Vries, senior tour consultant with the highly regarded Connecticut-based safari specialists, African Portfolio. De Vries has been active in the African travel industry ever since relocating from Stellenbosch, South Africa and an earlier life in Public Relations in the South African wine industry, in the late 1990's. She has come up through the APTA ranks from the board of the North East chapter where she served as membership chair, program chair and vice president, before joining the APTA national board to serve as director of corporate membership, and more recently, trade events.
She was instrumental in bringing APTA to the attention of the organisers of the New York Times Travel Show, and has been coordinating their very successful "Focus on Africa" Trade Seminar for the past three years. She feels "incredibly fortunate to be landing in this space at this point in time, with such an innovative and energized group of people on my side. Being an all-volunteer group aimed at delivering professional results, is a formidable undertaking, but my fellow board members are each so ideally suited to their positions and complement each other so perfectly, that I think we can achieve anything we set our minds to. If there is ever an Olympic event for volunteer team work, we could bring home gold!"
APTA is an all-volunteer, business-to-business trade association formed by a group of industry leaders in 1980 to promote tourism to Africa as a whole. The mission would be, and still is, to promote tourism by way of inspiring and educating its individual members to confidently sell the continent as a tourist destination.
The Association for Promotion of Tourism to Africa (
www.apta.biz
) creates networking and marketing opportunities for its members, and serves as a platform for buyers and sellers in the African travel and hospitality industry to meet, mingle, learn from each other and do business.
* The executive and chapter board officials are travel professionals, already actively involved in various other capacities throughout the industry. They share their time and resources voluntarily out of a common passion for the African continent and Indian Ocean islands, their potential as travel destinations, and for the benefits of tourism to their environments and peoples. There are currently 13 active chapters across the country.
* Individual members are travel agents and tour operators in the USA who already sell Africa, or are interested in selling Africa as a tourist destination.
* Corporate members are the tourist boards of African countries, airlines that operate flights in and into Africa, hotels, lodges, operators and other service providers in the Africa and the USA.
APTA is pleased to announce their new national board effective August 1, 2012:
Yvette De Vries, African Portfolio - President
Marion Valderrama, Protea Travel - Treasurer
Cheryl Velsor, SAA Vacations - Corporate Membership Director
Sandy Henneman, Celebrity Life Travel - Individual Membership Director
Jane Behrend, Emerging Destinations - Newsletter & Website
Sunit Sanghrajka, Alluring Africa - Communications & Social Media
Valerie Sewell, Travel Square One - Events Coordinator
David DiGregorio, South African Tourism - Advertising & Marketing
Beth Lincoln, Sinbad Travel - Administrator
Kathryn Monaco - Past President
For more information Contact David DiGregorio South African Tourism