Webtrends Results

Yes! Africans are reading our magazine articles more than ever!

Webtrends Top 12 June, 2009. Below: 35 leading countries in Global Response to this site.

---
The ATA Conference has come to one of the world's most outstanding safari and conferencing destinations and venues. The ATA provides a unique networking, learning and agenda-shaping platform for tourism stakeholders. The most cursory glance at its forthcoming Nairobi programme reveals content-rich educational and professional sessions; a tourism ministers' roundtable; meet-the-media encounters; buyers-and-suppliers interactions and transactions; and outings to Nairobi's world-class sights, including the only national park in the world on the immediate environs of a metroplolis.
The ATA has a distinguished and proactive history. Established as an international non-profit, non-political, educational trade organization in New York by a group of travel and airline executives, ATA went on to pioneer the establishment of National Tourist Boards, providing a forum for the learning and professional development of Africa travel agents and tour operators' knowledge, and helping establish incoming operators in Africa.
The then young African nations received invaluable assistance and know-how with shaping their tourism capabilities and building their credentials.
ATA's investment in African tourism has been inestimable. This untold capacity building has, over the years, included engaging tour operators and small-scale tourism businesses in North America and around the world with networking events, educational seminars and consumer and travel trade shows.
In the US alone, over 250,000 prospective tourists are exposed to Africa's tourism assets face-to-face by ATA members.
In an immense collaborative and proactive effort with US, Canadian and world press/media, ATA works to expound the good side of out-of-Africa news, and to report on the development of tourism projects and destinations.
We welcome the ATA to Africa being well aware that their primary objectives and focus have been to promote the tourism attractions of the African continent and to educate travel agents, meeting and conference planners and incentive companies about the products and services offered by Africa's tourism industry.
The ATA thus helps to identify new tourism products and destinations for the benefit of the local populations and the international travel industry.
By meeting in Nairobi, the ATA will in very many senses be coming home to the arena and one of the hubs of its life's work.
Kenya is one of the world's foremost homes of hospitality. Kenyans delight in hosting Africa and the rest of the world at home. Workshops, conferences, conventions and summits held in Kenya constitute some of the participants' most unforgettable, satisfying and gratifying experiences.
Karibu nyumbani, ATA!
---
DISCOVER MAGICAL KENYA
DURING
ATA'S 40TH ANNUAL WORLD CONGRESS IN NOVEMBER 2015
During the congress as part of the program, ATA delegates will have the opportunity to enjoy exclusive offsite visits to:
November 9th,
David Sheldrick Wildlife Trust.
Born from one family's passion for Kenya and its wilderness, the DSWT is the most successful orphan-elephant rescue and rehabilitation program in the world and one of the pioneering conservation organisations for wildlife and habitat protection in East Africa.
Learn more..
November 11th,
Karen Blixen Museum and Giraffe Center.
The museum was once a farm at the foot of the Ngong Hills owned by Danish Author Karen and her Swedish husband, Baron Bror von Blixen Fincke. Located 10km from the city center, the farmhouse gained international fame with the release of the movie 'Out of Africa' an Oscar winning film based on Karen's autobiography.
Learn more.
November 13th, Congress Host Country Day (delegates may select one):
Lake Nakuru National Park. On the floor of the Great Rift Valley, surrounded by wooded and bushy grassland, lies the beautiful Lake Nakuru National Park. Visitors can enjoy the wide ecological diversity and varied habitats that range from Lake Nakuru, surrounding escarpment, and picturesque ridges.
Ol Pejeta Conservancy. Today Ol Pejeta is the largest black rhino sanctuary in East Africa and home to three of the world's last remaining northern white rhino. It is the only place in Kenya to see chimpanzees in a sanctuary established to rehabilitate animals rescued from the black market.
Learn more
…

Extend Your Visit with Pre- & Post-Congress Tours
Arrive early or stay beyond the congress program to further explore Magical Kenya with special pre- and post-congress tours offered by ATA members.
Find more information on ATA's 40th Annual World Congress here:
Join us in discovering Magical Kenya,
Africa Travel Association
BUNSON SAFARI - CLASSIC SAFARIS - NATURE EXPEDITIONS - NATURE WONDERLAND SAFARIS - TREKKR SAFARIS - MAHALI MZURI (Richard branson)
---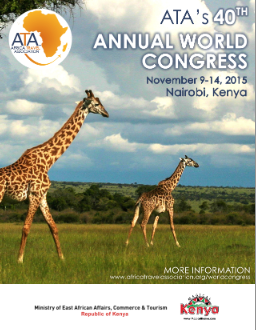 THE AFRICA TRAVEL ASSOCIATION RETURNS TO KENYA FOR THE 40TH ANNUAL WORLD CONGRESS

Experience Magical Kenya November 9-14, 2015

NEW YORK, NY, April 14, 2015 – The Africa Travel Association (ATA), the leader in promoting tourism to Africa, will hold its 40th Annual World Congress in Nairobi, Kenya from November 9- 14, 2015. The international tourism meeting will be hosted by the Kenya Ministry of East African Affairs, Commerce and Tourism under the auspices of Cabinet Secretary Hon. Phyllis Kandie.

Known as Magical Kenya, the country offers an abundance of wildlife opportunities, as well as an astonishing diversity of landscapes and cultures. As the East African hub for business and technology, the country is known for its excellent domestic travel infrastructure and the wide range of tourism activities and services it provides for its visitors. From tropical forests and beaches to vast deserts and majestic mountains, tourists in Kenya can experience a different safari every day.

ATA Congresses provide a unique networking, learning, and agenda-shaping platform for Africa tourism stakeholders. The 2015 program will include a line-up of educational and professional development sessions; a Tourism Ministers' Roundtable; sessions to Meet the Ministers, Meet the Media, and Africa Meets the World, where buyers and suppliers will meet; visits to Nairobi's top sites; and a range of networking events, including a Kenya Culture Night and ATA Awards Ceremony, receptions, working lunches, and a gala dinner.

As the early founding members of the association, the Kenyan government shares a special connection with ATA. The first ATA Congress in Africa was hosted in Kenya in 1976 and the Kenyan Government has fostered a tradition of hosting the ATA Congress every ten years. "Our partnership with ATA is very important as the U.S. remains a significant source market for Kenya. The Kenya tourism industry is looking forward to welcoming ATA delegates for a successful conference in November to highlight all the country has to offer," said Kandie.

ATA Executive Director Edward Bergman said, "On the occasion of ATA's 40th anniversary, we are eager to return to Kenya for this milestone in ATA's history. We are delighted to bring together the public and private sectors, travel industry, and media to participate in the Congress. This also comes at an important time to showcase Kenyan tourism to show that Kenya is an incredible destination, is open for business, and deserves our attention. We encourage the travel industry to stand with Kenya and support tourism."
During the Kenya Host Country Day, delegates will visit the magnificent Lake Nakuru National Park. The lake itself is known for attracting thousands of flamingos that feed on the algae formed on the lake bed. Not only does the lake attract flamingos, but as part of a National Park, both the black and white rhino can be sighted as well as large herds of zebra, impalas, waterbuck, and buffalos. As part of the Host Country Day and an ATA tradition, delegates will take part in a tree-planting ceremony at Lake Nakuru as a symbol of long-lasting relationships and as an initiative to achieve a better global environment.

ATA Congress delegates include African tourism ministers, industry professionals representing tourism boards, destination representatives, travel agents, tour operators, ground operators, airlines, hotels and accommodations, service providers, and travel media. Participants from the corporate, nonprofit and academic sectors are also expected to attend along with travel and hospitality students. Pre- and post-Congress tours will also be available to explore Magical Kenya beyond the Congress.

Editor's Note

About Kenya

Download the Congress Flyer
here
.

About the Africa Travel Association

The Africa Travel Association (ATA) is the leading global trade association promoting travel and tourism to Africa and strengthening intra-Africa partnerships. Established in 1975, ATA serves both the public and private sectors of the international travel and tourism industry. ATA membership comprises African governments, their tourism ministers, tourism bureaus and boards, airlines, cruise lines, hotels, resorts, front-line travel sellers and providers, tour operators and travel agents, and affiliate industries. ATA partners with the African Union Commission (AU) to promote the sustainable development of tourism to and across Africa. ATA's annual events in the USA and across Africa bring together industry leaders to shape Africa's tourism agenda and to stay up-to-date on Africa's latest tourism trends, issues and products. For more information about ATA, visit http://www.africatravelassociation.org. Tel: +1.212.447.1357
---

THE AFRICA TRAVEL ASSOCIATION (ATA) ANNOUNCES NEW INTERNATIONAL BOARD OF DIRECTORS
NEW YORK, NY, April 6, 2015 – The Africa Travel Association (ATA) announced the election of its new International Board of Directors and International Advisory Council. The International Advisory Council was elected during ATA's 39th Annual World Congress in Kampala, Uganda and subsequently elected the new International Board of Directors.

Hon. Dr. Maria Mutagamba, Minister of Tourism, Wildlife & Antiquities, for the Republic of Uganda, assumed the role of president of ATA. Minister Mutagamba succeeds Hon. Walter Mzembi, the Zimbabwe Tourism and Hospitality Industry Minister, who served as ATA's president from May 2012 to November 2014. During his tenure, Minister Mzembi actively promoted ATA's mission to advance travel and tourism to Africa.

The ATA International Board of Directors is comprised of the following members:

Republic of Uganda, Hon. Dr. Maria Mutagamba, Minister of Tourism, Wildlife & Antiquities,
ATA President
Expedia Travel, Mr. Diego Lofeudo, Senior Director of Market Management, Eastern Med, Africa, Middle East and Indian Ocean,
Chair of the Executive Board
United Republic of Tanzania, Hon. Lazaro S. Nyalandu, Minister of Natural Resources and Tourism, Vice Chair of the Executive Board

Travel World News, Mr. Charlie Gatt, Publisher, Treasurer of the Executive Board

Africa Tour-Rific, Ms. Doris Wooten, President, Secretary of the Executive Board

Arab Republic of Egypt, Hon. Khaled Abbas Ramy, Minister of Tourism

Brussels Airlines, Mr. Olivier Prevot, Director North America

Delta Air Lines, Mr. Athar Khan, Director, Financial Services

Ethiopian Airlines, Mr. Tewolde GebreMariam, Chief Executive Officer

Starwood Hotels, Mr. Omar Carrera, Complex Director of Sales

Production Travel & Tours, Mr. Ronald Mracky, President

The Bradford Group, Ms. Karen Hoffman, President

All members of the International Board of Directors will concurrently serve on the International Advisory Council along with the following members:

Computer Frontiers, Ms. Barbara Keating, President

Affluent Hospitality Group, Ms. Adele Black, President & Founder

Born Free Safari & Tours, Ms. Alana Hayden, President

Garden Group of Hotels, Dr. Gaudenzio Rossi, Chief Executive

Henderson Travel, Dr. Gaynelle Henderson-Bayley, President & CEO

Skylink USA, Mr. Nasim Satter, Sales Manager

Southern Sun Tanzania, Mr. Adam Fuller, Director

RW Social, Mr. Roni Weiss, President

Mr. Mohammed Zaki

Mr. Ogo Sow
The ATA community continues to grow!
Have a look at who has joined and renewed in 2015.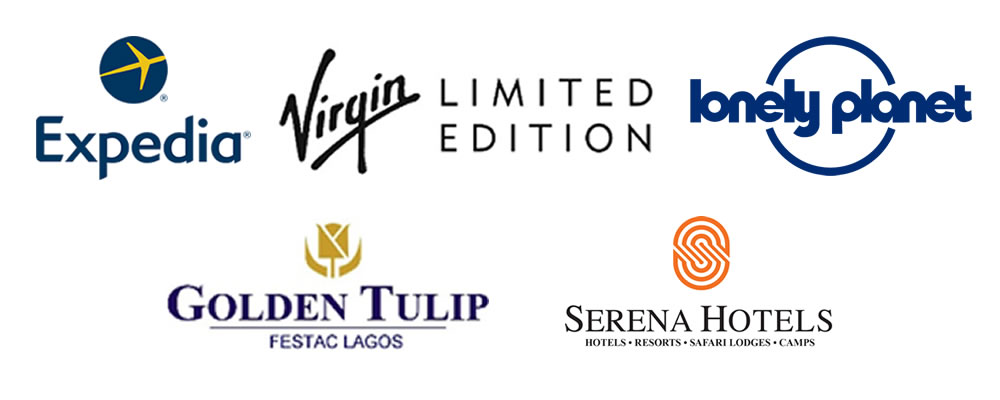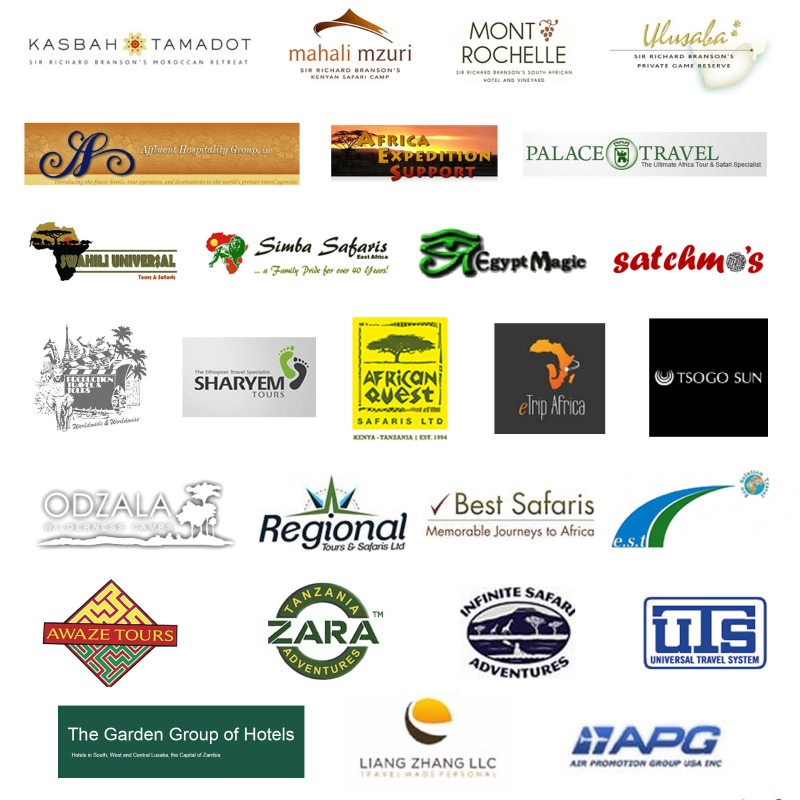 Tom Boyd

Amirah Hendrickson

Mohammed Zaki

Bettye Ray

Teri Priebe

Marlene Davis

Delores Walters Johnson

Elaine Henry

Houinde Kamano-Sewell

Olalekan Dare Olawale

Gregg Gross

Regina Musongong

Immaculate Mbi