FLASHBACK
AMERICAN TOURISM SOCIETY DELEGATES INAUGURATE WINGS GROUP'S NEW LUXURY SHIP M/S TAMR HENNA ON MAIDEN NILE RIVER CRUISE IN EGYPT
American Tourism Society (ATS) delegates enjoyed a National Tour Association (NTA) Product Development four night Nile Cruise following ATS' first-ever Conference in Cairo, Egypt, October 27-30, 2008. Wings Group, the official ATS Conference Tour Operator invited ATS to sail on the maiden Nile River voyage of their newest deluxe ship, the M/S Tamr Henna, between Luxor and Aswan. This joint ATS / NTA Nile Cruise was one of the new partnerships announced at the ATS Conference in Egypt. The M/S Tamr Henna joins three other Wings Group deluxe ships on the Nile, all named after Egyptian flowers.
For more information on Wings Group visit: www.wingsegypt.com; on Egypt: www.egypt.travel; on ATS: www.americantourismsociety.org.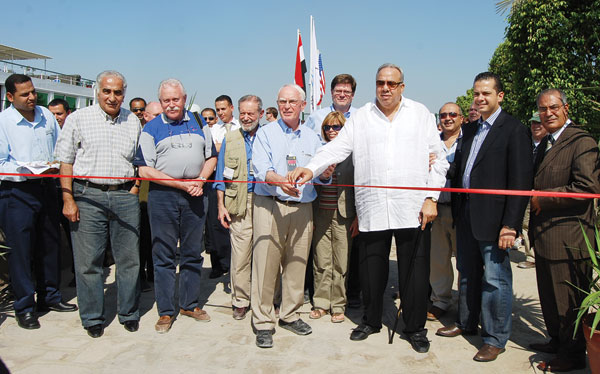 P
Photo : Members of the American Tourism Society Executive Board of Directors with Wings Group Executives at Ribbon Cutting of the M/S Tamr Henna: (From left: Jan Rudomina, ATS Treasurer and Polish Tourist Office; Don Reynolds, ATS Executive Vice President; David Parry, ATS Chairman and Chairman, Academic Travel Abroad; Phil Otterson, ATS President and Executive VP, External Affairs, Tauck World Discovery; Donna Flora, CTIE, ATS Executive Committee and VP, Travel Industry Relations, American Express Company; and from Wings Group Egypt, Abdel Meguid El Laban, Director of Operation Coral Sea; Atef El Wassief, CEO Wings Group Egypt; Magdy Keryakos, VP Marketing Wings Group Egypt; Ahmed El Wassief, President Wings Group Egypt and Gamal El Tayeb, General Manager Wings Nile Cruises.
Editorial Contact:
Karen Hoffman
The Bradford Group
Tel: (212) 447-0027
Fax: (212) 725 8253 E-mail: bradfordmktg@aol.com
EGYPT'S BUSTLING METROPOLIS OF CAIRO HOSTS AMERICAN TOURISM SOCIETY CONFERENCE, OCT 26-30, 2008
KNUT HAENSCHKE APPOINTED VICE CHAIR OF THE AMERICAN TOURISM SOCIETY'S BALTIC COUNCIL
New York, NY: The American Tourism Society (ATS) announced the appointment of Knut Haenschke, formerly with the German National Tourist Organization in Frankfurt, to serve as the new Vice Chair of the organization's Baltic Council, which includes Estonia, Latvia, and Lithuania. Haenschke will take over from Lana Rogers, President of Educational Travel Consultants of Boston, Massachusetts, who has retired in order to spend more time on her expanding business.
Prior to Haenschke's distinguished career with the German National Tourist Organization (GNTO), he started his professional experience in the airline industry at British European Airways, TWA and Icelandair. His long service with the GNTO included heading the New York Office from 1994-1997. Most recently in the Frankfurt office, Haenschke was responsible for marketing activities worldwide. However, it is perhaps his position as director of the Copenhagen Office from 1997-2004, which included responsibility for the Baltic States, that best qualifies him to take over as Vice Chair of the ATS
Alex Harris, CTC, ATS Chairman, and Chairman, General Tours, said "as ATS is on a growth path, since outlining its new Strategic Plan, we are fortunate to have attracted someone with Knut Haenschke's reputation and experience, to lead our expansion in the Baltics region." Harris also went on to thank Lana Rogers for her invaluable contribution and leadership as Vice Chair of the Baltics Council.
About ATS - Bringing the World Together
The American Tourism Society (ATS) was established in 1989 by a group of US tourism industry executives. It is a nonprofit, nonpolitical travel industry organization whose membership includes tour operators, hotels and resorts, international airlines, cruise lines, Government Tourist Offices, meeting and incentive planners, travel agents, tourism educators and public relations and marketing firms dedicated to promoting, developing and expanding high-quality, reliable travel between North America and the ATS destination areas: the Baltics, Central and Eastern Europe, the Mediterranean/Red Sea Region and Russia. ATS holds semi-annual meeting and trade shows hosted by different destination countries each year; has a website www.americantourismsociety.org.
For more information on The American Tourism Society: 149 Madison Avenue, Suite 602, New York, NY 10016. USA &endash; Phone: 212 -893 - 8111, Fax: 212 -893 - 8153;
Email: info@americantourismsociety.org
Editorial Contact:
Karen Hoffman, The Bradford Group
Tel: (212) 447-0027, Fax: (212) 725 8253
Background
Marked by the fall of the Berlin Wall, the end of the Cold War and a reunified Europe, The American Tourism Society (ATS) was founded as a non-profit, non-political destination marketing organization during one of the most challenging years in modern history, 1989. An audience with H.M. King Abdullah II of Jordan during the ATS 2005 Spring Conference in Amman & Petra
Initially focused on the former Soviet Union, ATS has expanded its geographic interest to include Eastern and Central Europe, the Baltic States, the Red Sea and the Eastern Mediterranean. Its membership is composed of governments, tourism executives, tour operators, airlines, cruise lines, national tourist offices, hotel firms, retail travel agencies and other special travel interests.
By merging business know-how with the core values of sustainable tourism, ATS serves as abridge of communication and understanding between countries and peoples of the world.
ATS lends priority access to internationally known travel companies through overseas conferences, travel marts and seminars in regions of interest to ATS and its members. Additionally, ATS organizes showcases for these regions in the USA.
Through its collective expertise of enterprise, marketing, educational initiatives and promotion, ATS provides visibility in trade publications and networking among tourism interests. ATS also maintains reciprocal memberships with other industry organizations such as the United States Tour Operators Association and the Baltic Tourism Commission.
ATS works for its membership - here and abroad - as an indispensable link to government agencies. From branding to product development, ATS is a reference point for travel-related companies seeking access to the North American market.
Join ATS for online access to networking opportunities with members, resources links to suppliers and registration for annual membership meetings held in venues of special interest. Download our current brochure for more information.
Website: http://www.americantourismsociety.org/about/index.html
...
AMERICAN TOURISM SOCIETY MOURNS THE LOSS OF CO-FOUNDER E. WALLACE LAWRENCE III
January 26, 2006)m New York, New York - The American Tourism Society (ATS) announced today the passing of one of its co-founders, E. Wallace Lawrence III. Lawrence, better known to his colleagues and friends as "Wally" passed away at his home yesterday January 25th, in Keswick, VA, at the age of 77.
"Wally" was founder and president of the Russian Travel Bureau, and one of the founders and early presidents of the American Soviet Tourism Society, the predecessor organization to the American Tourism Society.
Alex Harris, CTC, ATS Chairman and Chairman, General Tours, said "I remember Wally for his feistiness as a competitor and as an ally in promoting tourism to Russia. He was at my side as a co-founder of the American Tourism Society and the US/USSR Trade and Economic Council's Tourism Committee. I value his spirit, dedication, and the personal friendship we developed and the mutual respect we had for each other. Wally will be missed."
A Spring internment in Arlington National Cemetery is planned.
For more information on the American Tourism Society visit www.americantourismsociety.org