AFRICAN UNION LEADERS MARK 50th ANNIVERSARY IN ETHIOPIA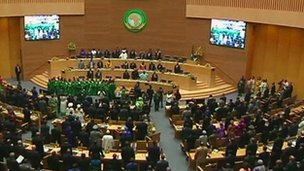 However, the AU has sent peacekeepers to Burundi and Darfur and has deployed an intervention force in Somalia.

Peace and prosperity

Among the dignitaries attending Saturday's ceremony was US Secretary of State John Kerry, who warned Nigeria's armed forces to avoid human rights abuses in their campaign against Islamist extremists.

While defending Nigeria's right to crack down on militant group Boko Haram, Mr Kerry said "one person's atrocities do not excuse another's".

On Friday, AU foreign ministers backed a request from Kenya to have crimes against humanity cases, brought against the president and vice president by the International Criminal Court in The Hague, referred back to Nairobi.

President Uhuru Kenyatta and his deputy, William Ruto, both deny allegations of orchestrating violence after the disputed 2007 election.

The ceremony was also attended by Brazil's President Dilma Rousseff - her third visit to Africa in three months.

On the sidelines of the summit, Brazilian officials said the country would cancel or restructure almost $900m (£600m) worth of debt with Africa.

Brazil's trade with African countries has increased fivefold since 2002.

Latin America's economic powerhouse has also opened 19 new embassies in Africa in the last decade.

Distant dream

Since it was founded in 2002, the AU's aim has been to push for peace and prosperity.

But its drive to create a middle-income continent free of poverty and conflict is still a distant dream, the BBC's Gabriel Gatehouse reports.

While six out of the world's 10 fastest-growing economies are now in Africa, campaign group Transparency International says nearly half of the 20 most corrupt countries are also African, our correspondent adds.

The only African country not part of the AU is Morocco, which withdrew because of a dispute over Western Sahara.