Click Magazine Covers to Preview 20 Africa Travel and Nature Library Editions.
---



World's Major Airlines and Aircraft Companies


Review by Jerry W. Bird, Editor and Publisher
Who flies where and when? From my early experience with bush pilots in the far Yukon to service in the Royal Canadian Airforce and my more recent work with Transport Canada and our airport network, flying has always been in my blood. Little wonder I can hardly wait for our next long haul to Africa.
With our biggest aviation edition well underway, serendipity played its familiar role in my life when I received THE WORLD'S MAJOR AIRLINES by David Wragg. It arrived by mail last week courtesy of the MBI Publishing, St. Paul, MN and was presented by John Wurm, Publicist for Military and Aviation. I plan to write this book review in installments, since my first reading was to get an overall position on how valuable this timely and well researched book will be in my evaluation of Africa's airlines and others serving the continent. Here are some comments from MBI that help set the stage. "Today there are so many airlines operating throughout the world that even the most knowledgeable enthusiast can soon become confused about which airline flies from where to where. This new, fully illustrated edition has been revised and updated to include the major advances in the aviation industry since 1998. The author has added introductions for each nation, summarizing its history of civil aviation and placing the subsequent entries in context. In the World's Major Airlines David Wragg provides more than 500 entries. Listed in alphabetical order by country is every airline in the world which has more than five aircraft with more than 19 seats,or equivalent cargo capacity. Comprehensive information is given on the name, history, bases, aircraft operated, routes flown, number of passengers and tonnage of cargo flown annually, and much other useful and interesting data. The World's Major Airlines is an invaluable source of reference for aviation enthusiasts, travelers and those working within the industry." More to come.

How does Books for Africa help Darfur Children? .
Between January 2004 and May 2005, the United Nations High Commissioner for Refugees (UNHCR) established 12 refugee camps in the border region between Chad and Sudan for Sudanese refugees fleeing the armed conflict in West Darfur. These camps are home to 250,000 registered Sudanese refugees.Details
A study in African ingenuity
Five years ago, every business school worth its salt was setting up programmes in China. Three years ago, it was India that was in fashion. Today, many of the top business schools in Europe and the US are looking to Africa as the next big market for management education. more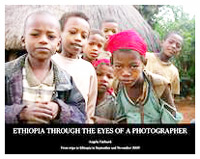 "Ethiopia Through the Eyes of a Photographer"
Color photography, text, design and layout by Angela Fairbank.
This 80-page book of colorful photos from Ethiopia, originating from trips taken in September and November 2005, highlights Addis Ababa, Axum, Lalibela, the Rift Valley and the Omo Valley as well as the Kambala, Alaba, Wolayta, Sidamo, Dorze, Derashe, Ari, Tsemay, Konso, Mursi, Karo, Hamer, Dassanech, Erbore and Borana tribes. Available in the following sizes: 11.25" x 8.75", 15" x 11.5" or 7.75" x 5.75". Prices start at CDN/US$40.|tel: (1) 604 738 4588 . e-mail: acfairbank@shaw.ca , web: http://www.acfairbankconsulting.ca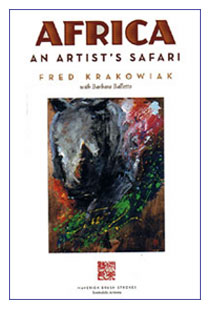 Fred Krakowiak's outstanding book "An Artist's Safari" drawing global raves
While Fred lives in Phoenix, Arizona, like ourselves his heart is in Africa. Amazon describes it as follows: Part memoir, part meditation, this intimate portfolio is a collection of vivid stories and evocative images that honor this immense and wild land. Through breathtaking illustrations and a well-informed narration, the collection captures an Africa full of color and texture, energy and motion, passion and hope. In addition to sketches drawn while trekking, the book features reproductions of final pieces painted on a variety of materials &emdash;bronze, copper, rice paper, silk &emdash;and expressed through the ancient art of sumi. Accompanying sidebars reveal facts about the various African animals&emdash; lions, leopards, elephants, rhinos, water buffalo,and the like&emdash; such as their markings, size, behavior, gestation, life span, predators, defense, and conservation measures being taken to save them.
Here's what readers are saying about Fred's outstanding book.
"The impeccable quality, unique technique, and attention to detail in Krakowiak's work is a tribute to the magnificence of the untamed world." &emdash;Kevin Peters, nature sculptor

"It is the power of the paintings that will bring you back to this book time and again." &emdash;David T. Gies, Commonwealth Professor of Spanish, University of Virginia, in Virginia Quarterly Review
"Krakowiak is a gifted artist and offers the reader his perceptions of sights of Africa in a variety of media." &emdash;Jean L. Cooper, grants officer and information services librarian, University of Virginia, in Virginia Quarterly Review
"A stunning coffee table portrayal of a safari by a wildlife artist." &emdash;Talking Travel Africa. Available at Amazon
"When Trumpets Call" by Patricia O'Toole (Simon & Schuster, 2005).
"When Trumpets Call" is a superb, almost tactile examination of the journey that began on the day Theodore Roosevelt left the presidency in 1909, at age 50, and ended with his death in 1919. Patricia O'Toole beautifully chronicles the physical and intellectual restlessness that fueled the last decade of TR's life. His first project as a private citizen was to embark on an African safari. It was meant to be a low-key getaway from his clamorous public life, but it quickly turned into an expedition "of biblical proportions," O'Toole writes. TR's break from presidential politics was also short-lived: He campaigned as a third-party candidate in 1912, burnishing his legend by insisting on giving a speech in Milwaukee even though he was bleeding from a gunshot wound in the chest after a failed assassination attempt. TR's life was "one of the longest-running, most colorful serials in American history," O'Toole says, a story "by turns exhilarating, exasperating, amusing, and inspiring."
Smithsonian Books on Aerospace

From Five Best Books on Selling

Understanding Media. "I have no idea who might be the smartest human ever, but the most brilliant marketing mind of all belonged to Marshall McLuhan. "Understanding Media" is a timeless analysis of how language, speech and technology shape human behavior in the era of mass communication. The book is a cautionary tale for marketers today who hear the Web's siren call and ignore the power of the spoken word. Whether heard onstage, over the phone, or on radio or TV, McLuhan says, the spoken word is ultimately much more powerful than the write." more->
Portrait of Affluent Travelers
There is an art to traveling well. Now, there is also a science to understanding those who do. In today's affluent travel marketplace, keeping up with the Jones's means more than keeping up with trends- it means keeping up with your business' potential. You need insightful and in-depth analysis of this wealthy market so you can tap into an important source of revenue. About the source.

Books with a focus on Sunny Africa
by Muguette M. Goufrani

Here's a definite must for your bookshelf.
BRADT TRAVEL GUIDES: ANTARCTICA TO ZANZIBAR.
BRADT publishes travel guides to all corners of the world, as well as guides on rail travel, wildlife, backpacking, and hiking. Whether you are traveling on business or on holiday, independently or on a group tour, Bradt's individual guides provide far and away the best information for adventurous and environmentally conscious travelers. Africa titles include: Africa & Madagascar- Total Eclipse; Cape Verde Islands ; East and Southern Africa; The Backpacker's Manual; Guide to Ethiopia; Guide to Ghana; Madagascar Wildlife; Madagascar; Malawi ; Mauritius, Rodrigues and Reunion; Guide to Mozambique; Namibia; Guide to South Africa ; Tanzania; Southern Africa by Rail; Uganda; Zambia; Guide to Zanzibar; Your Child's Health Abroad. http://www.bradt-travelguides.com/system/index.html
Making Choices! As a former full time Travel Agent and Tour conductor, who is now in the publishing business, I spend gobs of time in and around book stores. I seek out places that are user-friendly, like our friend Kevin McKeown's shop down the street, which offers rare titles and loads of advice about concerts and events for which he handles media relations. To me both downtown branches of Chapters is a "Bookstore Heaven." Being there becomes a destination in itself. As for public libraries, every week we drive at least 20 extra miles through downtown traffic and road blocks, to Richmond (beyond the international airport) and back, just to frequent our favorite library. It is clean, courteous, well stocked and they do all the little things right. The same goes for choosing Web Sites, some are user-friendly, yet far too many seem like they want to take your money and run. They are also hard to navigate and leave the viewer in total frustration. So as time goes by we will introduce you to our choice of books and guides. Bon Voyage, and Happy Reading.
OUR EDITOR'S FAVORITE NEW REFERENCE BOOK: He recommends this one, just released by McGraw-HIll. The Complete Reference Internet Millennium Edition. According to him it has everything - and very little fluff.
BOOKS ON ECOTOURISM AND ECOTRAVEL - http://www.ecotraveler.com/
Big Little Books of Adventures: Camera Safaris and Ecotourism around the world. Air Highways and Africa Travel Magazine's "Electronic Media Kit" will soon be available on Adobe Acrobat Reader software, down- loadable from: http://www.adobe.com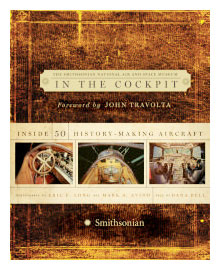 "Hideous Kinky" looks at Morocco in the 70s:
Esther Freud,the author of the autobiographical novel "Hideous Kinky", made into the movie of the same name, starring Kate Winslet and currently running at theaters in North America is currently on a tour. We at Africa Travel Magazine enjoyed the move immensely. "Hideous Kinky" is about the spiritual journey taken by a young single mother with her two daughters through Morocco in the 1970s. Since publishing "Hideous Kinky", her first novel in 1992, Ms. Freud ( granddaughter of Sigmund and daughter of the painter Lucian) has produced two more novels, "Peerless Flats" and "Summer in Glasgow".
Speaking of Morocco, read the story on Berber Wedding by Muguette Goufrani.
African Books you can order from the Internet
http://www.woyaa.com/shopping/eng/books/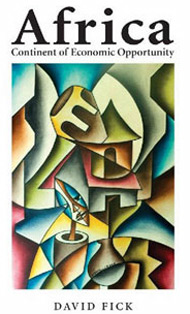 Myth, Literature, and the African World: by Wole Soyinka, Paperback - 168 pages. The ways in which the African world perceives itself as a cultural whole that interconnects myth, ritual and literature and the differences between its essential unity and the sense of division pervading Western literature are emphasized in this classic analysis.
Lonely Planet Africa : On a Shoestring: by Hugh Finlay, Geoff Crowther, Paperback - 1000 pages
Vast in size and history, with equally vast potential for rewarding experiences and red-tape hassles, Africa more than any other continent requires a solid and reliable guidebook for anything other than the most superficial of visits. It is the sort of information-packed guide at which Lonely Planet excels.
The Rough Guide to West Africa (1995): by Jim Hudgens, Richard Trillo, Paperback (December 1995)
Hitch a smooth ride across the Sahara with veteran authors Jim Hudgens and Richard Trillo. Their Rough Guide to West Africa, now in its second edition, takes you from bustling Dakar and other capitals to all the remote towns and beaches. The Rough Guide expertly covers the basics - lodging, transportation, etiquette and inoculations - and the breadth of activities - nightlife, seeing the wildlife and volunteering. Kilimanjaro & Mount Kenya : A Climbing and Trekking Guide
by Cameron M. Burns, Paperback - 176 pages
Pre-trip planning, finding and hiring outfitters, and thorough information on dozens of trails are included in this comprehensive guide to the 30 top climbing and trekking routes on Mount Kilimanjaro and her sister peak, Mount Kenya color insert. 30 b&w photos
Africa : A Biography of the Continent: by John Reader, Hardcover - 752 pages
"The ancestors of all humanity evolved in Africa," notes photojournalist John Reader at the beginning of this epic, panoramic overview of African history. From the formation of the continent to the present, Reader's informative narrative tells the story of the earliest dwellers and the natural obstacles of desert, jungle, and animals they faced, ....
Arabian Nights and Days: by Naguib Mahfouz, Denys , Hardcover - 227 pages
An austerely modern reworking of The Thousand and One Nights-the most magical work yet set into English by Egyptian Nobel laureate Mahfouz (The Harafish, 1994, etc.). Although these intertwined fables are, like the volume that inspired them, set in the past, they deal with all-too-modern consequences of fairy-tale
Icons of Aviation: Book Reviews include a biography of the most dedicated tourism pioneer in America's North Country, Mr. Alaska, Charlie West. Also, Edmonton's Grant MacConachie, founder of Canadian Pacific Airlines, who dreamed of an air bridge to the Orient and across the pole.
How did Doctor Doolittle talk to the animals? Send us your suggestions for our wildlife conservation series. Fax 604.681.6595 or send E-Mail
[Home] [Top of page]