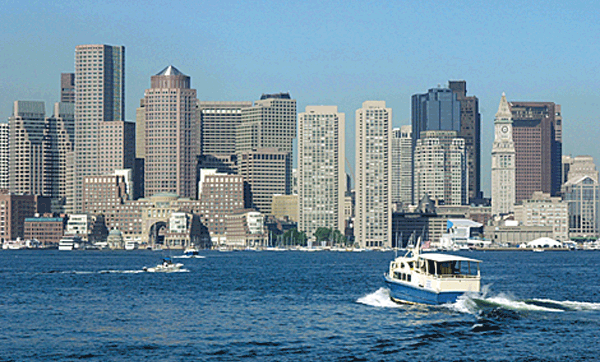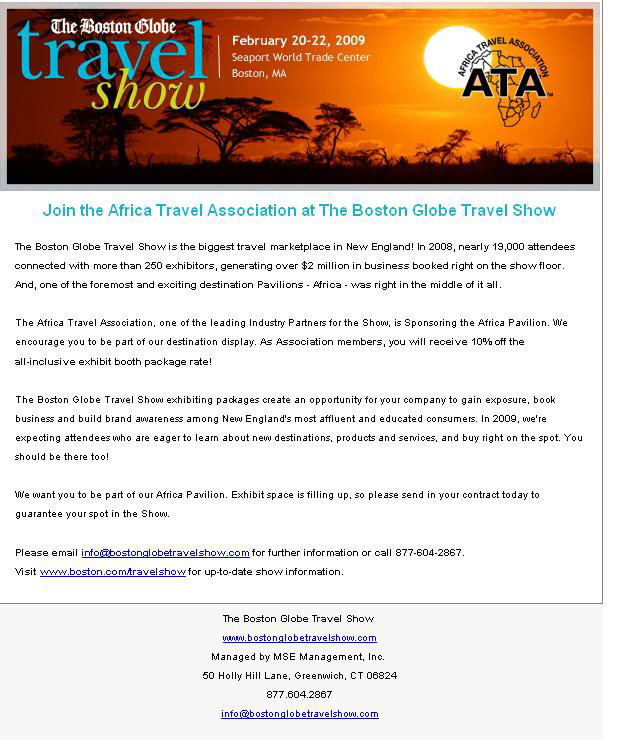 Africa Travel Magazine and ATA return to the Boston Globe Travel Show, Visit our Exhibit,
We're Google Search Leaders: . #1 for Marketing Africa Tourism to USA . #1 for Marketing Africa Tourism to Canada

FLASHBACK

Boston Globe Travel Show Announces Exceptional Travel Industry Conference Schedule.Seminars and Workshops Feature Top Travel Industry Professionals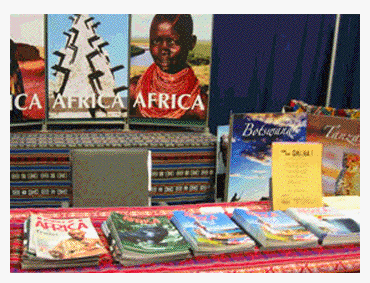 Boston, MA, February 1, 2007. The 2007 Boston Globe Travel Show has announced a full slate of seminars and conferences designed to help travel professionals learn from some of the industry's top sales leaders. More than 30 presenters will offer 10 topical seminars and accredited workshops during the Travel Industry Conference, which spans Friday, March 23, and Saturday, March 24, at the Seaport World Trade Exposition Center in Boston.
The Boston Globe Travel Show Industry Conference and Trade Day have become the can't-miss regional industry event for travel professionals. Travel professionals can register for the event at www.bostonglobetravelshow.com . Registration for the Friday and Saturday conference, evening trade reception and to walk the show floor is free. Attendance at the Friday luncheon is available for a $10 fee. Seating is limited, so pre-registration is strongly recommended.
Admiral George Naccara, the Federal Security Director of Boston's Logan International Airport, will offer the conference keynote address on Friday. As a representative of the U.S. Department of Homeland Security, Admiral Naccara will detail some of the changes inherent in travel security, providing information on how travel professionals can prepare their clients for an enhanced, safer travel experience.
Two workshops will offer accreditation by The Travel Institute:
• Discovering the Growing Market for Gay & Lesbian Travel, presented by Ed Salvato, Editor in Chief, The Out Traveler and Corporate Director of Travel Media for PlanetOut Inc.; and Jeff Guaracino, VP - Communications, Greater Philadelphia Tourism Marketing Corporation, and Author, Gay and Lesbian Marketing: The Essential Guide for Marketers.
• The Ultimate Selling Workshop, presented by Scott Koepf, CTC, MCC, offering specific tools to garner sales and a personalized process and style to help cultivate lifetime clients.
Additional workshops and seminars will take place throughout Friday afternoon and Saturday morning, all designed to make travel agents more successful at their jobs. These seminars include:
• Caribbean Travel Updates
• Evolving the Home-Based Agent Market
• Finding a Cruise for Every Customer
• Putting a face to New England Travel
• Selling Resorts & Rooms
• Utilizing Essential Travel Technology
• Vacation Access (VAX) Training
Confirmed panelists include:
• William Alverson, CEO, Joystar Travel Network
• Jeffrey Anderson, VP - Marketing, America's Vacation Center
• Terri Burke, Vice President, Norwegian Cruise Lines
• Celebrity Cruise Line
• Jeff Drew CTC, Senior Vice President of Sales, Oceania Cruises
• Gary Fee, President, Outside Sales Support Network
• Michael Ihle, Vice President - Product Development, Galileo
• James Killen, Director East Coast, Club Med
• Scott Koepf, General Manager, Nexion / Jurni
• Bob LaCroix, Sr. Vice President, Trisept Solution
• Mark Travel / Funjet Vacations
• Narciso Moreno, Northeast Regional Director, Puerto Rico Tourism Company
• Lee Rosen, President, TRAMS
• Aracelys Sánchez Cruz, Leisure Sales Mgr., Westin Rio Mar Beach Golf Resort & Spa
• Society of American Travel Writers &endash; Northeast Chapter
• Robert Weiss, Publisher, Travel New England
A complete trade program is available online at www.bostonglobetravelshow.com .
In addition to the conferences and workshops, each attending travel agent will receive a "coupon booklet" with offers provided by exhibitors, providing valuable financial incentives for each trip sold by agents to consumers.
Busch Entertainment, Carnival Cruise Lines, Aruba Tourism Authority, New Brunswick Tourism and Vacation Outlet have signed on as premier Travel Show sponsors. Other industry partners include American Society of Travel Agents, New England Inns & Resorts, Africa Travel Association, Canadian Tourism Commission, Caribbean Tourism Organization, Pacific Asia Travel Association, United States Tour Operators Association and PlanetOut, Inc.
About The Show
Established in 2006, the Boston Globe Travel show was created to bring together the New England travel community and the New England traveler. The show is open to the trade exclusively on Friday, March 23, and to the public on Saturday, March 24 and Sunday, March 25. More than 200 exhibitors are expected to be in attendance at the show. For more information about exhibiting at the 2007 Boston Globe Travel Show, contact Cyndie Gardner at 203.622.7509 or visit www.boston.com/travelshow.
About The Boston Globe
The Boston Globe is wholly owned by The New York Times Company (NYSE: NYT), a leading media company with 2006 revenues of $3.3 billion. The New York Times Company includes The New York Times, the International Herald Tribune, The Boston Globe, 15 other daily newspapers, nine network-affiliated television stations, two New York City radio stations and 35 Web sites, including NYTimes.com, Boston.com and About.com. The Company's core purpose is to enhance society by creating, collecting and distributing high-quality news, information and entertainment.
Media Contact:
Erin Callanan
+1-617-905-6866