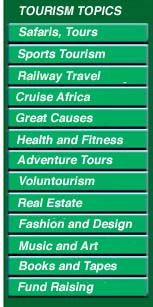 [Contact Us] [Website] [Letters] [Advertise] [Subscribe] [UN World Urban Forum] [Cities] [Airports] [Goals] [Leaders] [Who's Who?] [Grass Roots] [Famine Relief] [Photos 1] [Photos 2] [Photos 3] [Photos 4] [Google Score]
ATA WORLD CONGRESS
1976 - Nairobi, Kenya
1977 - Abidjan, Ivory Coast
1978 - Sousse/Monastir, Tunisia
1979 - Tangier, Morocco
1980 - Libreville, Gabon
1981 - Lusaka, Zambia
1982 - Lome, Togo
1983 - Cairo, Egypt
1984 - Banjul, The Gambia
1985 - Nairobi, Kenya
1986 - Atlanta, Georgia, USA
1987 - Douala, Cameroon
1988 - Harare, Zimbabwe
1989 - New York, NY, USA
1990 - Casablanca, Morocco
1991 - Cairo, Egypt
1992 - Cote d'Ivoire
1993 - Lusaka, Zambia
1994 - Accra, Ghana
1995 - Nairobi, Kenya
1996 - Windhoek, Namibia
1997 - Cotonou, Benin
1998 - Arusha, Tanzania
1999 - Accra, Ghana
2000 - Addis Ababa, Ethiopia
2001 - Cape Town, South Africa
2002- Conakry, Guinée
2003 - Lusaka and Livingstone, Zambia
2004 - Douala, Cameroon
2005 - Nairobi, Kenya
2006 - Accra, Ghana
2007 - Addis Ababa,Ethiopia
2008, Arusha, Tanzania
2009 - tba

ATA ECOTOURISM
SYMPOSIUM- FALL

1992 - Saly / Dakar, Senegal
1994 - South Africa
1996 - Marrakech, Morocco
2000 - Abuja, Nigeria
2001- Yaounde, Cameroon
2002 - Fez, Morocco
2003 - Zanzibar, Tanzania -
2004 - Kampala, Uganda
2005: Luanda, Angola
2006 - Calabar, Nigeria
2008 -Djibouti
2009 - tba
What Happens when you Google "Marketing Africa to America.

UN World Urban Forum.
Globe 2008 - Cities
Benefits of Civic Tourism .
Coming Soon!
Radio Interview Show
on this same topic



---
Outside The Box:
by Jerry W. Bird
Making Miracles Happen ...

We've been publishing Africa Travel Magazine for almost 14 years and how we manage to make it work effectively year after year seems like a miracle to many observers. Like the Africa Travel Association which gave us our start and much needed support, our operation is strictly nonprofit. That means we finance each issue, watch the bottom line, and rely on loyal members and travel industry colleagues to advertise and subscribe. Should certain clients neglect to pay their invoice or delay for months, guess who carries the load?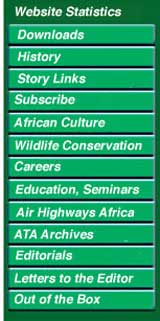 Always looking for ways and means to make our magazine the industry's best value, our focus is on circulation via targeted distribution. Our core circulation is highly influential representing African government ministries, partner associations - PATA-CCA-UNWTO, AFRAA, IIPT, ASTA - and key executives from hotels, airlines and travel organizations.
Several years ago we formed a strategic partnership arrangement with the Adventures in Travel Expo - advertising in exchange for exhibit space. That allowed us to circulate Africa Travel Magazine copies in New York, Chicago, Washington and Los Angeles. Capitalizing on this success, ATA and this magazine continue to add new show venues across North America, inside Africa and at special shows in Europe and China. For our "Miracle Schedule" of travel trade and consumer shows, university events and more, please visit http://www.africa-ata.org/venues.htm
What's a Keeper?
On my first day with a national travel industry magazine in 1989, I made a vow to focus on producing magazine editions our readers will want to keep for one to five years or more. Earlier in my career, as a media buyer and later as an advertising agency president, I knew that many issues had the staying power of a day or two. A quick read - and soon forgotten! My reasoning was, "If a person puts his or her time, effort, heart and soul, into producing a specific edition, why not aim for the longest possible shelf life?" Why not produce a keeper?
Like one of my advertising agency idols used to say, "If you've got it -- flaunt it."
So my goal was to create colorful, topical, well researched and targeted editions. I began with "Railways of the World," plus "Great Drives" and "Air Highways," paving the way for Africa Travel Magazine in 1995. Rather than make Africa Travel Magazine a quick read, I aimed for "keeper" status right from the start. The result? Twelve years later, our back issues are still in demand.
For example, our "Millennium Yearbook Edition" on Ethiopia is still as fresh as the day it was launched in 2000. Similar editions featuring Angola, Kenya, Cameroon, Uganda, Tanzania, Benin, Morocco, Guinea, Ghana, Angola, Zambia, Namibia and South Africa, enjoy the same lasting appeal.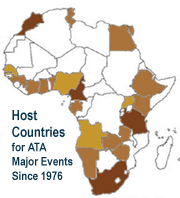 This year we introduce "The Great Cities of Africa," an idea born at the 3rd United Nations World Urban Forum in Vancouver, Canada, where we met with mayors from across Africa. Since Africa's historic cities are capitals of culture and gateways to sustainable tourism, it stands to reason that a powerful, positive, in-depth magazine series, written in language a travel agent or traveler can relate to, will earn a prominent spot in offices, homes and news stands around the world.
Editor's Bio
For more about Africa and this magazine's marketing philosophy, visit our search leading, award winning web site - http://www.africa-ata.org
AFRICA TRAVEL MAGAZINE
Africa's powerful, positive media voice in print, online, on air
Editions updated year round for added reach and frequency
Distribution via tourism database and travel show exhibits
Googled us lately?
In a search for "Advertising Africa Travel and Tourism to North America," we're #1 and 2 from 227,000 entries, which indicates the value of advertising in our web and print media combination. Click here for an example how effectively we promote Africa Travel Magazine across the USA and beyond.
According to H. E. President Kikwete of Tanzania, "The western media needs to focus more on success stories in Africa. We are doing so many good things out here which do not get enough publicity."
The answer is Africa Travel Magazine - a powerful, positive, influential media voice - in print, online and on air. We're foremost in delivering the "good news" about Africa travel, trade and tourism - a success record verified by top rankings on Google, Yahoo and MSN. Such results prove that our 12 years as publishers of Africa Travel Magazine are making their mark by appealing to upscale, well educated adult readers, who are sincerely interested in our positive, forward looking message.
ALL issues of Africa Travel Magazine can be downloaded from our website and from the new Press Display site, which reaches hundreds of libraries, many Fortune 500 companies, and thousands of daily visitors from around the world.
We just returned from launching our Ethiopia Millennium issue at the Houston International Festival, which attracts over 450,000 visitors annually. That's a sample of the year round circulation effort our media team provides on behalf of advertisers. Next big event on our agenda is the ATA 33rd World Congress in Arusha, Tanzania, May 19-23.
Best Regards,
Jerry W. Bird
Editor and Publisher
Click Here for 2008-2009 Schedule and Rates
Our high quality, high gloss ATA 33rd World Congress and Eco Cultural Tourism Edition for 2008-2009 is a combined feature. Book Ads by May 10 for Double Exposure!
Please confirm your advertising now and your messages will appear in our Pre-Congress Report and our Post-Congress issue. You'll reach and influence ATA delegates and guests , plus key global contacts by mail and at major events in Africa, USA and Worldwide.
Tel. 604 681 0718, Fax 604 6816595 . E-mail: africa@dowco.com
Quick Now....
Have you heard about Africa Travel Magazine's GREAT CITIES OF AFRICA?
We call them "Capitals of Culture and Gateways to Sustainable Tourism and Global Enterprise."
This exciting series debuts in print as a supplement in our coming edition.
The idea was born last summer when I interviewed a delegation of African mayors, and escorted them on a tour of Vancouver, Canada, where the UN 3rd World Urban Forum was in full swing.
That stimulating, week-long experience set the stage for success. Our 2007 Great Cities of Africa spotlight shines on Calabar, Nigeria, proud host of ATA's 10th Ecotourism Symposium - Abuja, Nigeria's Capital, Addis Ababa, Ethiopia, site of our 32nd World Congress, and Kampala, Uganda, home of the 4th Africa Peace Through Tourism Conference.
In "A Tale of Two Cities" - our editors and candid camera profile cities in various countries we have visited recently. Examples are Yaounde and Douala, Accra and Kumasi, Cape Town and Jo'burg, Nairobi and Mombasa, Lusaka and Livingstone, Arusha and Dar es Salaam, Casablanca and Marrakech. Get the picture?
Each city's airport will be profiled in "Air Highways to Africa," another Africa Travel Magazine supplement. Please visit our award winning, Google-friendly website. Search from over 3,500 pages on Africa travel, trade, transportation, hospitality and tourism.
Learn how our media team can be your reliable long-range partner on the marketing scene. If you would like to get involved in our "Great Cities of Africa" Essay Contest or to be interviewed with comments on your favorite African city, please e-mail africa@dowco.com and we will send you a form.

AFRICA TRAVEL MAGAZINE


Worldwide Voice of the Africa Travel Association
A Dynamic Print and Web Combination
Offices: New York - Vancouver
Tel (604) 681 0718 . Fax (604) 681 6595
africa@dowco.com . www.africa-ata.org