Cathay Pacific named 'World's Best Airline' for fourth time in annual Skytrax Awards
Theodore Koumelis - 18 July 2014, 05:06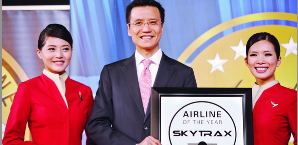 Photo caption: Cathay Pacific Chief Executive Ivan Chu received the award at a ceremony staged by Skytrax at the Farnborough International Air Show.
Cathay Pacific Airways has once again been named "World's Best Airline" in the annual Skytrax World Airline Awards. This is the fourth time Cathay Pacific has received the World's Best Airline honour - the only airline to achieve such a feat. The carrier also took the title in 2003, 2005 and 2009.
The latest Skytrax awards are based on a survey of 18.85 million airline passengers from around the world who voted for their favourite travel experiences between August 2013 and May 2014. Skytrax is acknowledged as running one of the most comprehensive customer satisfaction surveys in the airline industry. Airline passengers from more than 160 countries participated in the latest survey, which covered 245 airlines worldwide. The survey measures standards across 41 key performance indicators of airline products and services.

Cathay Pacific Chief Executive Ivan Chu collected the award on behalf of the airline at a ceremony staged by Skytrax at the Farnborough International Air Show in the UK. Commenting on the award, Mr Chu said that he was "extremely proud, for both Cathay Pacific and Hong Kong" to receive this honour.

"As the home airline of Hong Kong, we take great pride in putting the city on the international stage by winning this prestigious award once again. The World's Best Airline award is particularly important to us because it was decided by the votes of close to 19 million travellers from around the world. Thank you to everyone who voted for us!" Mr Chu said.

"I would like to thank all my Cathay Pacific colleagues who have worked tirelessly to ensure we offer world-beating products and services to our customers. We have been the home airline of Hong Kong for close to 70 years and we are deeply committed to building our city into one of the world's great aviation hubs. We do this through our huge investment in new aircraft, our world-beating seats, lounges and other products, our renowned Service Straight from the Heart and an ever-expanding network of destinations."

Cathay Pacific has been making significant investments to improve its customer offering and cement its position as one of the world's most highly regarded premium international carriers. Investments so far include:
• One of the world's most modern wide-body fleets, with some 90 new aircraft currently on order at an aggregate list price of about HK$220 billion.
• The development of an extensive worldwide network offering connections to almost 190 destinations in 46 countries and territories.
• Refreshed cabins across the airline's entire fleet over the last four years, representing an investment of some HK$4.9 billion, along with a HK$880 million investment in upgraded lounges across its international network.
• Building a winning team with a workforce of some 21,000 staff worldwide. The airline will recruit 2,200 more people in 2014.

Mr Chu emphasised that Cathay Pacific will continue investing for the future and working to ensure that passengers can enjoy a more comfortable and convenient travel experience. The airline will continue to improve its lounges within its international network, including the reopening of The Pier First Class Lounge in 2015 and Business Class Lounge in 2016 with a brand-new design. The next generation of seats and inflight entertainment products will be introduced with the arrival of the A350 aircraft in early 2016. Network development will also remain a key focus for the airline, with flights to Manchester launching in December this year and a new service to Zurich beginning in March 2015.

"The airline industry is becoming more competitive by the day and the only way to prosper is to continue to offer the best to your customers at every level," Mr Chu said. "The Skytrax World's Best Airline award demonstrates that we have been doing the right things, but we will not rest on our laurels. We will continue working to provide a superior travel experience that will make the people of Hong Kong proud."

In the same awards, oneworld was named the World's Best Airline Alliance for the second year running, confirming its position as the most highly prized global airline alliance. Cathay Pacific is a founder member of oneworld.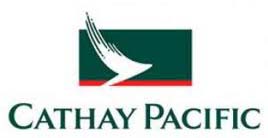 Cathay Pacific Airlines

by Muguette M. Goufrani, Associate Editor

We have flown on Cathay Pacific Airlines from Vancouver, BC , Canada to New York consistently for the past seven years, and are extremely pleased with the service we've received. If Africa Travel Magazine were handing out awards for courtesy and friendliness at this time, the staff at the JFK International Airport in New York would rank extremely high. (see Airport Manager letter) We would gladly recommend this airline to anyone flying between these two cities and anywhere else on its agenda. Here is a brief profile on the airline from its excellent in-flight magazine:

Cathay Pacific Airways was founded in Hong Kong in 1946 by two adventurers American Roy Farrell and Australian Sydney de Kantzow. The Cathay Pacific story is one of the most romantic in aviation history. It began with the entrepreneurial vision of two former transport pilots - American Roy Farrell and Sydney de Kantzow from Australia - who had flown transport planes over the "HUMP" from Calcutta to Kunming during World War 11. After the war, they spotted an opportunity to start passenger and cargo flights out of Shanghai and, in May 1946, moved their enterprise to the British colony of Hong Kong, naming it Cathay Pacific Airways - Cathay, the ancient name for China; and Pacific, because the far-sighted Farrell speculated that one day the embryonic airline might fly across the Pacific ocean.

By 1948, CPA was operating scheduled services to five destinations around Asia. The same year, Butterfield & Swire, Cathay Pacific continued to grow rapidly. During the 1970, the airline began serving its first destinations beyond Asia with flights to the Middle East, as well as starting its first cargo-only flights.

With delivery of its first Boeing 747-200 in 1980, Cathay Pacific launched its inaugural Hong Kong London service, and then became the world's first airline to take delivery of the Rolls-Royce-poweded Boeing 747-400, which revolutionized long haul travel, bringing destinations such as Vancouver, London and Los Angels within nonstop range. 45 percent of the Airline is owned by Swire Pacific, part of Hong Kong based conglomerate Swire Group, while China International Trust & Investment Corporation (CITIC) holds a further 25.4 percent and John Swire & Sons provides a wide range of management services to the airline.

In 1996, the airline commemorated its 50th anniversary and in 1999, the airline took delivery of three Boeing 777-300s, one of the most advanced passenger aircraft in the market today. Cathay Pacific's continued success is closely tied to that of Hong Kong, and with this in mind the airline has invested a total of HK$8 BILLION (us$1 billion in its new headquarters at Cathay Pacific City and in the infrastructure of the Hong Kong international Airport at Chek Lap Kok which opened on 6 July 1998: Cathay Pacific's new home in the heart of Asia. More information is also available on the website: www.cathaypacific.com


We will describe our most recent flight in more detail later, but first here is some supporting information we gathered via press release that was sent to our office. It speaks of a very key topic - management:

Cathay Pacific Airways has been ranked the best managed major airline in Asia and the second best managed major airline in the world by leading airline industry magazine Aviation Week & Space Technology. Cathay Pacific, which offers twice daily Boeing 747-400 service from Vancouver to Hong Kong, daily non-stops to New York and daily direct A340-300 service from Toronto to Honk Kong, offers service to 47 destinations from its "Super Hub" in Honk Kong.

Cathay Pacific was also lauded for the "exceptionally strong performance" of its management. The rankings are based on a combination of asset utilization, productivity and financial health. Aviation Week said the highly-ranked companies should serve as a guide for aerospace companies and airlines worldwide.