GLENN CARROLL, SENIOR VICE PRESIDENT, SALES & MARKETING, CHI HOTELS & RESORTS, RE-ELECTED TO THE AFRICA TRAVEL ASSOCIATION'S INTERNATIONAL BOARD OF DIRECTORS
Photod: Glenn Carroll, Sr. VP Sales & Marketing, CHI Hotels & Resorts, member Africa Travel Association International Board of Directors.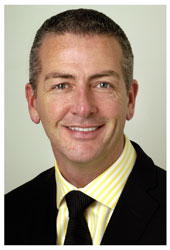 New York, NY) Glenn Carroll, Senior Vice President, Sales & Marketing for hotel operator CHI Hotels and Resorts (CHI) was re-elected to the International Board of Directors of the Africa Travel Association (ATA) at the 35th International Conference held in Banjul, The Gambia, May 17-21, 2010. ATA is the New York-based premier professional travel industry association promoting tourism to the continent of Africa. Carroll said "I am very pleased to represent CHI/Corinthia Hotels on the ATA Board especially since CHI is on an expansion track in Africa through its joint venture agreement to operate the Wyndham and Ramada Brands in Africa, as well as managing its own Corinthia Hotels luxury brand." He further stated "in 2009, CHI opened its first property in Egypt, the four-star 351-room Tiran Island Hotel in Sharm el Sheikh, and this is set to be joined by a five-star Corinthia Hotel in 2011, to form the Corinthia Beach Resort Sharm el Sheikh." The property is owned by Mr. Abdulhafiz Ali Mansouri's Cyrene Tourism Investment Corporation of Egypt.
CHI Hotels & Resorts, already one of the fastest growing hospitality chains in the Europe and Mediterranean regions, is indeed expanding in Africa. On the African continent their properties include The Ramada Plaza Tunis in Tunisia and the five-star Corinthia Hotel Tripoli in Libya. Pipeline projects in Africa include a Wyndham hotel in Morocco and a second Corinthia Hotel in Libya. CHI is also exploring several other hotel management propositions throughout the continent.
About CHI Hotels & Resorts (CHI)
Based in Malta, CHI Hotels & Resorts is a leading hands-on hotel management company that provides the full range of technical assistance and management services to hotel owners worldwide. CHI is the exclusive operator and developer for the luxury Corinthia Hotels brand as well as the Wyndham and Ramada Plaza brands in Europe, Africa and The Middle East. CHI draws on a heritage of over 48 years in delivering high quality services to hotel guests and an optimum rate of return to owners and investors in diverse business environments. CHI's experience extends to management of luxury and upscale properties in city and resort locations and products ranging from boutique to conference and Spa hotels. CHI is owned by International Hotel Investments plc (70%) and the Wyndham Hotel Group (30%).
About Corinthia Hotels
Corinthia Hotels is an internationally acclaimed Brand of luxury hotels in the Czech Republic, Hungary, Libya, Malta, Portugal and Russia. Founded by the Pisani family of Malta in the 1960s, the Corinthia brand stands in that proud tradition of Mediterranean hospitality and its signature services communicate the 'Warm Smiles, Inspired Flavours and Pleasant Surprises' of its Maltese heritage. All Corinthia hotels feature state-of-the art conference areas, extensive leisure and business traveller facilities, and are each renowned for their uniqueness of character. Corinthia Hotels' portfolio includes the award-winning Corinthia Hotel Budapest in Hungary, Corinthia Hotel Prague in the Czech Republic, Corinthia Hotel St Petersburg in Russia and Corinthia Palace Hotel & Spa in Malta. The portfolio also features the splendid Corinthia Hotel St George's Bay in Malta, the superior five-star Corinthia Hotel Tripoli, in Libya and the modern Corinthia Hotel Lisbon in Portugal. The latest additions to the Corinthia Hotels portfolio are the Corinthia Hotel, Whitehall Place, London &endash; due to open in early 2011 and the Corinthia Taormina Golf Resort in Sicily, Italy &endash; due to open in 2012.
For more information on CHI Hotels & Resorts visit www.corinthiahotels.com
Editorial Contact:
Karen Hoffman
The Bradford Group
Tel: (212) 447-0027
Fax: (212) 725 8253
E-mail: bradfordmktg@aol.com