Click here for hotel photos . Click here for more.
D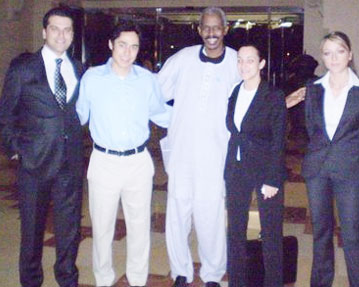 jibouti Palace Kempinski Official Headquarters for the Africa Travel Association Eco Cultural Symposiu3
About the Hotel
Away from the busy districts, yet only few minutes from the airport, Djibouti Palace Kempinski is ideally located at a prime beachfront between the Red Sea and the Indian Ocean, in a secluded and peaceful setting of palms and bouganvillea.
The vanilla coloured Hotel's silhouette etch against the turquoise blue of the African sky and the deep Ocean. The fantastic Infinity pool together with a Junior pool maximize the refreshing sea breezes.
Djibouti Palace Kempinski features a plethora of entertainment amenities, including a fully equipped fitness center, Mountain Bikes, Outdoor swimming pool, Mini Club, Restaurants and Bars.
Djibouti Palace Kempinski redefines luxury service in the Land of Gods!
ATA delegates with Kempinski staff. Photo by Ogo Sow