Many of the topics in this section - and much more, will be featured in the above edition scheduled for March 2006. We invite your items and news releases. E-mail airhwy@dowco.com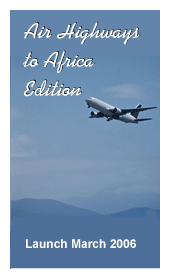 WTTC report highlights the importance of aviation liberalization for Egypt's Travel & Tourism

Cairo, Egypt - 31 August 2005 : The World Travel & Tourism Council (WTTC) today released a special report on the impact of Egyptian aviation policies on the country's Travel & Tourism.
The report, commissioned by the Egyptian Tourism Federation (ETF), has estimated the impact of liberalization policies on visitor arrivals to Egypt and the contribution of Travel & Tourism to Egypt's GDP and employment.
The estimates are based on WTTC's 2005 Tourism Satellite Accounting (TSA) research, launched in April this year, which is produced with Oxford Economic Forecasting (OEF). They show that the impact will be considerable and that liberalization of the aviation industry is a prerequisite if the government's own targets for tourism are to be met.
According to WTTC's 2005 TSA forecasts, Egypt is one of the leading Travel & Tourism Economies in the Middle East, and indeed the world, ranking second and 14th respectively in 2005 in terms of projected annual increase of Total Demand.
WTTC/OEF has estimated that civil aviation liberalization could:
• Boost international arrivals to Egypt to 13.4 million per year by 2011 (compared to 11 million if no policy changes occur)
• Increase Travel & Tourism Industry GDP by 12 per cent in 2011, adding US$1.6 billion to Travel & Tourism GDP (compared with projections made in the absence of liberalization)
• Generate 223,000 more jobs in the Travel & Tourism industry by 2011 than would be generated in a non-liberalized aviation environment
• Increase overall real GDP across the economy by 1.8 per cent by 2011
To achieve the government's target of 15 million arrivals by 2011, a series of measures should be considered including the increasing of air services in the country on a weekly basis by an additional:
- 285 International flights to Cairo
- 425 International flights to other airports
- 530 domestic flights
The WTTC / OEF research is based on the TSA model for Egypt, which allows a look at broad tourism indicators and at how these come together to make up Travel & Tourism Economy, and the wider economic impact this has. The main analysis is based on constructing an alternative scenario that assumes the full implementation of an air liberalization policy, to compare with a baseline scenario which assumes no progress with liberalization.
At the launch of the report, which is backed by industry and government leaders in Egypt, Jean-Claude Baumgarten, WTTC President, said, "Egypt is already a well-established tourist destination. Nevertheless, it is a country which still has a huge potential to unlock within its Travel & Tourism industry. It is clear from this research that liberalization of the civil aviation industry will be vital if this potential is to be realized. The Egyptian authorities are to be highly commended for the commitment to developing Travel & Tourism, with increased investment in the industry and the expansion and modernization of airport facilities as well as steps towards aviation liberalization. I strongly recommend them now to build on this, opening up their skies to international, low cost and privately owned Egyptian carriers and actively encouraging open competition throughout the sector."
The report also recommends a set of initiatives and policy decisions aimed at changing the current regulatory environment, including:-
In the short-term:
• Responding positively and immediately to international flag carriers' requests to operate additional frequencies or increase capacity on direct scheduled services to Cairo International or other Egyptian airports, thereby easing current restrictions related to existing aviation and Air Services bilateral Agreements
• Eliminating the existing restrictions on international charter operations to Cairo International Airport, at least outside the peak hour periods of 0600 &endash; 1200 and 1800 &endash; 0100
• Attracting low-cost airlines to Cairo International and other Egyptian airports, providing that they guarantee year-round scheduled services, operating an agreed number of daily frequencies and capacity
• Ending all restrictions and all discriminatory practices against privately owned Egyptian airlines wishing to operate domestic routes
• Encouraging international carriers to carry passengers from a third country via their home hub airport to Egypt on scheduled flights
In the medium-term
• Restrictive provisions included in air services agreements should be renegotiated and released
• Egyptian privately owned airlines should have access to traffic rights under bilateral ASAs
• All restrictions and regulations that are today limiting international charter or low-cost operations to Cairo International should be eliminated
• New legislation should be introduced to protect private Egyptian airlines on both international and domestic routes from scheduling rules, pricing strategies and other constraints designed to drive them out of business thus allowing fair competition on all routes.
Mr Baumgarten continued, "Such measures will not only vastly increase the number of visitors who can enjoy the diverse experiences Egypt has on offer, but will in turn lead to a very positive impact on the country's economy, boosting GDP, creating employment and encouraging investment."
For further information please contact Olivia Ruggles-Brise on + 44 (0) 20 7481 8007 or olivia@wttc.org
About WTTC
The World Travel & Tourism Council (WTTC) is the global business leaders' forum for Travel & Tourism. Its Members are Chairmen, Chief Executives and Presidents of the world's most prominent Travel & Tourism organizations. It is the only body representing the private sector in all parts of the Travel & Tourism industry worldwide. For more information please visit www.wttc.org.