Source: New York Times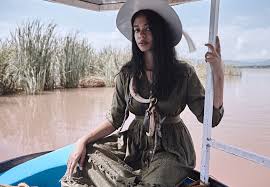 A DESIGNER FINDS INSPIRATION - AND CREATES JOBS - IN ETHIOPIA
As the founder and creative director of the three-year-old shoe company Brother Vellies, Aurora James often travels to different countries in Africa — such as South Africa, Kenya and Morocco — where she sources fabrics and manufactures all of her products.
For her most recent trip, the New York-based designer traveled to Ethiopia, where she is producing much of her spring/summer 2016 collection as part of a joint venture with the Ethical Fashion Initiative division of the United Nations. She visited indigenous communities — especially in the Omo Valley in the southeast — where she met with Mursi people as well as with Karo people, who live on the banks of the Omo River. "Traveling to the Omo Valley has been a dream of mine for years," she told T in an email. "But it's no easy task — it's several flights and a couple days of driving." (For on-the-ground coordination, James turned to Abercrombie and Kent). "I was surprised at how old the land felt," she said, reflecting on the experience. "There is a feeling you get there that I have never experienced before. It genuinely feels like we evolved from this very special part of the planet." She added that a highlight of her trip was meeting women from the different tribes. "There is a bond that women have that is unshakable. An innate understanding that resonates with you through eternity."
James said that she only visits countries in Africa where she plans to produce shoes by sourcing materials or employing local craftspeople. "I am really turned off by the idea of taking inspiration from someone and not involving them in the inevitable commercial aspect. Particularly when you're talking about underprivledged people. If I'm going to make a sandal inspired by the Maasai tribe in Kenya, I'm going to employ people in the community in the process." (Working with the Ethical Fashion Initiative, Brother Vellies provides living wages for all of its employees.) She added: "I spent some time with the people who are making our shoes for spring and I met some new people I hope to involve in our fall collection. It is always a work in progress though: Development in Africa takes much much longer than people typically realize. But, you know, life is about the journey — not the destination."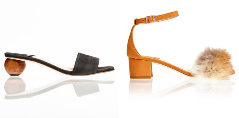 Ethiopia seeks to create a Fashion Empire
(photos to come)
Fashion Week comes to Addis Ababa in 2004: Addis Ababa fashion week is scheduled for 10th to 14th May 2004 in Addis Ababa Ethiopia and the main source of foreign designers is expected to be from Italy as have already expressed their interest also designers from Senegal, South Africa, Ghana, Sweden, Denmark, England, and the United States are expected to participate in the fashion week as well as several local Ethiopia designers.
The Organizers for the first ever Miss Universe Ethiopia Beauty pageant in Ethiopia are banking on Miss Universe Ethiopia to be the catalyst that launches an Ethiopian fashion empire of sorts.
Organizers have officially dubbed the yet to be crowned Miss Universe Ethiopia a FASHION AMBASSADOR and her main role will be to travel the world and show the world Ethiopian fine textiles and fashions at international beauty contest, fashion shows and exhibitions, the start of her reign also see the first ever national fashion design competition to get young Ethiopian fashion designers to compete for the rights to design her National costume and evening gown that she will wear at the miss universe contest in June 2004.
Following on from the Fashion design contest the Organizers have planned the first ever Addis Ababa Fashion week, just before she leave for her first ever participation at the miss Universe contest,
At the 2004 Addis Ababa fashion week, Ethiopian and Foreign designers will be able to exhibit their collections, and the collections will be modeled by the finalist of the Miss Universe Ethiopia beauty pageant, and it is hopped that this will prove a valuable platform for young Ethiopian and African designers many of whom never get an opportunity to hold or attend fashion shows due to the high cost of
doing such. The organizers expect Addis Ababa fashion week to appeal primarily to younger fashion designers, and they are very excited about the prospect of have in an Ethiopian fashion week. (more to come)
http://aafashionweek.tripod.com
Elyse White of ATA New York Chapter was belle of the ball; few would believe she is past 90. In Africa, she has found her own "fountain of youth" reflected by an upbeat attitude. In our opinion, Travel and fashion go together like bananas and cream. The "Upbeat African look" is not limited to evening wear or special events, it's expressed in a variety of ways. For instance our photos of delegates on safari makes its own point; you can look your best on the desert or Savannah, just as you can at a convention gala or cocktail party.