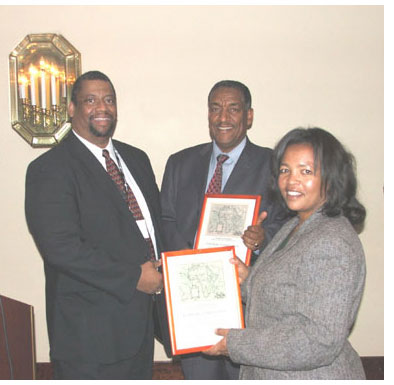 SoCal ATA Celebrates Ethiopia Delegation
Los Angeles - March 14, 2007 at the Hacienda Hotel, Southern California ATA Chapter hosted 85 dinner guests in honor of the visiting Ethiopia Delegation headed by HE Mrs. Tadelech Dalacho, State Minister, Ethiopian Ministry of Culture and Tourism, and Mr. Matewos Gebremariam, Director, Standardization Department, Ethiopia Ministry of Tourism. During the dinner event Minister Dalacho provided an update and overview of Ethiopia's tourism industry and extended a formal invitation to join the 32nd ATA International Congress, May 06-11, 2007 in Addis Ababa, together with the preliminary celebrations for the Ethiopian and African Millennium 2000.
The tourism and travel industry guest list included Mr. and Mrs. Jo and Issa Keita, who not only celebrated their 27th wedding anniversary, but a morning return from an Africa visit.
As customary, gifts and prizes were exchanged between the Chapter and the Ethiopia Delegation. Mr. Michael Madison, President SoCalATA presented Certificates of Appreciation to Minister Dalacho and Mr. Gebremariam, who conversely provided a Thank You gift to Marlene Davis, SoCalATA Vice President for serving as the Delegations' Southern California host.
S O U T H E R N C A L I F O R N I A
Africa Travel Association