What is Panafest?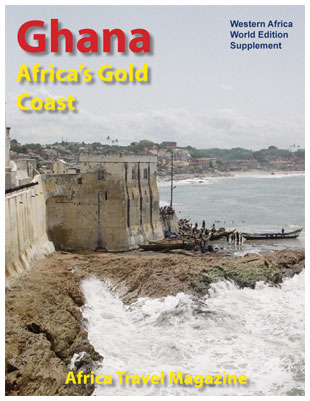 This great event to be featured in Africa Travel Magazine's Western Africa World Edition, Ghana Supplement
Panafest is a cultural event dedicated to enhancement of the ideals of Pan-Africanism and the development of the African continent. It is organized biennially for Africans and people of African descent as well as all persons committed to the well being of Africans on the Continent and in the Diaspora. It's goals are to establish the truth about the history of Africa and the experiences of the African people, using the vehicle of African arts and culture. Panafest, by it's diverse character, projects a potential of being the most prestigious and indeed the most relevant cultural event on the African continent. More about Panafest.
Here is a typical Panafest Tour. Check for 2010 dates.
PANAFEST and EMANCIPATION DAY
"RE-EMERGENCE OF AFRICAN CIVILIZATION: RE-UNITING THE AFRICAN FAMILY"
50 YEARS of GHANA'S INDEPENDENCE: "PAN-AFRICANISM REVISITED - 21st CENTURY EDITION"
OFFICIAL PROGRAMME
Sunday * July 22 * "
The Journey Begins" * Pilgrimage to the Northern Sector
"Retrace the Captured/Enslaved Ancestors route to PANAFEST".
Pilgrims arrive in Tamale
Evening Reception
Monday * July 23
* "The Pilgrimage" * Tamale &endash; Paga - Navrongo
Visit to Paga and Navrongo historical sites. Nania
Camps. Navrongo gravesites.
Evening in Tamale: Reflections
Tuesday * July 24
* "The Pilgrimage" continues * Tamale &endash;-Salaga
Pilgrims visit Salaga and the famous "Enslaved
Ancestors Market" Slave Market and Slave Camp
History of Salaga by the Elders
Evening in Bono Manso
Wednesday * July 25 *
"The Pilgrimage" continues * Bono Manso &endash; Techiman &endash; Kumasi
Visit historic sites of the ancient Bono Kingdom. .
The Martin Luther King, Marcus Garvey and Malcom X
memorial Parks
Enslaved sites.
Pilgrims depart from Bono Manso for Kumasi.
Thursday * July 26
* "The Royal Return" *Kumasi - Assin Praso * Cape Coast / Elmina
Visit City of Kumasi, the Capital of the Asante Kingdom.
Visit Manhyia Asantehene's Palace.
Learn the History of Asante Kingdom
Depart Kumasi for Cape Coast/Elmina * "The Crossing and the Arrival"
Pouring of Libation at the "Crossing" of the River
Prah at Assin Praso.
Brief stopover at Assin Manso-the enslaved market.
"Arrive" at Cape Coast/Elmina where the
kidnapped/enslaved were stored and shipped away.
Friday * July 27 *
"The Return Journey" and Akwaaba Ceremony * Cape Coast - Elmina
Boat Ride from the Cape Coast Castle "Door of Return"
to Elmina Castle/Dungeon.
Reception by the Chief and Elders of Elmina in a
traditional Akwaaba (Welcome) Ceremony.
Saturday * July 28
* Grand Durbar & PANAFEST Official
Opening Ceremony * Cape Coast
Grand Procession of Chiefs, Traditional Rulers & Queen
Mothers, Eminent Personalities, Pan Africanists and
artists in a royal display of pageantry.
Sunday * July 29 *
Opening of the "Pan African Conference " * Cape Coast University
Pan-African Scholars and Activist Conference Opening Ceremony
Monday * July 30 *
"Pan African Conference" continues * Cape Coast University
African Scholars and Activist Conference on Pan Africanism revisited / 21st Century Edition.
Tuesday * July 31 *
"Pan African Conference" * Evening
Reverential Ceremony and Vigil
Conclusion of the Pan African Conference at Cape Coast University
Reverential Evening: Candlelight vigil through the
streets of Cape Coast to the Castle/Dungeon.
Reverential Programme and Emancipation Day Midnite tribute to the Ancestors.
Mfantsipim Junction (Starting point for the vigil) to Cape Coast Castle
Wednesday * August 1 * Emancipation Day &endash; Assin Manso
Official Cerebration of Emancipation Day Programme.
Grand Durbar of Regional Chiefs and Royals
Wreath Laying and visit to the Sacred River to pour
libation and spiritual bathing.
Thursday * August 2
* "Healing Ceremony" and Open Day
"In Memory of Those Who Have Gone Before Healing Ceremony"
Suggested Activities: Visit to Mankassim Posuban
Shrine or Kakum National Forest.
Friday * August 3
* Closing Gala and the "Joseph Awards" Cape Coast / Elmina
Gala Closing &endash; The Joseph Project: Ancient Joseph's (Heroes & Heroines)
International Artistic Performance at Elmina Castles/Dungeons forecourt
Saturday August 4 * Free Day or Transit Day to Accra
Free Day to enjoy the Trade Fair Bazaar and/or transit
of foreign guests to Accra who have weekend
departures.
Compliments of
Royal Derby Tours of Ghana/West Africa
P.O.BOX KA16192
Airport-Accra., Ghana.
Tel:(233) 244 949 225
www.royalderbytours.net
*Operates in Ghana,Togo,Benin,Burkina Faso,Niger,Mali & Cote D'Ivoire.
Here are some examples of what is being said - in a positive manner - about the Republic of Ghana, host country of the ATA 31st International Congress in Accra, April 30 to May 5, 2006
Ghana: 49 years of independence (editorial)
Ghanaian Chronicle (Ghana)
March 6, 2006
Since March 6, 1957, we as a people declared ourselves to be a people with one nation, commonly sharing diverse characteristics like religion, language, history, territory, institutions, culture, statehood or aspiration to statehood.
The majority of the present generation was not involved in the fight for freedom from the 'oppressor's rule.' Indeed, at all times in the struggle of a people, it takes a courageous few to be in the frontline - of course with a lot more unsung heroes in the shadows.
But a question that has received varied responses, as many times as has been asked is, what we have done with our independence.
There are those who believe that we have not done enough to justify the blood and toil of our fathers in redeeming the land from oppressors' rule.
There are others also who think that in spite of the difficulties and incompetences demonstrated time and again by our leaders, we are better off being short-changed by our own kind than by total strangers.
Even though those who had championed the struggle against discrimination and unfair trade practices under colonial rule had at times sacrificed their personal business interests for the general good, as demonstrated by the likes of Nii Kwabena Bonne II, Osu Alata Mantse and a businessman, today, many public officials have been quick to sacrifice the national interest for private and selfish interests.
The leaders of our nation hardly make sacrifices. Yet they have since independence called upon the people to sacrifice, in anticipation of better days, without knowing when their burden would be unloaded.
Freedom and Justice, supposed to have been the foundation of the nation, inscribed on our Coat of Arms and chiseled in stone on our Independence Arch, remain illusive.
Throughout our history, citizens who do not share the political views (ideology) of the leadership were made to feel they did not belong.
There has been consistent demonstration of intimidation and favouritism.
There is the need to refrain from turning the celebration of the independence into a partisan affair, since freedom must be shared!
Unfortunately, this is a lesson our leaders since independence never seem to have learned. Our first President, Dr. Kwame Nkrumah, in spite of his sterling qualities and sense of vision for Ghana and Africa, unequalled by any leader since, could not handle the freedom won, nor build a foundation that would make all Ghanaians a free people.
The overthrow of his government and the First Republic, and the subsequent flawed elections that ushered in the Progress Party (PP) government of the Second Republic, further continued and deepened the discrimination and favouritism, perpetuating a divided state.
The Third Republican government of the Peoples National Party (PNP), coming in the wake of the bloody Armed Forces Revolutionary Council (AFRC) coup, did not find its bearings until it was overthrown in another coup on December 31, 1981.
The longest republic that we have had is this one, which started on a controversial note, following a boycott of its first parliamentary elections in 1992 by political parties opposed to the ruling Provisional National Defence Council (PNDC) government's party, National Democratic Congress (NDC) and its allies, after Flt. Lt. J. J. Rawlings had won, what the opposition claimed was 'a rigged presidential elections'.
The electoral space for transparency and leverage has seen tremendous progress, except that in the last few years, certain hiccups experienced by the Electoral Commission has not brought the best out of it.
Ghana has journeyed far, but has generally made little progress. The hopes of the people have been raised times without number, only to be dashed.
Citizens' trust in politicians continues to fall, and what little semblance of it left has been achieved through bribery and coercion.